Summary

Blue-chip stocks are characterised by stable earnings history, strong growth prospects, uninterrupted dividend payments and large market cap.
Westpac earnings was impacted in 1H20 due to COVID-19, but the bank is well placed with the strong balance sheet, liquidity and improvement in non-financial risk management.
Lyn Cobley, Chief Executive, retired from the bank (Westpac Institutional) after more than 3 decades to develop a portfolio career.
Blue-chip stocks are big and financially stable conglomerates that are generally eminent pillars of an economy. Several investors depend on them for the majority of their investment portfolios due to their size and relatively low risk.
The term "blue-chip" comes from the card game Poker where blue is the most valuable and the highest chip colour. These stocks are high-priced ones that have developed as a favoured investment option in recent times.
Blue-chip stocks are characterised by:
Stable earnings history, as it takes years and decades to earn a blue-chip ranking.
Robust growth outlook as they have a track record of stable earnings and good prospects in future.
Large market capitalisation.
Consistent and uninterrupted dividend payments with rewards to shareholders by growing dividend at a rate equal or substantially more than the rate of inflation.
Blue-chip stocks are a significant portion of many mutual funds and exchange-traded funds. They are an excellent source of investment even when the market is down as they possess excellent long-term outlook and characteristics. Small companies may not be able to bear large revenue falls and long-lasting recession, but blue-chip firms have extensive borrowing power and deep pockets which make them much stronger to survive an economic contraction.
Westpac Banking Corporation
Westpac Banking Corporation (ASX:WBC) has a market cap of $62.7 billion. Its 1H20 results were substantially affected due to elevated impairment charges amid COVID-19 along with notable items including AUSTRAC. Westpac 1H20 results reported the following:
Statutory net profit of $1190 million, down by 62% as compared to the prior corresponding period.
Cash earnings of $993 million excluding notable items, down by 70%.
Impairment charge of $2,238 million, up $1,905 including potential impacts of COVID-19.
Deferring of interim dividend.
Source: Westpac 1H20 Presentation
The results for WBC remained weak and were impacted due to high impairment charges amid COVID-19, AUSTRAC provision as well as notable items. However, the Company's balance sheet stays strong with date funding metrics comfortably above regulatory requirements. The Group is persistent in lending to keep a constant credit flow in the economy. The Group reported that:
Customer deposits were up $19 billion in 1H20 as compared to loan growth which increased by $5 billion. Hence, the deposit to loan ratio has crossed 75%.
Term Funding Facility has made available at least $90 billion in aggregate to Australian Depository Institutions to support lending to Australian businesses.
Westpac's Initial Allowance is $17.9bn and can be drawn down until 30 September 2020.
About $12.9 billion was raised in new long-term wholesale funding with the majority of new issuance in senior unsecured bonds (44%) and covered bonds (20%) in line with prior years.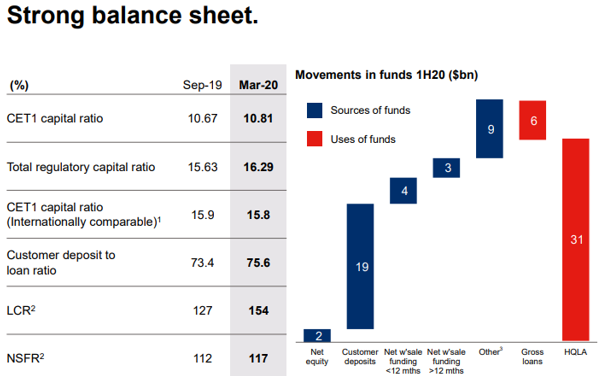 Source: Company's report
Westpac is implementing changes that will result in a robust and positive impact on Westpac's management of non-financial risk and performance.
During coronavirus, the Group has put 1,05,000 mortgage accounts and 31,000 business loans on hold with a total loan value of $39 billion and $8.2 billion respectively.
Amidst altered economic outlook, the allocations by WBC for expected credit losses rose to $5.8 billion that contains nearly $1.6 billion of extra impairment charges primarily related to COVID-19 effect. It also allotted $900 million for a potential penalty concerning AUSTRAC civil proceedings rendered against it on 20 November 2019.
WBC has intended to put more emphasis on banking businesses to produce a smooth and more cost-effective bank. It has been conducting a strategic review for a lot of its businesses for which it has formed Specialist Businesses division that includes general insurance, superannuation Wealth Platforms, Investments, Auto Finance and WBC Pacific businesses.
On 2 June, WBC was trading at $17.24, down by 0.691% (at AEST12:03 PM).
Westpac's changing layer of top executives
On 29 May 2020, Lyn Cobley, retired from the position of the Chief Executive of Westpac Institutional Bank. She piloted the institutional banking at the time of severe global battle and structural shifts across the markets after the financial crisis of 2008.
Ms Cobley worked in the banking industry for more than 30 years. She led the Westpac team on working vigorously to fulfil the requirements of the bank's corporate, government and institutional clients especially during the challenging time of coronavirus.
She had previously held executive ranks all through a number of important happenings, that comprises of the global financial crisis of 2008 and coronavirus pandemic in 2020. She now wants to develop a portfolio career and believes this is the time to step back.
ALSO READ: COVID-19 Pandemic Impacts Big Four Australian Banks: CBA, WBC, ANZ, & NAB
Curt Zuber who was the Group Treasurer would be acting as Westpac Institutional Banking's Chief Executive effective 1 July, while an international hunt is carried out. Further, CFO, Joanne Dawson (Westpac Institutional Bank & Treasury), would be performing the duties as Group treasurer. Dawson, who entered Westpac during 2003, was hired as the Deputy Treasurer in 2008 where duties comprised of group liquidity, global funding and management of balance sheet.
Mr Zuber was appointed as WBC's Treasurer in 2004, has an experience of more than 30 years in financial markets and been with Westpac for 25 years.
Earlier on 19 May, WBC declared that the consumer division's chief executive- David Lindberg and Craig Bright who was the Chief Information Officer left to take up new roles overseas. The Company hired Les Vance for the designation of Group Executive (financial crime, compliance and conduct).
Even though many executives have moved on from WBC Group, Westpac with its strong fundamentals, customer support, long-term plans, and improved non-financial risk management makes it well-positioned to survive this challenging period of coronavirus.
(Note- All currency reported in AUD unless otherwise stated)