Retail Industry
Retail Industry provides products such as food, apparel, furniture, jewellery, etc. The industry has been evolving, as more and more brick & mortar-based retailers are accessing online channels to pursue growth and better customer service.
Consumer spending remains an indicator of the health of the industry. Competition in the retail industry is likely to prevail amid increasing products and capabilities. However, retailers have been focusing on driving customer value to acquire more loyal customers amid increasing competition.
Kathmandu Holdings Limited (ASX: KMD)
Kathmandu Holdings has inked a deal to procure Rip Curl Pty Limited for $350 million. On 1 October 2019, the company had notified about the proposed acquisition, and the transaction would be funded through equity & debt.
The stock of Kathmandu Holdings has been put under trading halt since 1 October 2019, pending a release of a notification by KMD on the outcome of the institutional component of the accelerated entitlement offer. The shares of KMD would continue to be in trading halt till the beginning of the trading session on 4 October 2019.
Rip Curl is an iconic global action sports brand engaged in designing, manufacture, wholesale and retail of surfing equipment & apparel. The transaction provides an opportunity to a global outdoor and action sports company.
Company's Global Presence (Source: KMD's Transaction Summary)
Reportedly, the combined group will have over 7,300 wholesale doorways, 341 owned retail stores, and 254 licensed stores. The transaction would be diversifying KMD's revenue streams, particularly geographic revenue profile while providing access to the new markets.
Further, the acquisition would be funded via equity & debt. 1 for 4 Entitlement Offer has a Record Date of 3 October 2019 at an application price of $2.37 per share for Australian retail shareholders.
One for four (underwritten) Entitlement Offer to raise the amount of $138 million.
Placement of approximately $31 million to founders & CEO of Rip Curl, subject to escrow for twelve months.
New senior secured debt facilities would source $220 million.
KMD stock last traded on 30 September 2019, at a price of $2.79. The stock has delivered a return of +36.1% over the last three- month period, and YTD return has been +6.49%.
Kogan.com Ltd (ASX: KGN)
In FY 2019 period ended 30 June 2019, the company has continued to diversify and expand its portfolio, and it looks forward to the enormous opportunity for the growth of existing businesses and in the expansion of its portfolio.
Reportedly, the company had announced agreements with industry leading partners for the new verticals set to debut in the first half of FY 2020. In FY 2020, the company has planned to launch Kogan Money Super, Kogan Money Credit Cards, Kogan Mobile New Zealand & Kogan Energy.
Among the new verticals launched in FY 2019, the most successful launch has been the Kogan marketplace, and the company launched Kogan Money Home Loans and Kogan Cars as well. In FY 2019, the company has achieved strong growth in Kogan Mobile, Kogan Internet, and Kogan Insurance.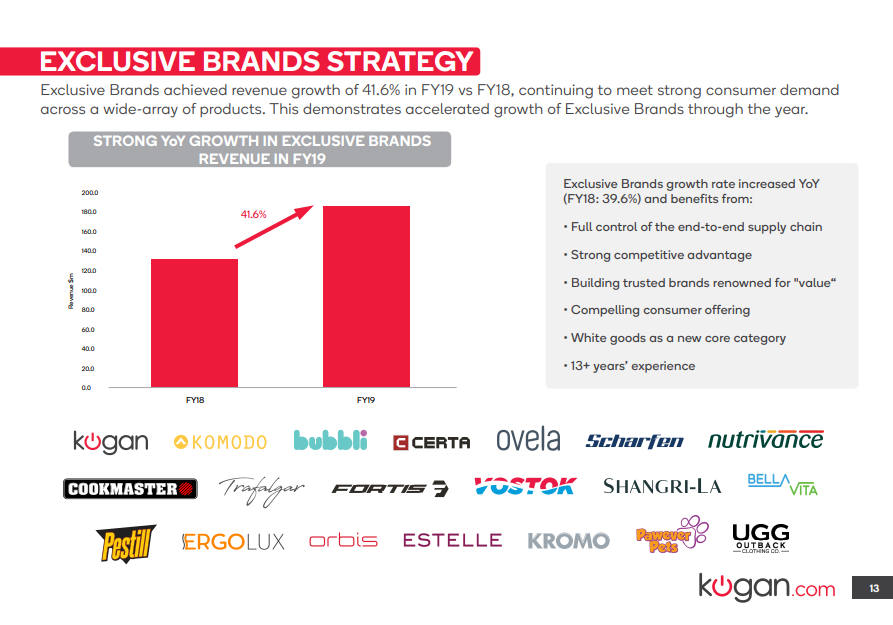 Exclusive Brand Strategy (Source: Kogan.com FY19 Results Presentation)
In August 2019, the company penned a partnership with Mercer to offer the customers with alternative superannuation fund via Kogan Money Super. Besides, the company is expanding Kogan Money to include Kogan Money Credit Cards in partnership with Citibank, allowing customers to have incentives on shopping from Kogan.com.
Reportedly, Kogan Mobile New Zealand was launched in FY 2020 (September 2019) in partnership with Vodafone NZ to offer telecommunication services. In September 2019, the company also introduced Kogan Energy in collaboration with Powershop Australia, providing competitive power and gas related services to houses in the Australian region.
In FY 2019, the company had achieved revenue growth of 6.4% to $438.7 million from $412.31 million in FY2019. Net profit after tax for the period was $17.2 million in FY2019, up by 21.9% over FY2018 NPAT of $14.11 million.
On 2 October 2019, KGN was trading at $6.36 (at AEST 1:01 PM), up by 1.435%. The stock of the company has delivered a return of +26.41 in the last three months.
Nick Scali Limited (ASX: NCK)
Nick Scali is involved with the work related to the sourcing and selling of home furniture and associated accessories. It had a successful FY 2019 period ended 30 June 2019, delivering a seventh successive year of revenue and profit growth.
The company had achieved growth in an environment, wherein the same store sales growth was depressed. Also, the earnings growth was underpinned by a disciplined store rollout program along with improvements in gross margin.
Reportedly, the sales revenue increased by 6.9% to $268 million. The decline in same store sales was offset by the sales from the new stores commissioned in the year FY 2018 and FY 2019. Gross margin improved by 20 basis points to 62.9% driven by new product initiatives, and depreciating AUD had posed a risk to the margins.
Profit Growth (Source: NCK FY19 - Company Presentation)
Net profit after tax for the period improved by 2.8% to $42.1 million from $41 million in the previous year. Depreciating AUD had impacted the cost of imports for the company. Further, as a retailer of furniture, the company is reliant on selling of home and their renovations, which has been witnessing a drop in the recent past.
The company believes that the trading condition would improve consistently with the recovery in housing sales and refurbishments. However, it also believes that the persisting low-interest rates and low unemployment appears favourable. Besides this, the slowdown in the same store sales growth present a risk for the business, and this would offset the profits from the new stores in the short term.
On 2 October 2019, NCK stock was trading at $7.33 (at AEST 1:08 PM), moving down by 1.346%. The stock of the company has delivered a return of +21.21 in the last three months.
Super Retail Group Limited (ASX: SUL)
The group has witnessed a challenging period along with the broader retail sector in FY 2019 that ended 29 June 2019. According to the Chairman's letter, the group's financial results for the period had been solid amid a difficult retail environment and subdued economic conditions.
Reportedly, in FY 2019, the group had achieved revenue growth of 5.4% to $2,710.4 million compared to $2,570.4 million in FY2018. Net profit after tax for the period was $139.3 million in FY2019 compared to $128.3 million in FY2018.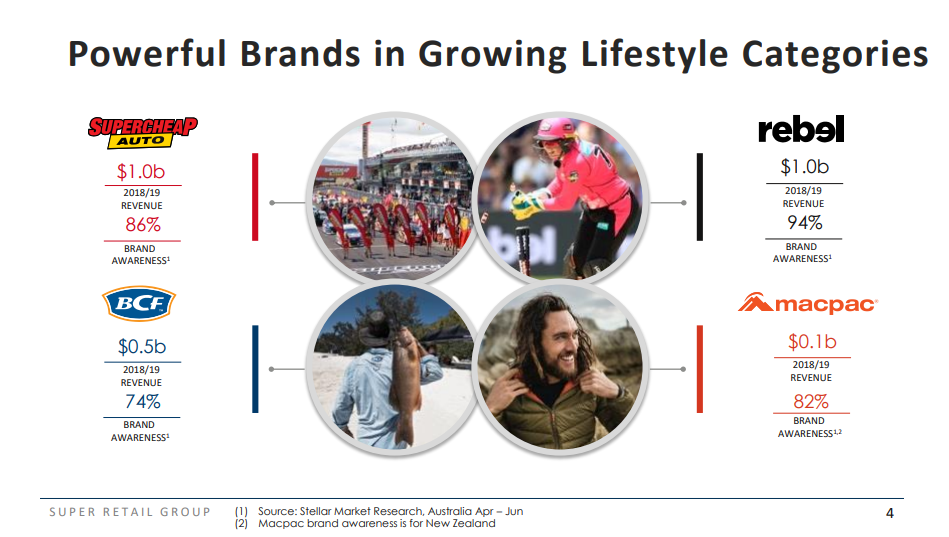 Brands (Source: SUL's Full Year Investor Presentation)
The sold results were underpinned by the sales and like for like sales growth across all the division of the group. In FY 2019, the group concluded a comprehensive evaluation of employment arrangement throughout SUL's business after the underpayments were acknowledged. The group has recognised net $8.9 million before tax as an expense in 2019 regarding the revision of wages underpayment estimates and associated costs.
Further, the group was benefitted from the whole-year contribution of Macpac, which was acquired in March 2018. Online sales depicted a growth of 25% over the previous period, and it represents 7% of the total group sales.
On 2 October 2019, SUL stock was trading at $9.84 (at AEST 1:15 PM), down by 0.405%.
Accent Group Limited (ASX: AX1)
In FY 2019 period ended 30 June 2019, the group had another record year of trading and profit growth. In FY 2019, the group has implemented many initiatives within the existing business and new growth opportunities.
Accent Group implemented several fresh in-store experiences that consisted of shoe cleaning, monogramming, digital screens and so forth.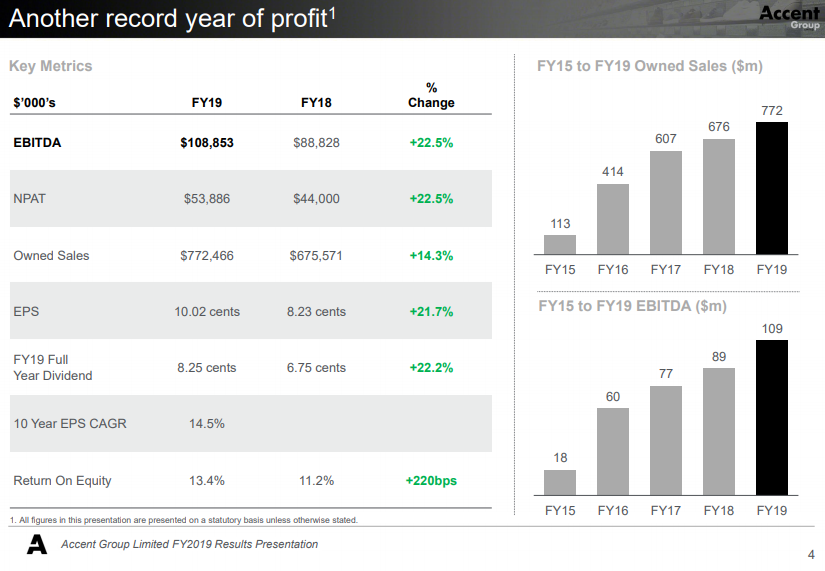 Key Metrics (Source: AX1 FY19 Presentation)
The Athlete's Foot (TAF) started the rollout of MyFIT 3D, allowing customers to scan foot and choose the product accordingly. Also, the group completed the launch of the endless aisle and same day delivery, improving the omnichannel experience for customers.
Besides, the group expanded its presence into new market segments, in this regard; the group acquired Subtype, and launched The Trybe. In FY 20, the group has plans to launch a new brand – PIVOT, focusing on sport & street-inspired market via global brands in sporting & lifestyle segments.
Reportedly, the group has achieved a revenue of $796.26 million, up by 13.4% over the previous year. Also, the group has reported a net profit after tax of $53.87 million in FY2019, up by 22.5% over the previous year.
On 2 October 2019, AX1 stock was trading flat at $1.68 (at AEST 1:22 PM).
---
Disclaimer
This website is a service of Kalkine Media Pty. Ltd. A.C.N. 629 651 672. The website has been prepared for informational purposes only and is not intended to be used as a complete source of information on any particular company. Kalkine Media does not in any way endorse or recommend individuals, products or services that may be discussed on this site. Our publications are NOT a solicitation or recommendation to buy, sell or hold. We are neither licensed nor qualified to provide investment advice.