With COVID-19 causing the fastest rout in financial markets since the Great Depression and bringing the economies to a standstill, the central banks along with the governments are pulling out all the stops to revitalize the economies.
At the time when the governments are responding with gigantic stimulus packages to sail through the coronavirus crisis, the central banks are deploying emergency interventions in record time. From embarking on huge securities-buying programs to flooring interest rates, the banks are exerting all possible efforts to inject liquidity into the financial market.
In a bid to support their respective economies amid coronavirus crisis, most of the central banks reduced the interest rates to a record low level to facilitate lending to businesses and households. Below table summarises a list of some of the central banks that lowered interest rates in the wake of COVID-19: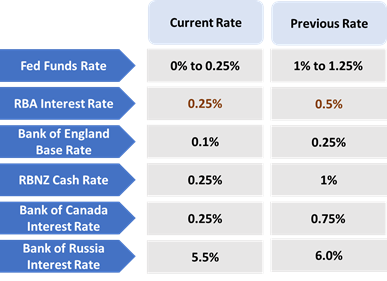 Central Banks Discarding Negative Interest Rates
With central banks like the Bank of Japan and European Central Bank already following negative interest rates for some years and Bank of England also paving way for negative rates, speculations were doing rounds over Fed and RBA's take on cutting rates to negative territory.
Although the US central bank has already brought the federal funds rate to near zero level, financial markets began to price in a further drop in interest rates to negative territory. However, Fed's Chair Jerome Powell has ruled out any such possibility of adopting negative interest rates. Likewise, the RBA Governor, Mr Philip Lowe, has also discarded having negative interest rates in Australia.
Even though negative interest rates could be the secret to revitalize economies reeling from coronavirus crisis, the central banks seem to take calculative steps bearing other economic indicators in mind.
US Dollar Strengthening Amidst Low-Interest Rate Scenario
What's worth noting is that despite Fed's move to soothe the economy by reducing interest rates, the US Dollar is strengthening against most of the other currencies trading in the foreign exchange market.
Usually, the US Dollar grows stronger when Fed raises interest rates which bolsters investors' demand for dollar-denominated assets. However, uncertain market situations like the one world is experiencing now also induces investors' preference towards global haven, reinforcing US Dollar.
Since the beginning of the coronavirus crisis, the US dollar has maintained an edge over most of the major currencies like Japanese Yen, Chinese yuan and euro. This can be testified from the trend of the US Dollar Index (DXY) that stayed below the 100 level during 2019, crossed mark 100 several times in 2020 amidst a surge in coronavirus cases across the world. At the time of writing the report, DXY is trading at 99.8 level.
The strengthening of USD seems to be a good news for the Australian companies earning revenue in the US dollars or those earning money overseas. Some of the ASX-listed big miners and petroleum heavyweights that report their financial results in the USD include BHP Group Limited (ASX:BHP), Newcrest Mining Limited (ASX:NCM), Woodside Petroleum Ltd (ASX:WPL) and Rio Tinto Limited (ASX:RIO).
Besides, companies like Treasury Wine Estates Limited (ASX:TWE), Macquarie Group Limited (ASX:MQG), Flight Centre Travel Group Limited (ASX:FLT), Mayne Pharma Group Limited (ASX:MYX) and Bega Cheese Limited (ASX:BGA), that earn significant proportion of their revenue from the US are also likely to benefit from strengthening USD.
Global Equity Markets Bouncing Back
In addition to the currency market, the equity markets have been garnering considerable attention across the world amidst huge volatility characterising a sinusoidal trend.
The first quarter of 2020 was one of the disastrous quarters for the global equity markets, with massive sell-off seen amidst coronavirus-induced fears. The quarter marked the end of Wall Street's longest-ever bull market, wiping off trillion dollars' worth market value from the US share market.
However, the global equity markets are getting back on their feet since hitting bottom lows in March 2020, backed by unprecedented central bank interventions and government stimulus measures to counter the impact of the pandemic.
In recent days, investors' sentiments have been largely skewed to the positive side amid hopes of re-opening of several economies across the world, including the US, the UK, New Zealand and Australia. Besides, the prospects for anti-coronavirus drug or vaccines are providing a fresh dose of optimism.
Amidst hopes of economic recovery, the stock market rally has been witnessed in multiple indices in May 2020 so far, including S&P/ASX 200, Nasdaq Composite and S&P/NZX 50.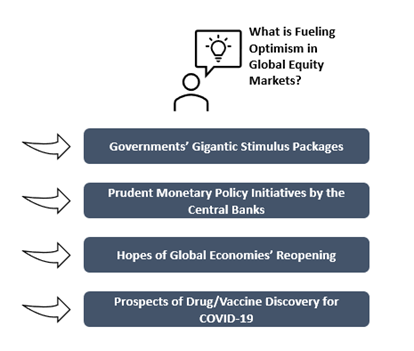 Commodity Market Exhibiting Positive Signs
Besides equities, an upbeat has also been spotted in commodity market in the recent days, with oil prices recovering from historic lows and sanity now returning; thanks to an additional production cut of 1 million bpd announced by Saudi Arabia.
On signs of a drawdown in the US crude inventories and improving demand, the oil prices climbed by over 4 per cent last Wednesday (20th May 2020), sparking widespread buying in energy stocks. With relaxations in COVID-19 induced restrictions and lockdowns, oil is likely to observe a further surge in demand, which can potentially stimulate its price.
Moreover, gold is trading near 7-year high mark and this rally is supported by the liquidity gush on back of monitory action by the major central banks and renewed US China tariff war.
Below chart demonstrates the YTD performance of gold, oil and S&P/ASX 200 as on 22nd May 2020:
Key conclusions to draw from the chart:
Gold outperformed crude oil and S&P/ASX 200 in 2020 so far amidst investors' rush towards safe havens.
Opportunities brewing up for gold mining companies to unlock value.
S&P/ASX 200 is bouncing back after crashing by over 30% in March 2020; long-term investors may still tap stocks of fundamentally sound companies trading at undervalued prices.
Oil price is reviving after crashing for months; outlook appears bright over the long run with oil being an essential commodity.
Although the bullish sentiment is creeping back into equity, currency and commodity markets, the volatility needs to be closely monitored amidst unpredictable duration and containment of the mysterious pandemic.