The last year of the decade had seen one of the most drastic shifts in the interest-rates scenario globally. In 2018, the Federal Reserve in the US had raised the federal funds rate four times. The last rate increase was announced in December 2018. At that time, there was a general expectation in the market that interest rate will continue to rise with the Fed at least announcing two more hikes in 2019.
And, what happened in 2019 was quite contrasting to what was predicted in late 2018.
Interest rates started moving down across the globe, and in Australia as well. During 2019, the Reserve Bank of Australia (RBA) slashed the cash rate on three occasions, 0.25 per cent each time. Cash rate cuts in June, July and October were directed by the RBA in a bid to salvage the plaguing economic conditions. While, the income tax rate cuts introduced by the Commonwealth Government to increase the disposable income further augmented these interest rate cuts to some extent.
However, the RBA's policy stance was not appreciated by the consumers, as noted by the Westpac-MI Consumer Sentiment Index in November 2019.
Domestic Rates at Record Low
Presently, the cash rate stands at 0.75 per cent, and the RBA lowered the cash rate in June 2019 (first time) after a pause that lasted over two-and-half years with the previous cash rate cut being in August 2016.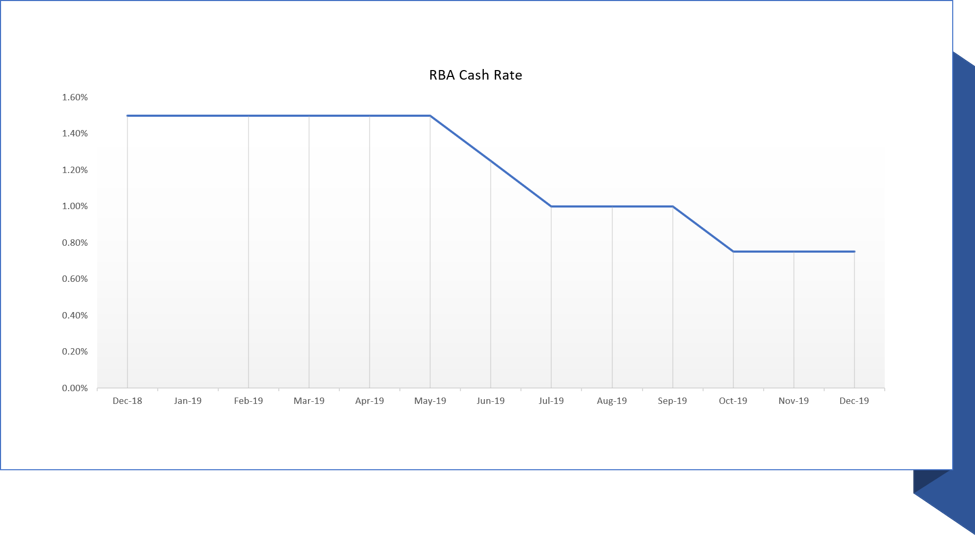 Source: RBA
The below chart depicts the changes in Australian Government Bond Yields from 21 January 2019 to 21 January 2020. It is evident that the yields on the domestic sovereign bond market have come down significantly.
In 2019, the increasing recession expectations took a toll on bond yields along with the impact of interest rate cuts. The scenario is expected to remain same in 2020 as well, following the RBA's easing monetary policy stance.
Source: RBA
Banking in Australia
The banking industry in the country is dominated by big four banks, which includes Commonwealth Bank (ASX:CBA), Australia & New Zealand Banking (ASX:ANZ), Westpac Banking (ASX:WBC), and National Australia Bank (ASX:NAB).
Other notable names include Bendigo & Adelaide Bank (ASX:BEN), Bank of Queensland (ASX:BOQ), Mystate Limited (ASX:MYS), BNK Banking Corporation (ASX:BBC), Mortgage Choice Limited (ASX:MOC).
According to the Australian Prudential Regulatory Authority (APRA), by June 2019, there were 148 Authorised Deposit-taking Institutions (ADIs) operating in the country with assets of $4.54 trillion, up from $4.32 trillion in the previous year.
Source: APRA 2019 Review
APRA notes:
Industry level Return on Equity (RoE) came down to 11.5 per cent, down 50 bps over 2018 and well below long-term average (RoE) of 13.2 per cent.
Asset quality was strong despite a slight increase in non-performing loans of 6 bps to 0.9 per cent of gross loans and advances.
Weighted average industry CET1 ratio stood at 11.1 per cent, up 55 bps over the previous year.
Weighted average industry Tier 1 capital ratio stood at 13 per cent, up 51 bps over the previous year.
(All data as of 30 June 2019)
Source: APRA 2019 Review
A lower return scenario in the banking industry was driven by well-known challenges related to Haynes Royal Commission, which has triggered a fundamental shift in the banking industry. And, the industry participants are navigating a smooth way out of the challenges through:
Business model changes.
Management and Board changes.
Operational optimisations & transformations.
Concentrated level of play.
Managing non-financial risks.
Implementing recommendation from Royal Commission.
Lending Dynamics Changing with New Age Players Throwing Hat in the Ring
The economy is experiencing a rise of neo- lenders, with some typically not acting as an ADI but providing a type of financing. The rise of buy-now-pay-later companies in financing purchases that used to be financed by credit cards could be major shifts in the high-margin business of the banking companies.
And, the country is also witnessing the emergence of focused lenders, particularly in the consumer financing areas but not limited to other areas such as small business financing – Prospa Group (ASX:PGL).
Some names from the ASX-listed universe includes Money3 Corporation Limited (ASX:MNY), MoneyMe Limited (ASX:MNE), Openpay Group Ltd (ASX:OPY), Wisr Limited (ASX:WZR), Afterpay Limited (ASX:APT), Zip Co Limited (ASX: Z1P), EML Payments Limited (ASX:EML), FlexiGroup Limited (ASX:FXL), Splitit Payments (ASX:SPT).
In private markets, the neo bank names include 86 400, Athena, Revolut, Volt, Xinja etc.
Credit Growth Remained Tepid
During the first five months of 2019, credit creation was subdued. The RBA data showed that total credit growth was in the range of 0.2% to 0.3% on a monthly basis during this period. The rate cuts over June to October, were targeted towards tackling this situation.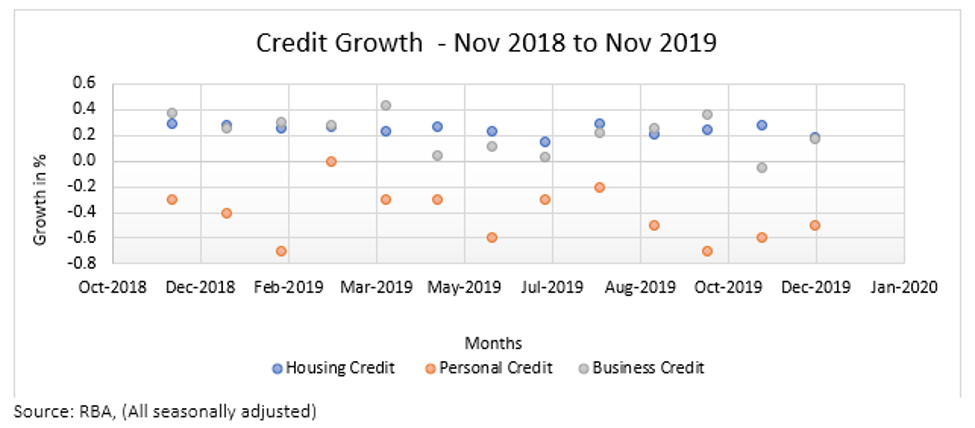 Recent data released for November revealed that credit growth is yet to pick up. In November 2019, the total credit growth was 0.1 per cent on a monthly basis, with housing credit growth of 0.2 per cent and business credit growth 0.2 per cent, both in monthly terms.
It appears that the personal credit market is experiencing significant stress, and this could be due to new channels of consumer financing, which we had discussed earlier.
Revival of the Housing Sector
According to the latest household spending intentions by Commonwealth Bank, the home buying intentions among Australians moved higher in December 2019. And, the home buying intentions index indicate that dwelling prices might continue to trend higher, as seen in the second half of 2019.
Australian property depicted some optimistic trends during the second half of 2019, and in November 2019, the country's property prices recorded their largest gain in the single month since 2003, according to CoreLogic. Since June 2019, the property prices in the country have increased by more than 4.7 per cent.
Also, the data from the Australian Bureau of Statistics (ABS) suggests that weighted average increase in property prices of eight capital cities in the country increased by 2.4 per cent in the September quarter.
As per the latest data released by the ABS, the loan values had depicted a rise in the month of November2019 (up 1.6 per cent), marking a sixth consecutive month of growth. In in the same period, the owner occupied first home buyers constituted around 30 per cent of the new housing loan commitments.
Year 2020 has marked the launch of "First Home Loan Deposit Scheme", which is likely to further boost the mortgage demand in the country for first-time buyers. And, this scheme is likely to enable first-time homebuyers to apply for a mortgage at 5 per cent deposit.
Open Banking Delayed for a While
Open banking is to set allow consumers to choose from a wide range of service providers through data mobility across competing banks/service providers. Its launch is delayed for a while now, and the banks along with industry have been preparing for this regime change in the industry.
Presently, the Australian Competition and Consumer Commission has delayed the launch of open banking. It is expected that the open banking could be launched in July 2020. Initially, the opening banking regime would be launched with big four banks.
In open banking regime, the customers would have an option to share their data with competing service providers and switching banks would be easy. The data would include transaction history, personal information and some other data which would be required to switch any service across service providers.
Further, plans are in place to roll-out open banking regime into the energy and telecommunications sectors as well.
Opportunities for the Big Four Banks
The opportunities for growth in the banking sector, especially for big four banks are limited to core areas of the business. And, the big four giants are likely to concentrate on their core offerings to deliver robust outcomes going forward.
Credit growth is likely to pick-up in the near term given the interest rate cuts, while the pressure on net interest margins is likely to stay until we see any rate hikes. As big fours banks have been divesting non-core businesses, the pressure on non-interest income is expected to prevail in the near term.
Green shoots in the economy are likely to bring more optimism to the banking industry, and a decent pick-up in GDP growth could prove to be a favourable outcome for the big four banks.
Some more factors such as revival in the consumer confidence, household spending levels, wage growth, and employment would deliver better outcomes for the economy, and consequently, for the banks as well.
And, as the risks of slow-economic growth fade away, the Australian government bonds could yield much-higher than what is on the table presently, which is likely to be favourable for net interest margins.
With interest-rates at rock bottom level, the big four banks are presented with an opportunity to refinance the existing debt capital. And, the APRA's decision to increase total capital adequacy ratio by 3 percentage points by 2024, would make the big four banks more resilient.
Key Risks
The big four banks are also exposed to risks, including a downturn in economic activity, geopolitical crisis, deterioration in asset quality, a drastic increase in number of bankruptcies, regulatory overhangs like class actions, proceedings.
Also, the big four banks have been investing in technologies and digitisation, and failure to achieve desired outcome from these investments could hurt the operating performances of the big four banks. Moreover, the execution risks also prevail.
Further, the big four banks could have some adverse impact due to damaging weather conditions like droughts, bushfires, and other natural calamities.
Quick Overview of Big Four FY19 Financial Performance
For the year ended 30 June 2019
CBA posted a net operating income before impairment and operating expenses of $24.33 billion, and net profit after tax from continuing operations was $8.37 billion. In FY 2019, the bank delivered total dividends of $4.31 per share.
For the year ended 30 September 2019
WBC posted a net operating income before impairment and operating expenses of $20.64 billion, and net profit after tax was $6.79 billion. In FY 2019, the bank delivered total dividends of $1.74 per share.
NAB posted a net interest income of $13.55 billion, other income of $4.37 billion, and net profit after tax from continuing operations was $5.09 billion. In FY 2019, the bank delivered total dividends of $1.66 per share.
ANZ posted an operating income $18.78 billion, and net profit after tax from the continuing operation was $6.31 billion. In FY 2019, the bank delivered total dividends of $1.60 per share.
Dividend Yields- Satisfying the Yield Seekers

As such, the big four banks are yielding over 6 per cent, except for CBA, according to the data based on closing prices of 22 January 2020.
---
Disclaimer

This website is a service of Kalkine Media Pty. Ltd. A.C.N. 629 651 672. The website has been prepared for informational purposes only and is not intended to be used as a complete source of information on any particular company. Kalkine Media does not in any way endorse or recommend individuals, products or services that may be discussed on this site. Our publications are NOT a solicitation or recommendation to buy, sell or hold. We are neither licensed nor qualified to provide investment advice.