What is an ETF?
Abbreviated for Exchange Traded Fund, ETF is described as a basket of securities that ideally tracks an underlying stock or bond index. ETFs are bought or sold on an exchange, just like regular stocks. An ETF is basically an investment fund that is traded on stock exchanges and is available for assets such as precious metals, fixed income products, stocks, commodities and currencies.
ETFs are an attractive investment for investors, as they are tax efficient, bear low costs and have features very similar to stocks. On an exchange, the price of an ETF changes during the course of the trading day, as the shares are sold and purchased.
What are the types of ETF?
Investors go ahead with investing in ETFs to benefit from its lower costs, buying and selling flexibility, tax efficiency, diverse market exposure and transparent portfolios. Below are some of the types of ETFs available on stock exchanges:
Bond ETFs - invest in bonds
Commodity ETFs - invest in metals, agricultural products, hydrocarbons and other commodities.
Industry ETFs - track a specific industry like banking, technology
Currency ETFs - invest in major currencies
Inverse ETFs - attempt to make gains from stock declines by shorting stocks
Foreign market ETFs- tracks markets other than its domestic exchange
Actively managed ETFs – to outperform an index
Exchange-traded notes- created to provide access to illiquid markets
Alternative investment ETFs- tracks to trade volatility or gain exposure to a particular investment strategy
Stock ETFs- have different styles like small and large cap, growth, value, etc.
ETFs versus Index Funds
Before we compare ETFs with index funds, let us first understand what exactly index funds are:
What are Index Funds?
Being a type of mutual fund, an index fund tracks and invests in a market index. An index fund can be explained as a portfolio of funds (stocks or bonds) that is created to replicate the structure and performance of a specific financial market index. There is an index, and an index fund, for almost all the existing financial markets across the globe.
Below listed are some of the main features of index funds:
When compared with actively managed funds, index funds have lower expenses and charges.
They have a go-to strategy of passive investing.
They believe that the market would outperform a particular investment in the long term, and based on this, the index funds assess the returns and risks of the market.
Historically, ETFs were index funds, until 2008, when the U.S. Securities and Exchange Commission started the authorisation towards the creation of actively managed ETFs. Nowadays, ETFs are highly popular among investors across the globe.
Major differences between Index Funds and ETFs:
Both index funds and ETFs assess the performance of an index. Even though they appear to be of similar nature and have the same underlying portfolio of an index fund, there are few differences between index funds and ETFs. Let us look at them:
ETFs track a stock market index and trade like regular stocks on the exchange, whereas index funds track the performance of a benchmark index.
ETFs are traded as stocks, whereas index funds are mutual funds.
ETFs are closed-ended funds and their units are developed and listed on stock exchanges, whereas index funds are open-ended mutual funds that invest money in the same weightage and companies that are part of the index.
ETFs are traded and priced throughout the trading day, whereas index funds are priced once at a day when the market closes.
ETFs have low expense ratios adjusted to the price and high trading costs, whereas index funds have no fees and commission over a transaction.
ETFs are comparatively more flexible and liquid in nature.
ETFs have a lower tax liability, whereas index funds might tend to raise capital gains or losses.
ETFs are traded in the open market directly, whereas index funds are functional through a fund manager.
Exchange Traded Funds - Advantages and Disadvantages
In the recent times, ETFs have become popular amidst investors who seek alternatives to mutual funds. As they become popular, more and new indexes are being developed for ETFs to track. As an investor willing to understand ETFs, it is important to understand the benefits and shortcomings of the same. Let us look at both, one by one:
ETFs - Advantages:
Lower costs- ETFs typically possess lower expense ratios than mutual funds.
Liquidity- They can be traded at all times of the day and the benefits are seen at its best when the volatility is relatively high.
Tax efficiency- Investors have better control over when they incur tax, as ETFs are not actively managed and hence do not give an extremely high capital gain and income.
Availability- ETFs are always available in alternative investments, which are not available in other forms to small investors.
Purchase- ETFs enable purchasing a single small position or in small positions.
Transparency- ETFs are highly transparent in nature.
ETFs - Disadvantages:
Trading Costs- An investor might have to bear more cost in trading an ETF than saving from tax efficiency and management fees.
Sale of ETFs - Selling an ETF becomes challenging, if the market is experiencing high volatility or if the ETF is a thinly traded issue.
High risk- Few ETFs might not necessarily be tracking a widely accepted index, which is a risky and even costly affair.
Tracking error- As ETFs hold cash, there are chances of tracking errors, which can be an expensive affair for investors.
Illiquid nature- In a time of distress, the small size of ETFs can make it illiquid.
Tax implications- ETFs that invest beyond equities and fixed income might have high tax implications and impact returns.
Rebalance- A lot of ETFs do not rebalance their portfolios.
As we now understand what ETFs are and what are their advantages and disadvantages, let us now have a look at some of the ETFs that trade on the Australian Securities Exchange:
SPDR® S&P®/ASX 200 Fund
SPDR® S&P®/ASX 200 Fund (ASX: STW) aims to match the returns of the S&P/ASX 200 Index before expenses and fees. Its inception day was 24 August 2001 and its management costs are 0.19%. It has a quarterly distribution frequency. State Street Global Advisors, Australia, Limited is the investment manager of SPDR® S&P®/ASX 200 Fund.
The below image depicts the fund's performance and showcases the total returns of the fund and the index, as of 31 May 2019: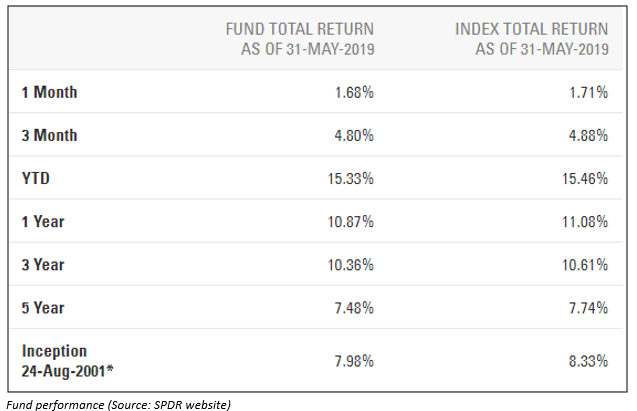 Stock Performance: On 21st June 2019, the fund was priced at A$62.240 on ASX and it closed the business by trading down by 0.639%. The 52-week high and low of the fund is A$62.670 and A$50.750, respectively. It has generated a YTD return of 21.07%.
Vanguard Australian Shares Index ETF
Formed on 13 June 1997, Vanguard Australian Shares Index ETF (ASX: VAS) was listed on 8 May 2009 and invests in the public share markets across Australia. Vanguard Investments Australia Ltd launched the exchange traded fund. The company also manages VAS, which is majorly focused on investing in the stocks of mid-cap, small-cap and large-cap companies.
Stock Performance: On 21st June 2019, the fund was priced at A$84.720 on ASX and it closed the business by trading down by 0.575%. The 52-week high and low of the fund is A$85.290 and A$68.900, respectively. It has generated a YTD return of 21.28%. P/E, EPS and annual dividend yield of the company stands at 247.780, A$0.344 and 4.43%, respectively.
iShares Core S&P/ASX 200 ETF
An exchange traded fund incorporated in Australia, iShares Core S&P/ASX 200 ETF (ASX: IOZ) helps investors by tracking the performance of the market, including the 200 largest companies in Australia that are listed on the Australian Securities Exchange (ASX). The fund was formed in September 2010.
Stock Performance: On 21st June 2019, the fund was priced at A$27.400 on ASX and it closed the business by trading down by 0.581%. The 52-week high and low of the fund is A$27.580 and A$22.320, respectively. It has generated a YTD return of 19.93%, while its last one-month and three-month return stands at 3.26% and 7.70%. its annual dividend yield is 4.21% and EPS is -A$0.820.
VanEck Vectors Australian Equal Weight ETF
VanEck, which was founded in 1955, operates VanEck Vectors Australian Equal Weight ETF (ASX: MVW). VanEck is among the largest issuers of exchange traded products in the globe. It has offices in Sydney, Shanghai, New York, Madrid, Zurich and Frankfurt. Its clients include individuals, institutional investors, financial advisors and superannuation funds.
Stock Performance: On 21st June 2019, the fund was priced at A$30.910 on ASX and it closed the business by trading down by 0.48%. The 52-week high and low of the fund is A$31.090 and A$25.300, respectively. It has generated a YTD return of 22.14%, while its annual dividend yield stands at 2.54% and EPS is negative A$1.669.
---
Disclaimer
This website is a service of Kalkine Media Pty. Ltd. A.C.N. 629 651 672. The website has been prepared for informational purposes only and is not intended to be used as a complete source of information on any particular company. Kalkine Media does not in any way endorse or recommend individuals, products or services that may be discussed on this site. Our publications are NOT a solicitation or recommendation to buy, sell or hold. We are neither licensed nor qualified to provide investment advice.
All pictures are copyright to their respective owner(s).Kalkinemedia.com does not claim ownership of any of the pictures displayed on this website unless stated otherwise. Some of the images used on this website are taken from the web and are believed to be in public domain. We have used reasonable efforts to accredit the source (public domain/CC0 status) to where it was found and indicated it below the image.
There is no investor left unperturbed with the ongoing trade conflicts between US-China and the devastating bushfire in Australia.
Are you wondering if the year 2020 might not have taken the right start? Dividend stocks could be the answer to that question.
As interest rates in Australia are already at record low levels, find out which dividend stocks are viewed as the most attractive investment opportunity in the current scenario in our report.
CLICK HERE FOR YOUR FREE REPORT!