Managed Funds
Managed Funds are popular amongst investors who have the money and intend to diversify their portfolio across asset classes and market sectors. In a managed fund, funds of individual investor are pooled together with all other investors and the combined capital is then invested by the professional fund manager who undertakes investment decisions on the client?s behalf. ?The investment manager is known as a fund manager or the responsible entity.
A peculiar feature of managed funds is that, through the pooling of resources of multiple investors, managed funds are able to give a single investor the access to a range of investments, such as industrial property (commercial, shopping centres or office blocks) or infrastructure (toll roads, gas pipelines or airports), that may not be affordable or directly available to individual investors.
Income in the form of dividends or distributions is periodically paid to the investor and the value of one?s investment is directly proportional to the value of the underlying assets.
Since the managed funds market space is quite vast, the funds can be broadly categorised into two groups as Active and Passive Funds.
Active Versus Passive Funds Management?
Active Funds Management refers to the style of investing whereby the fund managers or brokers frequently engage in buying and selling of securities with an underlying aim to outperform the market or a specific index say, US equity market?s Russell 1000 Index or the Australian S&P/ASX 200 Index.
The active fund manager or the management team adopt a highly dynamic approach to direct the investor?s money.
The portfolio managers of an actively managed fund keep a close tab on the market trends, monitors the shifts in the economy, changes in the political order, and identify other factors through heir investigation that may have an implication for specific companies. The in-depth analytical research combined with market forecasting helps in choosing sectors, assigning weightings and make appropriate trades to benefit from opportunities as the same arise. ?
Active managers believe that these processes allow them to translate higher than average returns.
However, in the quest to conquer the market, the active fund?s portfolio managers may take on additional market risk to obtain the promised or targeted returns. And so, active funds management involves a hefty fee payment for the expertise offered. ?
It is not always likely that the investment strategies would outperform the market. In fact, sometimes, the profits earned are counterbalanced or overweighed by the exorbitant fee paid.
Passive Investing, on the other hand, is a low cost and low maintenance strategy for making investments preferred by those risk averse investors who would rather adopt the buy and hold tactic. Passive investors keep their eye on the end price and invest over long periods of time, overlooking the short-term difficulties including steep market downturns.
The key point of difference between the two portfolio managing strategies is that while an active investor tries to beat the market, a passive investor tracks a market index.
Passive investment funds or Index funds involves the responsible entity simply buying a portfolio of assets that replicate some index, say, the all ordinaries index or the S&P200 index. These funds generate a return, before fees, that is almost similar to the index it is tracking, with time delays in some cases.
Besides, Passive investment funds are relatively cheaper as there is no charge for investment expertise from the fud managers.
Listed Versus Unlisted Managed Funds
There are around four types of listed managed funds offered by the Australian Securities Exchange (ASX). These are broadly termed as Australian real estate investment trusts (A-REITs), Listed investment companies (LICs) and trusts (LITs), Absolute Return funds and Infrastructure funds.
In addition, ASX also launched the mFund Settlement Service that allows investors to buy and sell units in selected unlisted managed funds with the mFund issuer via a stockbroker or advisory services.
Actively Managed ETFs vs Managed Funds
Exchange-Traded Funds (ETFs) were conventionally referred as passive investments which track an index, an industry, or a commodity. In 2015, the first ever Active Exchange-traded Fund was established in Australian market.
Although active ETFs and managed funds are more or less the same, there are few differences to be noted, as tabulated below: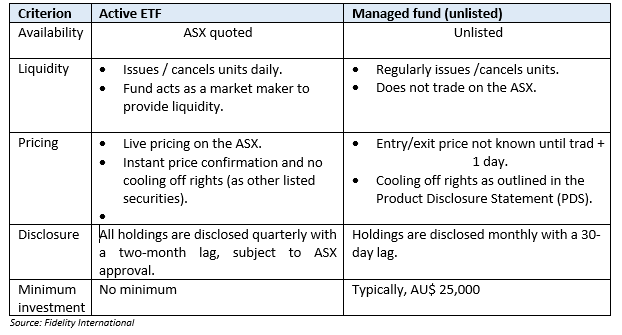 SPIVA? Australia Scorecard ?
S&P Dow Jones Indices has been the de facto scorekeeper of the ongoing active versus passive debate; SPIVA U.S. Scorecard was first released in 2002. The SPIVA Australia Scorecard essentially includes an analysis of the performance of actively managed Australian mutual funds against their targeted benchmark indices over the investment time horizons of 1, 3, 5, 10, and 15 years. In the last Scorecard released for the full-year to 30 June 2018, the returns of more than 849 Australian equity funds (A-REIT, large, mid, and small cap), 425 international equity funds, and 116 Australian bond funds were examined and reported.
The Scorecard demonstrated that in the concerned one-year period ended 30 June 2018, the majority of Australian funds from multiple categories underperformed their targeted benchmarks. However, some Australian mid-caps and small-caps were successful in doing so.
Source: SPIVA? Australia Scorecard
However, the yearly active versus index figures had disparities through the market cycles without consistent trends.
S&P Dow Jones has consistently observed over the years that majority of Australian active funds in had failed to beat their comparable benchmark indices over the long term.
Examples of Managed Funds ????
Colonial First State Investments Limited
According to Canstar?s Managed Funds Star Ratings and Awards, Colonial First State Investments Limited has been named as the Provider of the Year ? Managed Funds. Colonial First State Investments offers access to wide-ranging and highly competitive funds, including outstanding Value for Australian Small Caps, Multisector Moderate asset classes, Multisector Balanced funds and? other asset classes.
Colonial First State Investments Limited?s range of funds have been recognised for their balance of net performance and features that their products offer to prospective investors.
Macquarie Investment Management Limited
Canstar?s Managed Funds Star Ratings recognised Macquarie Investment Management as the Provider of the Year ? Managed Funds (Australian Equities), for a consistent performance delivered to its investors across its single asset class managed funds that only invest on the Australian share market.
Macquarie Australian Shares Fund and Macquarie Australian Small Companies were both acknowledged for offering excellent value to their investors for their respective asset classes, large cap Australian stocks (in the top 70% of market cap) and mid to small cap Australian stocks (in the bottom 30% of market cap).
Fidelity International
Fidelity International, headquartered in the United Kingdom, is an active fund manager offering a plethora of investment management services including pension management, mutual funds as well as fund platforms to both private and institutional investors. Fidelity executes a bottom up global research to identify investment themes and ideas across different market cycles.
---
Disclaimer
This website is a service of Kalkine Media Pty. Ltd. A.C.N. 629 651 672. The website has been prepared for informational purposes only and is not intended to be used as a complete source of information on any particular company. Kalkine Media does not in any way endorse or recommend individuals, products or services that may be discussed on this site. Our publications are NOT a solicitation or recommendation to buy, sell or hold. We are neither licensed nor qualified to provide investment advice.