The Australian stock market has witnessed one of the worst phases in its history because of the effect of COVID-19 pandemic in the country and all over the world. During March 2020, when the COVID-19 cases were increasing on a daily basis, people in the market were seen selling their holding out of the fear. As a result, the price of the stocks of various companies declined significantly, whose businesses did not experience much impact of the coronavirus.
Despite the panic in the market, many market participants view such a situation as an opportunity because the stocks are available at a lower price and might make money in the future.
With the initiatives and the actions taken by the Australian government on time, the COVID-19 cases have now started declining and in the present situation, the government is working on getting things back on track.
In this article, we would look at a few ASX listed technology stocks that are trading at a lower price. The selection of the stock was made by comparing the stock PE to its industry PE ratio.
Iress Limited
Iress Limited (ASX:IRE) comprises of more than 2,000 people engaged in creating software that aids the financial services sector to perform their best.
The Company offers software and services for trading & market data, investment management, financial advice and many more.
Iress During COVID-19:
Iress during the outbreak of COVID-19 was prepared to respond to the situation. It remained focused on supporting the health and welfare of its people, provide services to its customers as well as users.
IRE's team, including the business-critical teams, were working from the remote location and is in a position that they can operate from the remote location even for an extended duration.
FY2020 Guidance:
Iress has strong underlying fundamentals and high rates of recurring revenue and cash conversion. Iress has a conservative balance sheet.
In the initial part of 2020, the Company's performance was as per the expectations. The Company did not experience any material revenue impact due to COVID-19. However, seeing the uncertainty in the market, the company decided to withdraw its guidance.
Recent Update:
On 29 April 2020, Iress and MT Newswires notified the market on entering into a partnership to offer MT Newswires' premium global market & economic news to the customers of Iress through direct feed or via trading & market data software of IRE, Pro and ViewPoint.
Financial Highlights:
In the recently held AGM, the Company highlighted on its FY2019 results for year ended 31 December 2019. A few pointers from the same are as follows:
Group operating revenue increased by 8 percent to stand at $508.9 million on a constant currency basis compared to the pcp (prior corresponding period).
Segment profit improved by 10% to $152.1 million.
Reported NPAT rose 2% on 2018 to $65.1 million.
Dividend History:
Stock Performance:
IRE shares have delivered a negative YTD return of 19.28%. In the last one month, IRE stock has provided a return of 2.32%. At AEST 2:20 PM on 13 May 2020, IRE shares were trading at $10.57, down 0.189%. IRE has a market cap of $1.86 billion, with175.92 million outstanding shares, an annual dividend yield of 4.34% and PE ratio of 27.94x.
WiseTech Global Limited
WiseTech Global Limited (ASX:WTC) provides software solutions to the logistics industry worldwide.
WiseTech During COVID-19:
WTC for 3 months to 31 March 2020, noted that its business traded in line with the expected range for FY2020 guidance. This reflects the Company's continued growth in revenue, cash generation from operations and addition of new users.
FY2020 Guidance reaffirmed:
WTC's FY20 revenue is expected to range from $420 million to $450 million and EBITDA in between $114 million to $132 million.
Business Update:
WTC confirmed that its balance sheet is strong, with strong cash generation and significant liquidity to support the strategic and operational initiatives.
During COVID-19, the Company's top priority is to keep its people, customer, partners and communities healthy, safe and productive. During this period, the Company's platform and people were completely operational.
Stock Information:
WTC shares delivered a negative YTD return of 17.17%. However, in the last one month, the shares have improved significantly and provided a return of 22.49%. On 13 May 2020, at AEST 2:29 PM, WTC shares were trading at $19.60, up 1.083%. WTC has a market cap of $6.17 billion, an annual dividend yield of 0.19% and a PE ratio of 67.09x.
Hansen Technologies Limited
Established in 1971, Hansen Technologies Limited (ASX:HSN) offers software and services to the energy, water and communications businesses.
Hansen Technologies during COVID-19:
Hansen's top priority during the current COVID-19 situation is safety and well-being of its employees and customers. The Company has provided its people with flexible working hours, and most of the personnel are working from the remote location.
HSN is engaged in delivering mission critical software to suppliers of critical services like energy, water and communications. HSN owns the intellectual property, and the delivery has not been impacted by third party supply chains. Its recurring revenue via customer relationships provides them with a solid revenue base while they are dealing with coronavirus.
As highlighted in the Company's announcement on 3 April 2020, it does not anticipate its recurring revenue to be much impacted by the coronavirus.
Financial Position:
Hansen confirmed that it has substantial funds to support any cash flow needs. During May 2019, the Company secured $225 million syndicated multi-currency facility with maturity date of 30 April 2020 and was subject to renewal depending on negotiation with the external financers. Out of these facilities, $186 million had been drawn while remaining $39 million remains unused.
1H FY2020 Results:
Operating revenue improved by 28.4% to $144.3 million.
Underlying NPAT for the period was $9.3 million, down 27.9% on pcp.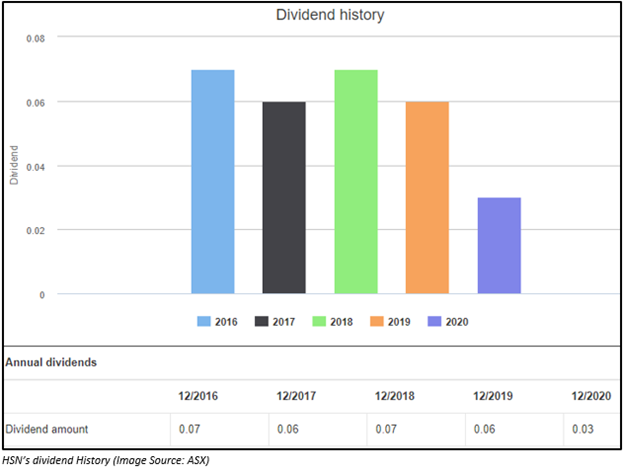 HSN's Performance for FY2020:
Hansen's performance is in line as expected for 2H FY2020. However, the Company feels that there is still an uncertainty with respect to the extent that revenue from projects and new customer wins would slow during the COVID-19 crisis and is likely to follow for some time later as well since the businesses they serve appear to comprehend the best possible means ahead after the coronavirus.
Noticing the uncertainty hovering around the possible impact of the coronavirus on upcoming performances related to operations and finance, the Company decided to withdraw its guidance.
Stock Information:
HSN shares have delivered a YTD return of -13.51%. However, in the last one month, HSN shares have provided a decent return of 15.94%. On 13 May 2020, at AEST 2:51 PM, HSN shares were trading at $3.24, up 1.25%. HSN has a market cap of $634.21 million, an annual dividend yield of 1.88% and a PE ratio of 39.51x.