Perth-based BlackEarth Minerals NL (ASX:BEM), on 10 February 2020 (AEDT 01:10 PM), witnessed a 13.953% spike in its share price to A$ 0.049, post announcing highly encouraging results from a graphite anode suitability test program, successfully completed for graphite concentrate from the Company's 100 per cent owned Maniry graphite project, southern Madagascar.
The program has demonstrated that the Company's 99.97% purity spheroidized carbon is suitable for use in anode production for the lithium ion battery market.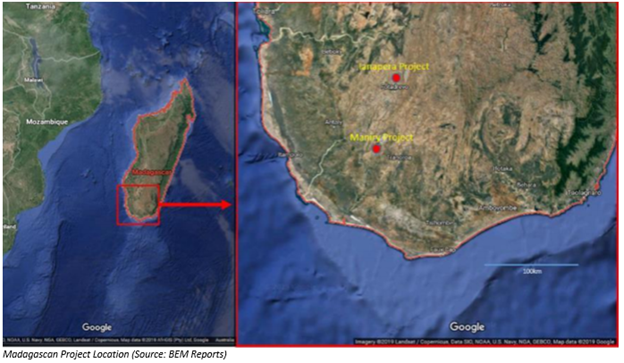 Graphite Concentrate Evaluation Testwork Program by ANZAPLAN
In May 2019, BEM had engaged Dorfner ANZAPLAN, a Germany-based leading independent, full-service specialist in testing and engineering, for the program, targeted towards the evaluation of Maniry graphite concentrate for suitability as anode material in lithium ion batteries.
Under the program, Dorfner ANZAPLAN considered the following items:
chemical and physical characterisation
micronisation and spherodization performance and characterisation
purification of the spherical graphite produced
electrochemical characterisation of the spherical purified graphite.
For results from the first three items listed above, please read
BlackEarth Minerals Achieves Key Milestone in Spherical Graphite Specifications for Maniry Project
BlackEarth Minerals Inches Closer to Off-Take Deals, Maniry Project Delivers High-Purity Graphite Anode Materials
Additionally, conventional acid leach, microwave assisted acid digestion, HF acid "free" acid digestion and thermal purification were covered under the spherical graphite purification testwork.
Dorfner ANZAPLAN tested all four different purification methods, highlighting that the spherical graphite was able to be purified to the minimum + 99.95 wt.-% fixed carbon, which is required for battery applications.
Additionally, the testwork demonstrated the amenability to readily purify BEM spheroidized materials, in meeting specifications required for battery grade. Since the testwork was preliminary in nature, it was not optimised in terms of reagent consumptions and conditions.
Preliminary Electrochemical Characterisation Testwork
After the successful purification and spheroidization testwork, Dorfner ANZAPLAN undertook preliminary electrochemical characterisation testwork, involving the use of BEM material as an anode and testing its effectiveness within a lithium ion battery over time.
Testwork was completed on a sample of spheroidized and purified graphite (BE L7) with the following characteristics.
For electrochemical evaluation, single layer full pouch cells were fabricated. The method of choice for most accurately characterising the relative performance of new material in actual lithium-ion cells is the preparation and testing of an anode material in full cells. Thus, it is preferred over testing in conventional half coin cell constructions.
Following steps were covered in the testwork:
Determination of formation capacity and first charge efficiency
Determination of cycling performance (100 cycles)
Determination of rate capability
Maniry Concentrate in Line with High-Performance Reference Graphite Material
The graphite concentrate from Maniry project was also compared with a high performance purified spherical graphite reference material, representing a reference material in the upper third of quality materials used in the anode application.
Testwork results indicated that the BEM concentrate produced results similar to the high-performance reference graphite material used by ANZAPLAN.

These results are highly encouraging for BlackEarth Minerals, which recently announced to have successfully fast tracked the Maniry project to progress the Bankable Feasibility Study (BFS) Stage, in under two years of getting listed, for a cost less than A$ 6 million. The Company is hoping to complete the BFS in 2020.
EV Demand to Spark Dynamic Change in Graphite Market
Over the coming years, graphite is expected to be the key anode material for lithium-ion batteries. With government support and growing focus towards environment-friendly options, demand for electric vehicles is anticipated to grow at a robust rate across the global level.
Globally, sales of electric cars are forecast to reach 23 million, with the stock crossing 130 million vehicles in 2030, as per the Global EV Outlook 2019 released by the International Energy Agency in May 2019.
Such results further demonstrate that BEM holds the potential of becoming a reliable graphite material provider over time, catering to the burgeoning EV revolution. Meanwhile, BlackEarth is continuing discussions with industry leading manufacturers of lithium ion batteries, with the aim of entering into off-take agreements.
As on 10 February 2020, BEM had a market capitalisation of A$ 5.54 million with approximately 113 million outstanding shares.
---
Disclaimer
This website is a service of Kalkine Media Pty. Ltd. A.C.N. 629 651 672. The website has been prepared for informational purposes only and is not intended to be used as a complete source of information on any particular company. The above article is sponsored but NOT a solicitation or recommendation to buy, sell or hold the stock of the company (or companies) under discussion. We are neither licensed nor qualified to provide investment advice through this platform.