Modern businesses aim to be the most productive and cost-effective organisations in their respective industries. This requires best-in-class solutions that blend the three essentials of business- software, management expertise and contracting services, which consequently enables businesses to generate fast, accurate and reliable information.
With this backdrop, let us discuss Orcoda Limited (ASX:ODA), the operational efficiency specialists aiming to optimise everything. Interestingly, the word Orcoda was formed out of the words - Organise Connected Data, which sum up the Company's purpose.
The Company combines systems, processes and data by connecting and automating complex supply chains that improve operational efficiencies. It has three key business sectors-
Healthcare Logistics- an innovative solution that aims to improve client outcomes providing safe, secure and optimised people transport.
Transport Logistics- targets to empower businesses to improve efficiency, visibility and control over your fleet, people and services in markets related to transport, field service, and distribution of goods and services.
Resource People Logistics- offers solutions to manage people, places and process through the Onboarding, Mobilisatioon and Worksite phases of managing an individual through their workplace life-cycle.
To get a deeper insight on these three business sectors, PLEASE READ- Acquaint Yourself with Solutions of Operational Efficiency Specialists- Orcoda Limited
In today's article, we aim to familiarise you with the objectives, recent milestones and the outlook of Orcoda.
Objectives of Orcoda
Planning, mobilising and managing complex supply chains, whilst minimising waste and maximising efficiencies is ODA's mission. There are five core corporate objectives that facilitate this mission and support ODA's strategic growth agenda.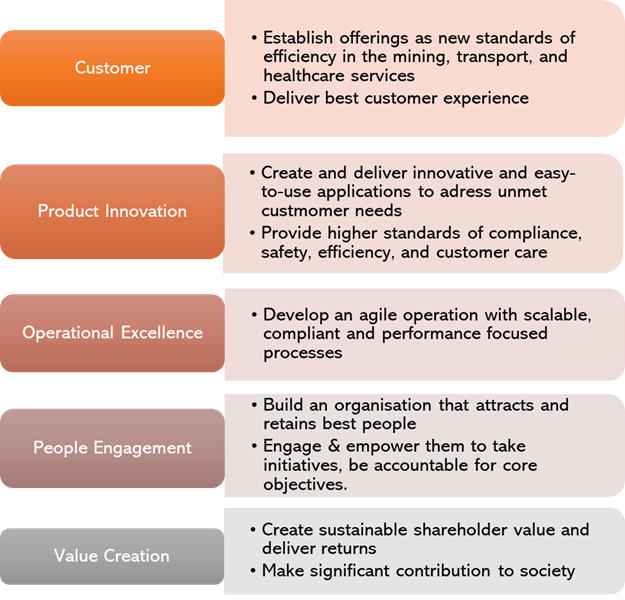 Recent Milestones of Orcoda
Over the past few years, ODA has been achieving several milestones. Recently, in its results for the quarter ended 31 December 2019, ODA notified that it now has Community Transport vehicles operating in Brisbane, Sunshine Coast as well as the Gold Coast, driven by the recent license sales.
Good Read- Orcoda's Customer Revenues Up 250% in December Quarter Over Previous Quarter; 2020 Optimism Continues
Let us look at few other milestones in the recent past-
In 2016, Resource Connect moved into Healthcare with its people software platform through Icuro Healthcare.
In 2017, Resource Connect identified that it required a vehicle software platform to complement its people software platform and recognised Smarttrans as the apt vehicle software platform, which led to the negotiation of a merger.
In 2018, Smarttrans and Resource Connect finally merged. Subsequently rebranded themselves and Orcoda was born. In the same year, ODA intimated about its exit from the China business and retention of the Transport business.
Last year, in 2019, ODA announced first cars into the market in its Healthcare Logistics: People Transport Services business and sale of licenses, which reaped optimistic results.
Currently, ODA remains confident for further growth across each business segment.
Interesting Read- Orcoda Limited's Latest Agreements Signifying Robust Position in World of Logistics Excellence
Orcoda's Outlook for 2020-2021
While announcing the results for the quarter ended 31 December 2019, ODA's Managing Director Mr Geoffrey Jamieson stated that the Company is continuing to grow, and its management is looking forward to the future.
Let's graze over Orcoda's outlook from 2020 to 2021.
Healthcare Logistics
Through the period, the Company will continue to roll out vehicles to its source locations so that customers always have a transport choice.
Licences will continue to be sold (subject to continued supply of vehicles).
Research & development programs will persist to maintain innovation within ODA's offerings.
Transport Logistics
ODA plans to capitalise on the resurgence in the mining sector and close out Snowy Hydro 2 (7-year project).
The Mine Shutdown platform will be marketed further, and research & development programs will persist to promote innovation.
Resource People Logistics
ODA aims to extend its services to existing customers and welcome new ones.
The Company will also continue to develop small fleet capabilities.
It plans to closely work with suppliers of new IP and continue to innovate via the research & development program.
Share Price Information
ODA aims to create sustainable shareholder value. ODA last quoted $0.200 on 19 February 2020 (AEDT 1:56 PM). The Company has a market cap of $21.71 million and its stock has delivered impressive returns of 11.11 per cent in the past six months.
---
Disclaimer
This website is a service of Kalkine Media Pty. Ltd. A.C.N. 629 651 672. The website has been prepared for informational purposes only and is not intended to be used as a complete source of information on any particular company. The above article is sponsored but NOT a solicitation or recommendation to buy, sell or hold the stock of the company (or companies) under discussion. We are neither licensed nor qualified to provide investment advice through this platform.