Fertiliser focused company with an intent to develop its phosphate assets and growing its copper exploration portfolio, Aguia Resources (ASX:AGR) has its key projects located in the State of Rio Grande do Sul which is a prime farming area completely dependent on phosphate imports.
The deposits in the Rio Grande do Sul indicate features of high-quality, low-cost production, and are ideally situated with vicinity to infrastructure like road, rail, and port for support activities.
Interesting Read: Aguia Resources Dealing in Right Commodity with Large Domestic Market; Backed by Strong Management Team
In its Rio Grande Projects, AGR has the following deposits located in a farming region some 350 km from the State Capital Porto Alegre:
Três Estradas,
Joca Tavares, and
Porteira carbonatite-hosted phosphate
Cerro Preto sediment-hosted phosphate
Amongst all of these, Três Estradas project is located in the state of Rio Grande do Sul in a region which consists of no phosphate mines while none is scheduled to be built in the probable future other than Aguia's planned development of Três Estradas.
Três Estradas consists of three granted exploration licenses covering a total area of 2,075.34 hectares and is the most advanced of Aguia's holdings in the region for which Aguia has also signed option agreements on a number of neighbouring properties which are currently being explored.
Interesting Read: Aguia Resources Eyeing Advancement at Três Estradas Phosphate Project; Raises Funds Through Placement
Concluded Scoping Study
In February 2020, Aguia Resources completed an independent Scoping Study for its Três Estradas Phosphate Project where the study validated the excellent economics, very low Capital Expenditure (CAPEX) and fast pay?back at the project.
Based on the environmentally friendly Direct Application Natural Fertilizer (DANF) production process, the Scoping Study highlighted the positive economics of the project and the simple low-cost mining and processing required to support the production during the its first phase.
The Scoping Study conducted by independent consulting firm GE21 Consultoria Mineral Ltda (GE21) in Brazil indicates a post?tax IRR of 51% with NPV of A$69.3 million using an 8% discount rate based on the following assumptions:
Três Estradas Project Phase 1 will have a life of mine of 18 years that shall require an initial capital expenditure of A$9.72 million
Scoping Study assumes a long?term DANF price of A$72/tonne and BRL/AUD foreign exchange of 2.85
The summary of the financial analysis is given in the table below: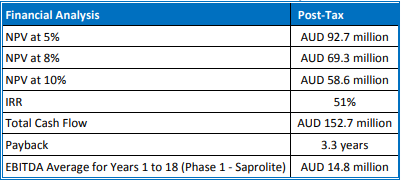 Source: Company's Report
The Phase 1 updated mining plan forecasts a total of 5.1 million tonnes of ROM mined at a strip ratio of 0.49 intends to take advantage of the high head?grade, low strip?ratio, and relatively low processing costs to produce a high?margin DANF with the help of a simple crushing?milling processing plant, which shall produce an average of 269 ktpy of product.
Overall, the Scoping study of Phase 1 Três Estradas Phosphate Project confirmed excellent economics for Aguia Resources with the following highlights: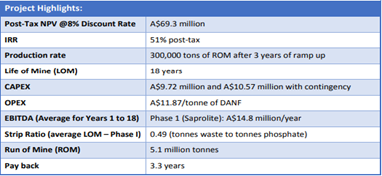 Source: Company's Report
Throughout the course of its operations, the Company's key project development activities remained on track and were highly encouraged by the growing interest in AGR's project from potential industry partners and financiers.
Favourable Results From Agronomic Tests
Further, during March 2020, the Company received favourable results well within the required specifications to produce a Natural Phosphate Product and exceeded expectations through the initial agronomic laboratory tests conducted on the Direct Application Natural Fertilizer (DANF) for the Três Estradas Phosphate Project.
Moreover, solubility results were excellent, and the laboratory tests returned a solubility of 22.9% in a 2% citric acid solution, which is above the minimum requirement of 15%.
Bank Gives Support To Fund 50% OF CAPEX
Subsequent to the receipt of the results from the Scoping Study, the same is was reviewed by multiple parties including local Brazilian banks and other financiers, and potential offtake partners. Upon assessment, the Development Bank of Southern Brazil has offered to support for a development loan to fund up to 50% of the capital expenditure for the Três Estradas Phosphate Project and also provided a letter confirming the same.
The offer from the Bank comes following an extensive review of the project which provided the confirmation that the Três Estradas Phosphate Project meets its investment criteria.
Details at: Aguia Resources Receives Up To 50% Funding Letter on CapEx for Três Estradas Phosphate Project
Progress for Obtaining LI
The Company has been actively progressing towards obtaining the installation licence (LI) for the Três Estradas Phosphate Project during the quarter, which would authorize the construction of the project. Aguia has been actively progressing four key initiatives in order to complete all the requirements for the granting of the LI:
Environmental Plans and Programs
Engineering plans for Phase 1
National Mining Agency
Land Acquisition
Details of the Progress at: Aguia Progressing Strongly Towards Installation License for Três Estradas Phosphate Project
Aguia has been making excellent progress and has gained encouraging support from the local community and relevant local authorities. The Company looks forward to obtaining the LI in the first quarter of 2021 to commence construction at that time and emerging as a strong, local phosphate producer while contributes to the growth and development of the agribusiness sector.
For AGR's complete progress till March quarter, read: Aguia Resources Provides March Quarter Update, Progressing Well with Agronomic Trials and Installation License
The AGR stock closed the day's trade at a price of $0.070 on 12 May 2020 with a market capitalisation of $ 17.67 million.