Phosphate and Copper exploration company with mineral resource projects in Brazil, Aguia Resources Limited (ASX:AGR) has been actively engaged in the advancement of its Três Estradas Phosphate Project as well as highly prospective copper targets during the quarter ended 31 March 2020.
To begin with, let us take a detailed look into AGR's activities at its phosphate project located in the state of Rio Grande do Sul (RS State) in Southern Brazil.
AGR is keen to advance the Tres Estradas Phosphate Project into production and is continuously progressing with the necessary work as the Company looks forward to producing a Direct Application Natural Fertilizer (DANF) in project Phase 1.
Update from April 2020: Aguia Resources Eyeing Advancement at Três Estradas Phosphate Project; Raises Funds Through Placement
Appointment of Luiz Carlos Clerot
Developing a 3600 approach towards the rapid advancement of the project through the final stages of permitting, construction, and the implementation of Phase 1 mining and processing of DANF, the Company recently appointed Mr Luiz Carlos Clerot as General Manager of Phosphate Development who comes with 16 years' rich experience in exploration, project development and implementation, as well as mining, across a wide range of commodities.
Related: Aguia Resources Dealing in Right Commodity with Large Domestic Market; Backed by Strong Management Team
During the quarter, AGR also concluded a scoping study for Phase 1 of its Três Estradas Phosphate Project which was conducted by an independent consulting firm GE21 Consultoria Mineral Ltda (GE21) in Brazil. The study comprises of
Pit optimisation
Design mine scheduling
Capital expenditure (CAPEX)
Operational expenditure (OPEX) estimates
Economic analysis based on the production of a Direct Application Natural Fertilizer (DANF) from a Mineral Resource of 5.1Mt at 8.79% P2O5
The high natural P2O5 grade in the saprolite along with initial CAPEX, much lower than the previously planned larger-scale processing facility, translate to an attractive opportunity for AGR in DANF production.
Financial Feasibility
The financial model indicating a post-tax IRR of 51% with NPV of $69.3 million using an 8% discount rate is on the basis of following assumptions - a long-term DANF price of $72/tonne, BRL/AUD foreign exchange of 2.85, and 18 years life of mine at Phase 1 of the Três Estradas Project with an initial capital expenditure requirement of A$9.72 million.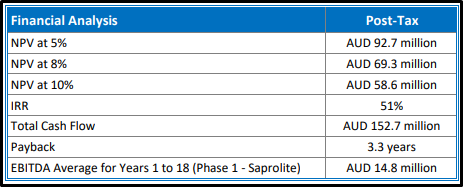 Financial Results Summary (Source: Company's Report)
A Mineable Resource of 5.1Mt at 8.79% P2O5 representing the oxidized portion of the Três Estradas Phosphate Deposit formed the basis for the Scoping Study and can be classified into the following
7Mt (13%) of the resources are Measured
4Mt (86.2%) is Indicated
04Mt (0.8%) is classified as Inferred resource.
While the Phase 1 updated mining plan forecasts a total of 5.1 million tonnes of ROM, the project comprises of an open-pit, truck and shovel operation, over 18 years' life of mine.
Chart of Phase 1 mining schedule (Source: Company's Report)
AGR assesses that the average annual feed to the processing plant is expected to be 317,000 tonnes of ROM in Phase 1 after the ramp-up in the first three years with a planned nameplate capacity of 370,000 tonnes per year of DANF product, resulting in a life of mine production of a total 4.9Mt of DANF, averaging about 269,000 tonnes of DANF product annually over 18 years.
Interesting Read: Why is Phosphate Such a Lucrative Opportunity for Aguia Resources
Minimising Environmental Impact
Aguia Resources is optimistic that the new approach of producing DANF instead of phosphate concentrate for Phase 1 of the Project is expected to reduce the environmental footprint of the project by 77% while also providing significant cost savings and reduced risk.
Agronomic Trials and Lab Results
Currently, Integrar Gestão e Inovação Agropecuária, an independent agronomic research institution is undertaking Agronomic efficiency tests with the DANF product with soybean in the field and maize in pots, representing the summer crops in Brazil with test results expected in May.
Subsequent to the harvest of the current crop, these test work shall move to Brazilian winter crops, with ryegrass and wheat replacing soybean and maize respectively
During March 2020, AGR had received positive results which were well within the required specifications to produce a Natural Phosphate Product and exceeded expectations through the first agronomic laboratory tests conducted on the DANF for its 100%-owned Três Estradas Phosphate Project.
Environmental Licensing
During the quarter, AGR has been in pursuit of obtaining the Installation License (LI) for its phosphate project and has been actively progressing with the environmental plans and programs and with the detailed engineering for Phase 1.
Moreover, AGR has been focussing on fulfilling the requirements that include environmental work, agronomic trials, engineering details, and community and landowner communication, of the Brazilian Mining Agency (ANM) and State Government Agency (FEPAM) for the granting of the Installation License at the phosphate Project.
Details at: Aguia Progressing Strongly Towards Installation License for Três Estradas Phosphate Project
AGR has been progressing with all requirements of the Brazilian Mining Agency (ANM) in accordance with the Brazilian Mining Law and expects to file the Economic Exploitation Plan (PAE) with ANM in Q4 2020 and to receive ANM approval by Q1 2021 which is mandatory for the granting of the Installation Licence (LI) for the project.
Advancement at Copper Project
AGR also exercised an Option Agreement to acquire the Andrade and Primavera copper projects that enhanced Aguia's holdings in the Rio Grande Copper Belt by 9,282 hectares for a total area of 86,782 hectares.
Related: Tracing the Progress at Copper Exploration Activities for Aguia Resources Limited
AGR undertook a diamond drilling campaign with an objective to test the continuity of the high-grade ore bodies along the plunge at the copper targets in the Andrade area and validated the north and south extensions of the high-grade copper zone within the area.
Other progress of the Company includes:
Receipt of a letter from the Development Bank of Southern Brazil in support for a development loan to fund up to 50% of the capital expenditure for the Três Estradas Phosphate Project.
Detailed Discussion at : Aguia Resources Receives Up To 50% Funding Letter on CapEx for Três Estradas Phosphate Project
Streamlining the operations and cost base with ongoing monthly costs anticipated to be in the range of $180,000.
This shall offer sufficient financial flexibility to secure all remaining permits to take Três Estradas to a 'shovel ready' phase and to ensure that all the copper tenements remain in good standing.
Cash Position
The Company's cash flow statement for the March quarter represents net cash of $1,162,000 used in the operating activities with more than half the funds ($636,000) being utilised for exploration & evaluation. Moreover, AGR's cash and cash equivalents at end of the quarter stood at $ 478,000.
Way Ahead
The Company looks forward to continuing agronomic trials to determine the efficiency of the DANF product and commence the detailed engineering with a focus on advancing the LI during the June 2020 quarter.
AGR closed at $0.081 on 30 April 2020.