Highlights

Society Pass Incorporated (NASDAQ: SOPA) zoomed over 40% after first-quarter results.
Its revenue grew by 4,582% YoY in the quarter ended March 31, 2022.
Its cash reserve rose by over 33% QoQ to US$31.0 million as of March 31, 2022.
Shares of data-focused marketing platform Society Pass Incorporated (NASDAQ: SOPA) zoomed 40.26% to US$2.6509 at 1:11 pm ET on May 9 after declaring its first-quarter results for fiscal 2022.
Its revenue grew 4,582% YoY to US$445,000 in the quarter ended March 31, 2022, compared to US$9,506 in the corresponding quarter of 2021.
Its cash reserves increased by more than 33% to US$31.0 million as of March 31, 2022, versus US$23.3 million as of December 31, 2021.
Also Read: 5 consumer stocks under US$50 to watch: MAT, LRN, HRB, TEN & UTI
The Carson, Nevada-based company now has more than 1.6 million registered customers and 5,500 registered merchants/brands on its interconnected operating platforms. In February this year, it completed the acquisition of Philippines-based online grocery delivery platform Pushkart and added the Handycart business to its digital ecosystem and loyalty platform.
Society Pass is an acquisition-focused company and aims to build a next-generation consumer ecosystem. It acquires companies run by seasoned entrepreneurs in the lifestyle, telecom, food and beverage, digital marketing, travel, and merchant software segments.


SOPA plans to launch its Society Pass loyalty points platform in the second quarter of 2022 in a beta version to boost the number of online users and merchants in the Southeast Asia region.
It also plans to ramp up its acquisitions to generate higher revenue and reduce cost as part of its expansion plan for the SoPa ecosystem. It is expected to file Form 10-Q with the Securities and Exchange Commission (SEC) by the end of this month.
Also Read: SND to PVL: Five penny energy stocks to watch in Q2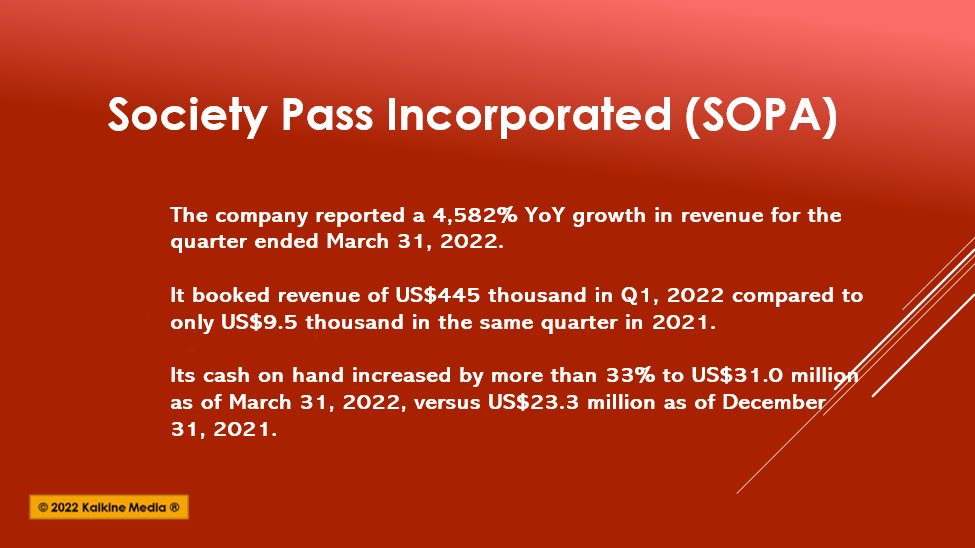 Also Read: PLD to SPG: Can these 5 REIT stocks provide hedge against inflation?
Society Pass completes restructuring of Leflair
Society Pass has completed a corporate restructuring of its subsidiary Leflair for Vietnam operations into Leflair Group (LFGroup).
It has appointed Loic Gautier as the chief executive officer of the new Leflair Group. Leflair is an integrated lifestyle retail ecosystem focused on the Southeast Asian market.
Also Read: IGT, CHDN to MGM: Top sports betting stocks to watch in Q2
Society Pass' reportable segments are E-commerce and Merchant POS. A significant part of its revenue comes from the e-Commerce segment.
The stock surged on Monday after the strong quarterly results. The stock traded in the range of US$77.34 to US$1.80 in the last 52 weeks.
The company launched its IPO in November 2021.
Also Read: IBDRY to BRLXF: Top 5 wind energy stocks to explore amid rising demand
Bottom line:
the NASDAQ 100 Technology Sector Index fell 31.88% YTD, and SOPA declined 83.05% in the same period. Investors should carefully analyze the stock before investing.