Highlights

Siyata Mobile, Inc. (NASDAQ: SYTA) stock gained over 130% after bagging a US$1.3 million order.


The stock is up 83.47% quarter to date.


Siyata Mobile, founded in 1986, went public in 2001.
Siyata Mobile, Inc. (NASDAQ: SYTA) stock jumped over 130% on Tuesday after it announced receiving orders worth US$1.3 million from clients in Europe, the Middle East, and Africa.
The SYTA stock was trading at US$6.365, up 130%, at 11:08 am ET. The Quebec, Canada-based company said the order includes SD7 ruggedized devices and VK7 vehicle units and accessories.
Siyata CEO Marc Seelenfreund said the company expects increased adoption of its cellular products and accessories.
Also Read: Why did Del Taco (TACO) stock skyrocket 65% today?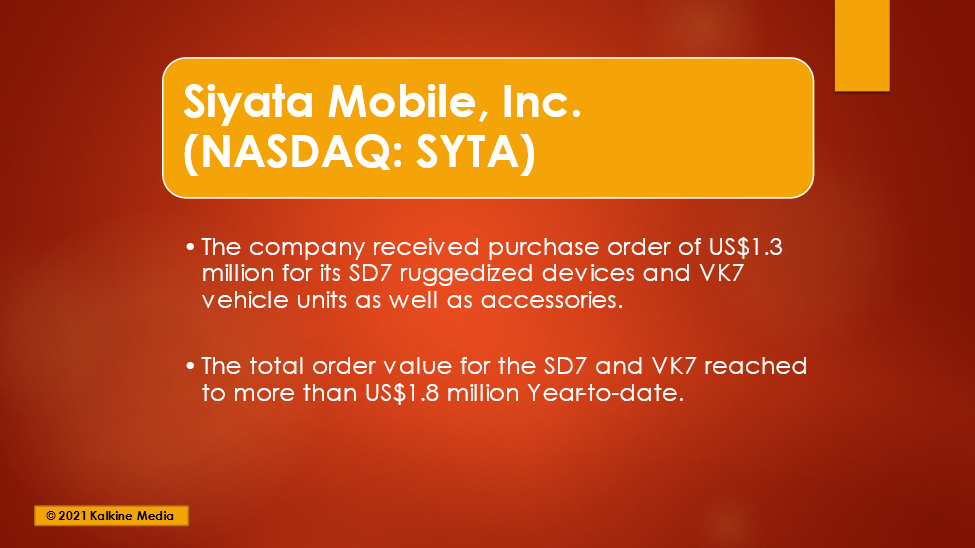 Also Read: 5 healthcare stocks that rose more than 80% YTD
Siyata Products
Siyata's SD7 provides faster coordinates on the unified public cellular networks through smartphones or feature phones. The VK7 is a patent-pending car kit that comes with an integrated 20-watt speaker and SD7 slide-in connection and an external antenna connection. The kit is used with the SD7 vehicle power directly. It can also be connected with the Uniden cellular amplifier and external remote speaker microphone for hands-free communication, one of the reasons for its usefulness for the police.
Also Read: Why are these EV stocks worth watching in 2022?
Financials
For the June quarter, 2021, the company earned revenue of US$356,979 compared to US$2,130,981 in the same period the previous year. The adjusted EBITDA was US$(4,607,747) in the June quarter of 2021 compared to US$(541,721) in the year-ago period. The net loss was US$(10.8) million versus a net loss of US$(0.627) million in the previous year.
Also Read: Seven hot dividend stocks to watch in 2022
Siyata Mobile also sells Push-to-Talk over Cellular (POC) devices and cellular signal booster systems over advanced 4G mobile networks. The cellular-based communication systems are vehicle-mounted. It also offers boosters for improving signals in homes and buildings.
Its customers are cellular operators and commercial vehicle technology distributors in Canada, the US and the EMEA region. Siyata's current market capitalization is US$31.9 million. The stock traded in the range of US$15.75 to US$2.50 in the last 52 weeks.
Also Read: Five metaverse cryptos that are making news
Bottomline
The NASDAQ Composite Index generated a 21.45% return YTD, whereas SYTA fell 41.37% in the same period. Investors, however, should analyze the stock carefully before investing in it.