Highlights:

Applied UV (NASDAQ: AUVI) develops infection-control technology.
It announced a new distribution partner to supply air purifiers in Pakistan.
The company has a market capitalization of US$37.33 million.
The New York-based Applied UV, Inc. (NASDAQ: AUVI) stock rose 60.73% to US$2.845 at 11:55 am ET on Thursday after announcing a new distribution partner for supplying its Airocide air purification systems in Pakistan.
Applied UV has picked M/S Novatek Pakistan to supply its air purifiers at government hospitals. Novatek had previously won a government tender to install 657 air purifiers.
The US company develops infection-control technology products for various clients, including hospitality, healthcare, commercial and municipal markets.
The stock rallied after it awarded the contract to M/S Novatek Pakistan. Airocide is an FDA Class II medical device.
Commenting on the contract, Munawwar Zahid, CEO of M/S Novatek Pakistan, said in a press note: Airocide is the "best in the class" air purification solution used globally to protect against covid and "harmful air-borne pathogens too small to be filtered."
Also Read: CELU to CMPI: Explore top 5 biotech stocks with over 100% YTD return
He said Airocide is a filter-less, environment-friendly technology, adding, "We see a massive demand for Airocide in the coming year."
Applied UV CEO John Andrews said: "We are extremely confident that our air purification solutions will help them achieve their stated goals."
Also Read: Top healthcare stocks to explore in June: JNJ, LLY, ABBV, MRK & BMY
Applied UV has two wholly-owned subsidiaries: SteriLumen, Inc. and Munn Works, LLC.
Applied UV's current market capitalization is US$37.33 million, with 12.96 shares outstanding. The company brought its IPO in 2020.
Also Read: Top 5 mid-cap stocks to explore: UTHR, SWX, ACHC, WWE & Y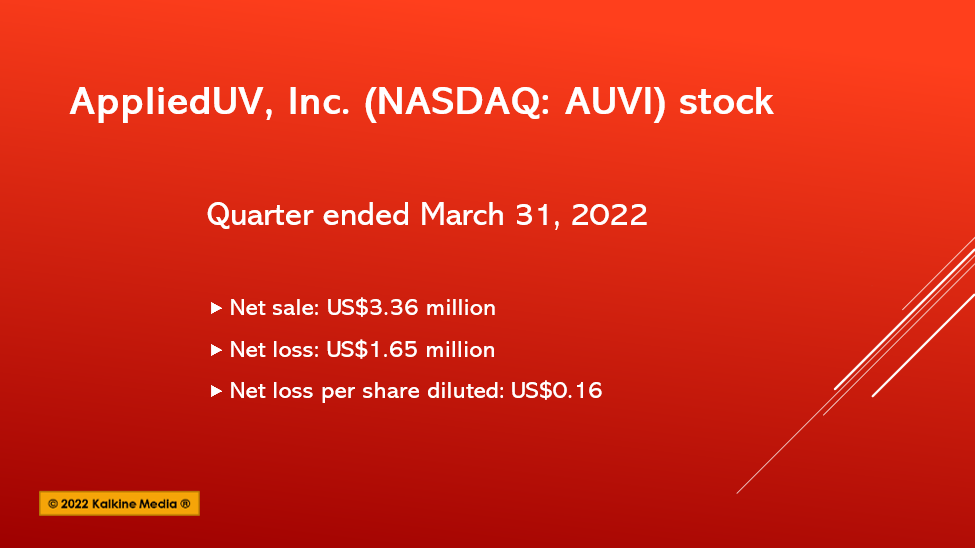 Also Read: CTVA to CC: 5 chemicals stocks that returned over 20% gains in a year
Financials:
The company reported net sales of US$3.36 million for Q1 ended March 31, 2022, compared to US$2.32 million a year ago. Its net loss rose by more than half to US$1.65 million from a net loss of US$1.03 million in the year-ago quarter.
The EPS diluted increased to US$0.16 in Q1, 2022, from US$0.12 in Q1, 2021.
Also Read: Uptick in Chinese tech stocks renews hopes of a long rally
Bottom line:
The AUVI stock traded between US$12.15 and US$0.87 in one year and closed at US$1.77 on June 8, 2022. The stock fell 81.77% in a year.