Highlights:

Switzerland-based Novartis AG manufactures healthcare products.
Novartis on Thursday received FDA accelerated approval for its tumor drug.
Novartis' net sales from Tafinlar and Mekinist drugs were US$403 million in Q1, 2022.
Shares of Swiss drugmaker Novartis AG (NYSE: NVS) gained traction on Thursday after receiving an accelerated approval from the US Food and Drug Administration (FDA) for a tumor drug.
The new therapy for BRAF V600E solid tumors is a combination of its drugs, Tafinlar and Mekinist. The NVS stock rose 0.11% to US$81.60 at 10:52 am ET after the news.
According to the company, the oral drug has been developed for advanced solid tumors under a novel approach dubbed tumor agnostic.
Also Read: 5 natural gas stocks to explore in Q3: LNG, DCP, KMI, EQT & SWN
Novartis said the drug could be used in adults and pediatric patients as young as six suffering from metastatic solid tumors with a BRAF V600E mutation.
The treatment was approved after analyzing its clinical efficacy and safety results in trials during Phase II ROAR and NCI-MATCH studies in patients with BRAF V600E solid tumors.
Reuters further reported that the Tafinlar and Mekinist combination had been previously approved to treat certain lung, thyroid, and skin cancers with BRAF V600 genetic change.
Also Read: CELU to CMPI: Explore top 5 biotech stocks with over 100% YTD return
The Basel, Switzerland-based company manufactures healthcare products under two segments: Innovative Medicines and Sandoz.
Around 80% of its revenue comes from the Innovative Medicines segment covering areas like oncology, ophthalmology, immunology, respiratory, neuroscience, and cardio-metabolic.
The company has a market capitalization of US$180.5 billion.
Also Read: CTVA to CC: 5 chemicals stocks that returned over 20% gains in a year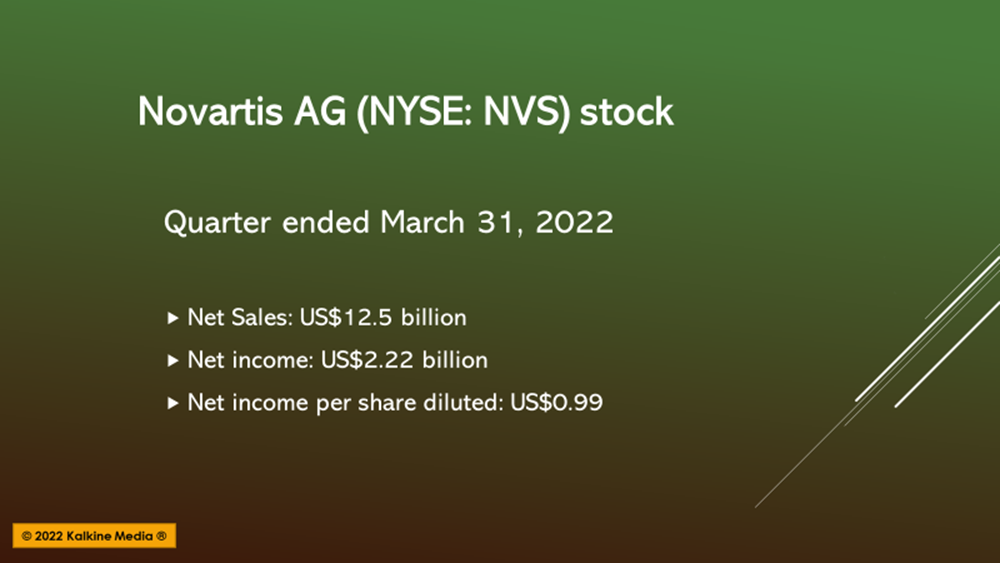 Also Read: RIO to NEM: Should you consider these 5 gold stocks amid inflation?
Financials:
Novartis reported net sales of US$12.5 billion for Q1, 2022, driven by volume growth compared to US$12.4 billion in Q1, 2021. Its net income was US$2.22 billion, or US$0.99 per diluted share, compared to US$2.06 billion or US$0.91 per share in the first quarter of 2021.
Its net sales from Tafinlar and Mekinist grew around 3% YoY to US$403 million in Q1, 2022, compared to US$393 million in the same quarter a year ago.
Also Read: Can these 5 utility stocks weather inflation? DUK, SO, D, AEP & SRE
The NVS stock traded in the range of US$95.17 to US$79.09 in the last 52 weeks and closed at US$81.51 on June 22, 2022.
The stock has a P/E ratio of 7.6 and a forward P/E for one year of 13.36. Its current dividend yield is 2.65%, with an annualized dividend of US$2.161.
Also Read: Ocean Bio-Chem (OBCI) stock jumps 117% on acquisition by OneWater (ONEW)
Bottom line:
Head of Novartis Oncology US Reshema Kemps-Polanco said cancer treatment is complex, so it is important to regularly follow science and new approaches to treat the disease.