Highlights

Citigroup, Inc. (NYSE: C) revenue declined 1% YoY to US$17.2 billion in the third quarter.


The net income surged 48% increase YoY to US$4.6 billion in the quarter.
Citigroup (C) stock gave around 17% return YTD.
Global investment bank Citigroup, Inc. (NYSE: C) on Thursday reported a 48% jump in its net revenue to US$4.6 billion in the third quarter ended on September 30, 2021.
Commenting on the strong quarterly results, Citi CEO Jane Fraser said the pandemic recovery and robust corporate and consumer confidence provided a favorable business environment that reflected in the company's overall performance.
Besides, Fraser said that higher consumer spending across cards products, deposits, and growing engagement across digital channels lifted the results.
Citigroup's third-quarter snapshot
The company posted revenue of US$17.2 billion in Q3 2021 compared to US$17.3 billion in the year-ago quarter, showing a decline of around 1% YoY.
The global consumer banking segment generated US$6.26 billion, down 13% YoY; institutional clients group contributed US$10.77 billion, an increase of 4% YoY; and corporate or others contributed US$108 million in the quarter.
Citigroup's net income jumped 48% YoY to US$4.6 billion compared to a net income of US$3.1 million in the same quarter a year ago. The increase was due to lower credit costs.
Its earnings per share diluted were US$2.15, up 58%, against EPS diluted of US$1.36 in the previous year. The change could be attributed to net income growth and decreased shares outstanding. At the same time, its operating expenses increased 5% to US$11.5 billion.
Also Read: UnitedHealth (UNH) raises guidance on strong Q3 growth, revenue up 11%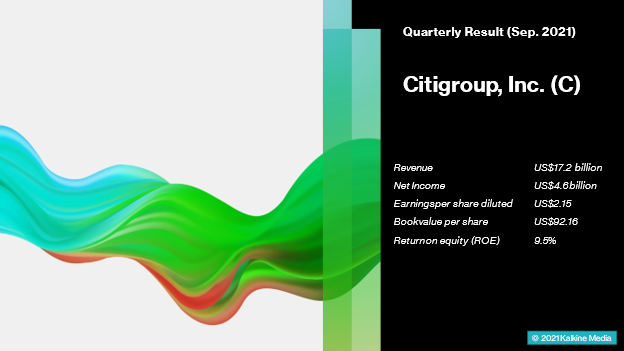 Also Read: Wells Fargo (WFC), Morgan Stanley (MS) Q3 profits beat estimates
Stock Performance
The book value per share was US$92.16, an improvement of 9% from US$84.48 in the previous year. Also, the tangible book value per share was US$79.074, up 10%, due to an increase in net income. The stock's return on equity (ROE) was 9.5%, and ROTC was 11.0%.
Besides, Citigroup repurchased 43 million common shares and returned US$4.0 billion of capital to common shareholders through repurchase and dividends.
Also Read: Taiwan chipmaker TSMC's Q3 net profit jumps 13.8% on global demand
The New York-based bank operates in over 100 countries. It provides branch banking services under the consumer banking segment and cash management & investment banking under the institutional clients group segment.
Citigroup's current market capitalization is US$142.69 billion. Also, its P/E is 7.08, the forward P/E one-year is 6.95, the dividend yield is 2.89%, and the annualized dividend is US$2.04. The stock traded in the range of US$80.29 to US$40.49 in the last 52 weeks. It closed at US$70.26 on Oct 13, 2021.
Also Read: Nine inflation-protected ETFs to consider amid skyrocketing prices
Bottomline
The Dow Jones US Banks Index (DJUSBK) gave a 35.82% return year-to-date but fell 1.45% in five days. At the same time, Citigroup stock gave around 17% return YTD and fell 2.67% in five days. Investors, however, should evaluate the companies carefully before investing in stocks.