Summary

NIKE reported a net income of US$1.51 billion, compared to the loss of US$790 million,
Net income more than doubled to US$5.73 billion during the full fiscal year 2021.
NIKE projects fiscal 2022 revenue to grow in low double digits and exceed US$50 billion.
NIKE, Inc. (NYSE: NKE) stock rose over 13 percent on Friday morning to notch its 52-week high as the company bounced back to profit in its fiscal fourth quarter.
The athletic footwear and apparel maker reported strong results for its fourth quarter and full fiscal year 2021 ended May 31 after the markets closed on Thursday, reflecting its business recovery from the impact of the coronavirus pandemic.
Meanwhile, NIKE anticipates its revenue to grow low double digits in fiscal 2021 and surpass US$50 billion, CFO Matthew Friend said during NIKE's fourth-quarter earnings call. Friend noted that growth is expected to be slightly higher in the first half than the second half.
As of 10.13 am ET June 25, Nike's shares were trading at US$152.02 on Friday, up 13.79 percent.
READ MORE: Confluent (CFLT) IPO: Stock jumps 25% on market debut
Fourth quarter results
NIKE's revenue soared 88 percent year over year to US$12.34 billion on a currency-neutral basis. Revenue from the Nike brand grew 88 percent to US$11.8 billion, while the Converse brand recorded US$596 million in revenue, up 85 percent.
The company attributed the increase in revenue primarily to triple-digit growth in its wholesale business and a strong double-digit increase in NIKE Direct.
NIKE earned US$1.51 billion, or 93 cents per diluted share, in net income during the three months. It compares with the net loss of US$790 million, or 51 cents per share, in the year-ago period.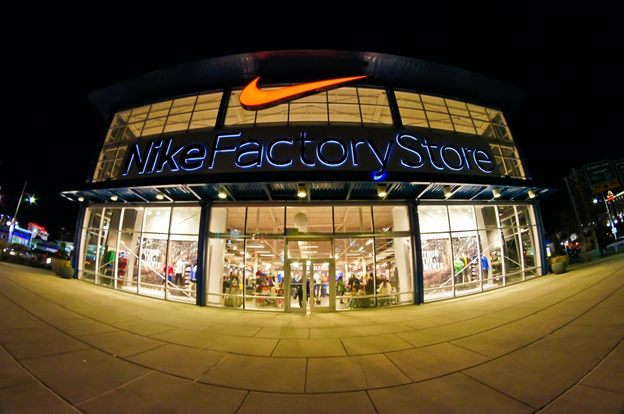 Source: Pixabay
Full fiscal 2021 results
The Oregon-based sneaker giant posted 17 percent year-over-year growth in its full fiscal year 2021 revenue to US$44.54 billion. Revenue from NIKE brand and Converse totaled US$42.3 billion and US$2.2 billion, respectively.
NIKE Direct saw its revenues grow 30 percent to US$16.4 billion. Net income jumped 126 percent to US$5.73 billion from US$2.54 billion in fiscal 2020. Diluted EPS more than doubled to US$3.56.
The company paid US$1.6 billion in dividends during fiscal 2021, against US$1.5 billion in fiscal 2020.
READ MORE: Why Rite Aid (RAD), Carnival (CCL) stocks dropped Thursday?
Share performance
NIKE is currently valued at US$240.15 billion on New York Stock Exchange. It has a PE ratio of 71.06.
The stock gained approximately 7 percent year to date. The share price, which hit the high of US154.19, traded as low as US$93.57 in the 52-week period.

Please note: The above constitutes a preliminary view, and any interest in stocks/cryptocurrencies should be evaluated further from an investment point of view.