Highlights:

Stocks of General Motors (NYSE: GM) slipped after it reported its Q2 earnings on Tuesday, July 26.
KO stock surged over 11 per cent year-over-year (YoY).
Coca-Cola has raised its full fiscal revenue guidance.
Stocks of General Motors (NYSE: GM) and Coca-Cola Company (NYSE: KO) have been trending on the stock markets on Tuesday, July 25, amid their latest earnings release and the anticipation ahead of the expected rate hike this week.
The Federal Reserve is expected to announce another interest rate hike on Wednesday, July 27. Some market experts anticipate the increase to be about 75 basis points.
The US stock market has been volatile this year amid decades-high inflation, rate hikes and recession fears. The central bank had raised the interest rates by a total of 1.5 basis points through June in an effort to bring inflation down. However, in June, the CPI rose 9.1 per cent, which was the highest level since 1981.
Amid these developments, let us explore GM and KO stocks.
General Motors Company (NYSE: GM)
GM stock was down 2.4 per cent at US$ 33.69 at 10:42 am ET on Tuesday as the US$48.86-billion market cap automaker posted a 40 per cent year-over-year (YoY) decline in its net income of US$ 1.69 billion in Q2 FY22.
The Detroit, Michigan-based firm noted revenue of US$ 35.75 billion in Q2 FY22, up from US$ 34.16 billion in the prior year's second quarter. The automotive manufacturing firm reiterated its full fiscal profit guidance in the earnings result while saying that it was trimming its spending and hiring due to worries of an economic slowdown.
GM stock has traded in the red this year, dropping by 42.94 per cent year-to-date (YTD). However, it showed gains of 5.22 per cent this month. Its current Relative Strength Index (RSI) is 48.77, indicating that the stock is currently volatile.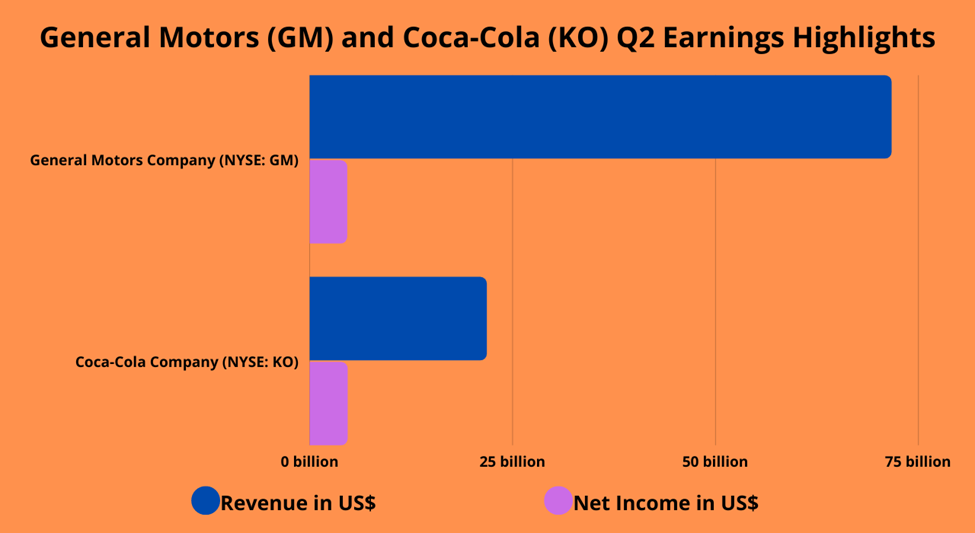 Source: ©Kalkine Media®; © Canva Creative Studio via Canva.com
Coca-Cola Company (NYSE: KO)
KO stock rose 7.29 per cent this year while increasing 11.33 per cent YoY. The beverage firm's scrip shot up by about two per cent at 1.12 PM EST on Tuesday in the wake of its earnings release.
Coca-Cola posted revenue of US$ 11.3 billion in Q2 FY22, noting an increase of 12 per cent YoY. However, its earnings per share (EPS) fell 28 per cent to US$ 0.44 in the same quarter. Its operating income slumped 22 per cent YoY in Q2 FY22.
However, Coca-Cola said that it has raised its full fiscal revenue guidance, citing robust demand for its sugary soda products.
Bottom line
This week is expected to be one of the most crucial weeks for the US market, with earnings from big companies like Microsoft (MSFT), Amazon.com Inc. (AMZN), Apple Inc. (AAPL), etc coming out. In addition, the Fed's announcement on Wednesday and the advanced GDP data expected later this week could also largely impact the market.