It was a seesaw for US stocks on Wednesday. After falling sharply in the early trading sessions, following a two-day rally on the trot, US stocks rebounded in the afternoon sessions.
However, after high volatility in the last hour of trading, all three major indexes closed in the negative to end the previous two days' high. Yet, it was better than last week's low for the indexes.
S&P 500 fell 0.20 per cent to 3783.28, the tech-heavy Nasdaq composite slid 0.25 per cent to 11148.64, Dow Jones tumbled 0.14 per cent to 30273.87, while the small-cap Russell 2000 tanked 0.74 per cent to 1762.69.
On the economic front, over 208,000 jobs were added in September in the US, as revealed by ADP's employment report. Private sector jobs increased over the expected level in September.
The Federal Reserve's interest hikes and the looming recession are still the driving force of the market.
Another forecast by WTO points towards a likely recession next year, as world trade in goods, is expected to slow down owing to high energy prices, the war, steep interest rate hikes, etc. According to the report, the economic growth worldwide is moving at a snail's pace and gradually slowing down even more.
Out of the 11 sectors of the S&P 5oo, only four managed to remain in the positive territory, with energy, healthcare, and technology being the top movers. While real estate, basic materials, and utilities were the bottom movers.
In the energy sector, Exxon Mobil Corporation (XOM) gained 4.04 per cent, Chevron Corporation (CVX) rose 0.57 per cent, and Shell plc (SHEL) increased 0.63 per cent.
In the healthcare sector, UnitedHealth Group Inc (UNH) gained 0.75 per cent, Eli Lilly and Company (LLY) climbed 0.57 per cent, and AbbVie Inc. (ABBV) jumped 0.94 per cent.
In the utility sector, NextEra Energy, Inc. (NEE) decreased 1.27 per cent, The Southern Company (SO) fell 2.77 per cent, Duke Energy Corporation (DUK) slid 3.19 per cent.
Futures and commodities
Gold futures saw a decrease of 0.33 per cent to 1,724.75 per ounce. Silver futures dropped 1.93 per cent to 20.692 per ounce, while copper futures gained 1.55 per cent to 3.5440 on Wednesday, October 5. Brent oil futures surged by 2.00 per cent to 93.64 per cent per barrel and WTI crude oil rose by 4.68 per cent to 460.8400.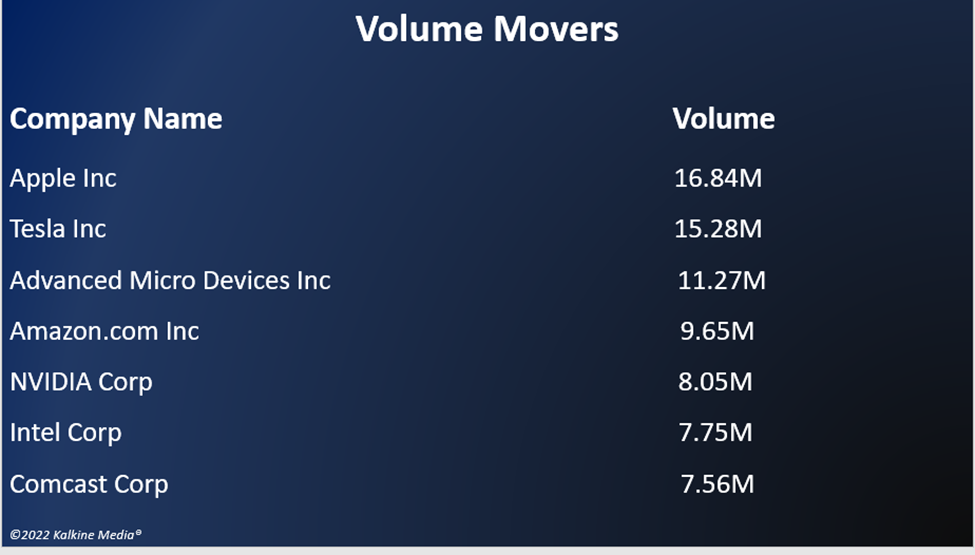 Bond Market
The 30-year Treasury bond yields rose by 1.76 per cent to 3.752, while the 10-year bond yields climbed 3.75 per cent to 3.753.
The US dollar futures jumped 1.02 per cent to US$ 111.102.