Benchmark US indices closed lower for the second consecutive day on Friday, May 6, as growth stocks retreated amid higher Treasury yields, and mixed jobs data fueled more interest rate rise worries.
The S&P 500 declined 0.57% to 4,123.34. The Dow Jones fell 0.30% to 32,899.37. The NASDAQ Composite decreased by 1.40% to 12,144.66, and the small-cap Russell 2000 was down 1.69% to 1,839.56.
Stocks fell sharply on Thursday after concerns grew that the central bank may increase the rates by as much as 75 basis points in June after two back-to-back monthly rate revisions. The Dow Jones Industrial Average lost more than 1,000 points, its highest drop since 2020, as rate fears intensified.
In economic news, the US nonfarm payrolls rose by 428,000 in April. But the unemployment rate remained the same at 3.6% in April from the prior month, while average hourly earnings rose by 0.3%.
The energy and utility sector led gains in the S&P 500 index on Friday. Nine out of the 11 segments stayed in the negative territory. The consumer discretionary and materials sectors were the bottom movers.
Insurance company Cigna Corporation (CI) stock rose 5.93% after reporting better-than-expected first-quarter results. The company said the robust growth in its pharmacy benefits segment lifted the results.
Shares of telecommunication company Telus Corporation (TU) rose 1.54% after its sales surged in Q1, with a record number of new customer additions.
Sports equipment firm Under Armour (UA) shares slumped 25.42% in intraday trading after providing downbeat profit guidance for the current fiscal year.
In the energy sector, Exxon Mobil Corporation (XOM) increased by 1.53%, Chevron Corporation (CVX) rose 2.66%, and Shell plc (SHEL) surged 1.33%. ConocoPhillips (COP) and TotalEnergies SE (TTE) advanced 4.70% and 2.38%, respectively.
In consumer discretionary stocks, Amazon.com, Inc. (AMZN) declined 1.40%, The Home Depot, Inc. (HD) decreased by 1.60%, and Alibaba Group Holding Limited (BABA) fell by 4.85%. Nike, Inc. (NKE) and Lowe's Companies, Inc. (LOW) ticked down 3.49% and 1.85%, respectively.
In the material sector, Linde plc (LIN) declined 1.26%, Rio Tinto Group (RIO) slipped 1.30%, and Vale S.A. (VALE) plummeted 1.81%. The Sherwin-Williams Company (SHW) and Freeport-McMoRan Inc. (FCX) dropped by 1.29% and 4.44%, respectively.
In the crypto space, Bitcoin (BTC) and Ethereum (ETH) decreased by 1.17% and 1.91%, respectively. The global crypto market cap fell 0.96% to US$1.66 trillion at 5:21 pm ET on May 6.
Also Read: Atlis IPO: When is the EV startup debuting in the US?
Also Read: IGT, CHDN to MGM: Top sports betting stocks to watch in Q2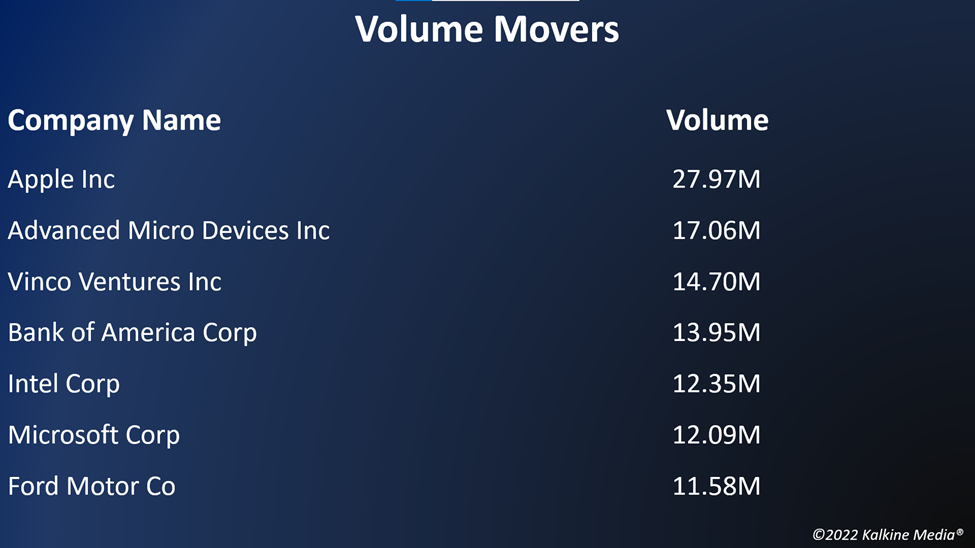 Also Read: Why is Serum (SRM) crypto gaining attention?
Futures & Commodities
Gold futures were up 0.42% to US$1,883.50 per ounce. Silver decreased by 0.32% to US$22.372 per ounce, while copper fell 1.06% to US$4.2460.
Brent oil futures increased by 2.00% to US$113.12 per barrel and WTI crude was up 2.12% to US$110.56.
Also Read: What is Rally (RLY) crypto?
Bond Market
The 30-year Treasury bond yields were up 2.19% to 3.230, while the 10-year bond yields rose 2.16% to 3.134.
US Dollar Futures Index decreased by 0.12% to US$103.680.