US stocks continued their upward trajectory with all the major indexes closing higher on Tuesday. Investors are hoping that the Federal Reserve is likely to soften its stance with less aggressive rate hikes in the coming months after reports of slower growth in the US construction and manufacturing sector.
The report of the US Labor Department stated on Tuesday that August saw a drop in US job openings to the most in the last 2.5 years, hinting that the labor market has started to cool following a stifled economy triggered by higher interest rates and sluggish demand.
S&P 500 climbed 3.06 per cent up to 3790.93, Nasdaq composite rose 3.34 per cent to 11176.41, Dow Jones was up 2.80 per cent to 30316.32, while the small-cap Russell 2000 rose 3.91 per cent to 1775.77.
Chip maker Micron Technology (MU) also saw its shares sprinting 4.3 per cent up on news of the company's plan to invest more than US$ 100 billion to build a new facility in central New York to build semiconductors.
Shares of Twitter Inc. rose over 13 per cent on Tuesday after Elon Musk renewed his commitment to buy the social media company at the original US$ 44 billion agreement. The deal would go down as one of the most controversial acquisitions with so many twists and turns so far.
All 11 sectors of the S&P 500 ended in green on Tuesday, with energy, financial services, and consumer cyclical being the top movers. On the other hand, utilities, consumer non-cyclical, and real estate were the bottom movers.
In the energy sector, ConocoPhillips (COP) surged 5.14 per cent, TotalEnergies SE (TTE) gained 4.41 per cent, and Enbridge Inc. (ENB) scaled 2.52 per cent.
In the financial services sector, Berkshire Hathaway Inc. (BRK-B) increased by 2.82 per cent, Visa Inc. (V) rose 2.20 per cent, and JPMorgan Chase & Co. (JPM) gained 4.68 per cent.
In the real estate segment, Prologis, Inc. (PLD) was up 1.56 per cent, Crown Castle Inc. (CCI) jumped 1.79 per cent, while Equinix, Inc. (EQIX) galloped 1.54 per cent.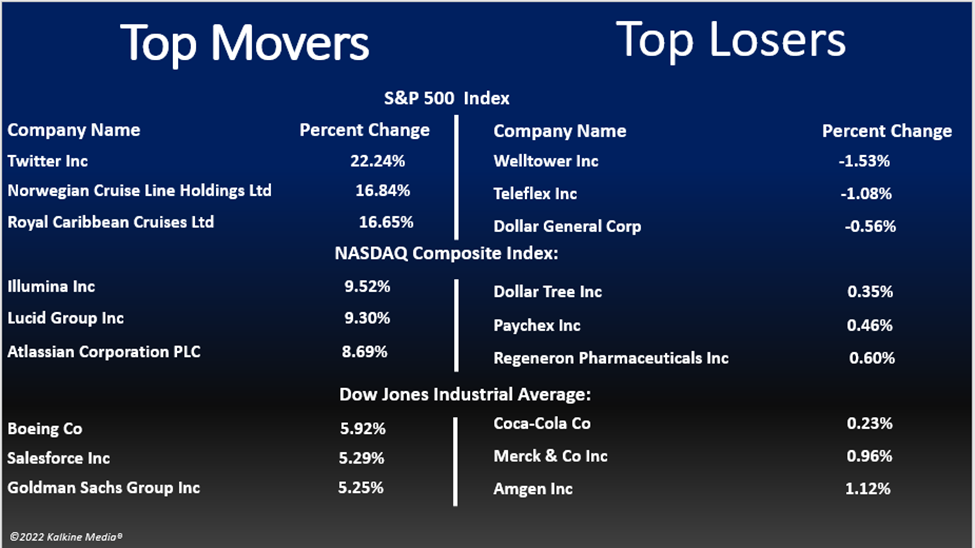 Futures and commodities
Gold futures saw an increase of 1.88 per cent to 1,734.05 per ounce. Silver futures gained 2.56 per cent to 21.117 per ounce, while copper futures gained 2.53 per cent to 3.4947 on Tuesday, October 4. Brent oil futures surged by 3.00 per cent to 91.53 per cent per barrel and WTI crude oil rose by 3.23 per cent to 86.33.
Bond Market
The 30-year Treasury bond yields fell by 0.08 per cent to 3.703, while the 10-year bond yields tanked 0.55 per cent to 3.631.
The US dollar futures fell 1.42 per cent to US$ 110.067.