Wall Street's main indices edged lower on Tuesday, April 26, ahead of the earnings of big companies like Microsoft and Alphabet as investors weighed the risks of slow growth and higher interest rates.
The S&P 500 was down 2.81% to 4,175.20. The Dow Jones fell 2.38% to 33,240.18. The NASDAQ Composite decreased by 3.95% to 12,490.74, and the small-cap Russell 2000 was down 3.26% to 1,890.47.
The quarterly earnings of Microsoft Corporation (MSFT) and Alphabet Inc. (GOOGL) were due after the market close. The results would help traders forecast their performance in the coming months.
China's extended Covid-19 lockdowns and heightened Russia-Ukraine tensions also weighed on investor sentiment. These developments have kept the markets on edge in recent sessions.
Traders also assessed the risks from higher interest rates that may affect their profit margins. The central bank is expected to announce new rate hikes in May to calm the red-hot inflation.
Analysts say the market may witness more stormy sessions in the coming weeks if the mega-cap companies post weak quarterly earnings or provide gloomy forecasts. Meanwhile, over 80% of the 134 companies in the S&P 500 index have topped Wall Street estimates in their latest results.
The Commerce Department on Tuesday said that orders for durable goods like appliances, automobiles, etc., surged at a seasonally adjusted 0.8% to US$275 billion in March, following a drop of 1.7% in the prior month, driven by orders for cars, computers, and electronics products.
In other developments, the US and its European allies vowed to provide more sophisticated weapons to Ukraine at a meeting in Germany on Tuesday, ignoring Russia's threat of a nuclear conflict.
The energy sector led gains in the S&P 500 index on Tuesday. Ten of the 11 sectors of the index stayed in the negative territory. Consumer discretionary, technology, and communication services sectors were the bottom movers.
The shares of the social media company, Twitter (TWTR), tumbled 3.17%, a day after the company agreed to be acquired by Tesla, Inc. (TSLA) CEO Elon Musk. TSLA stock plummeted 11.07%, erasing most of its recent gains after reporting strong earnings results in the prior week.
United Parcel Service, Inc. (UPS) slipped 3.00%, despite reporting a surge in its first-quarter adjusted profit. However, the company said that it shipped fewer packages as compared to the same quarter of the previous year.
General Electric (GE) declined 11.08% after providing its full fiscal guidance at the lower end of its previous estimate. It also warned the investors that the supply chain woes may affect its business in the ongoing year.
In the energy sector, Equinor ASA (EQNR) increased by 4.75%, Schlumberger Limited (SLB) rose 2.18%, and Marathon Petroleum Corporation (MPC) surged 1.45%. Suncor Energy Inc. (SU) and Valero Energy Corporation (VLO) advanced 1.34% and 4.18%, respectively.
In technology stocks, Apple Inc. (AAPL) decreased by 3.73%, Microsoft Corporation (MSFT) declined by 3.74%, and Taiwan Semiconductor Manufacturing Company Limited (TSM) fell by 3.48%. NVIDIA Corporation (NVDA) and ASML Holding N.V. (ASML) plummeted 5.60% and 6.57%, respectively.
In the consumer discretionary sector, Amazon.com Inc. (AMZN) slipped by 4.58%, The Home Depot, Inc. (HD) slumped 1.63%, and Toyota Motor Corporation (TM) dropped 3.10%. Nike, Inc. (NKE) and McDonald's Corporation (MCD) ticked down 5.80% and 1.70%, respectively.
In the crypto space, Bitcoin (BTC) and Ethereum (ETH) plunged by 5.58% and 6.56%, respectively. The global crypto market cap declined 4.98% to US$1.77 trillion at 4:17 pm ET on April 26.
Also Read: GMT and FITFI cryptos: Is move-to-earn the next big thing?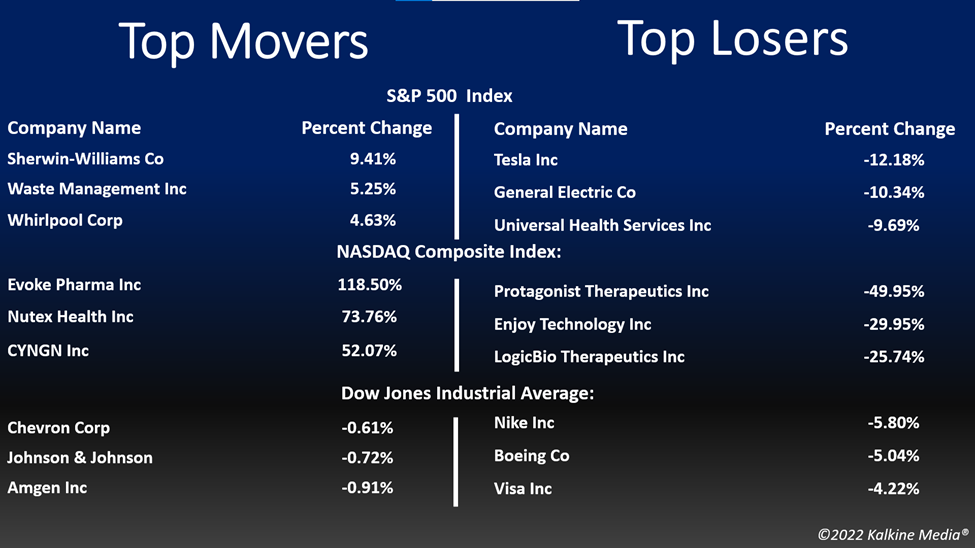 Also Read: Why is metaverse-based Plutonians (PLD) crypto rallying?
Also Read: Why The Graph (GRT) crypto rising?
Futures & Commodities
Gold futures were up 0.56% to US$1,906.60 per ounce. Silver decreased by 0.44% to US$23.565 per ounce, while copper fell 1.19% to US$4.4190.
Brent oil futures increased by 2.54% to US$104.75 per barrel and WTI crude was up 3.20% to US$101.69.
Also Read: Why is Bancor (BNT) protocol gaining attention?
Bond Market
The 30-year Treasury bond yields were down 1.90% to 2.840, while the 10-year bond yields fell 3.30% to 2.734.
US Dollar Futures Index increased by 0.56% to US$102.335.