Wall Street indices closed mixed on Tuesday, July 5, as investors weighed a possible recession after central banks around the globe mulled sharp rate hikes to curb inflation.
The S&P 500 rose 0.16% to 3,831.39. The Dow Jones was down 0.42% to 30,967.82. The NASDAQ Composite gained 1.75% to 11,322.24, and the small-cap Russell 2000 was up 0.79% to 1,741.33.
Oil prices plummeted on Tuesday amid fears that slow growth could reduce global energy demand. US standard WTI crude plunged more than 8%, while international benchmark Brent oil declined over 9% after the glum economic outlook haunted investors.
US stock markets saw their sharpest first half of a year decline since 1970 as the embattled economy faced multiple challenges in its path to recovery post the Covid-19 lockdowns. The Federal Reserve's no-holds-barred interest rate policy has further deepened recession fears.
Meanwhile, the central bank is expected to release the minutes from its June meeting on Wednesday. Investors expect another 75 basis point increase in interest rates in July.
On the industry front, the Commerce Department said that the US factory orders increased by 1.6% in May from a 0.7% growth in the prior month. The new orders surged more than expected, suggesting the demand for US-manufactured goods remained stable.
On Tuesday, communication services and consumer discretionary sectors were the top movers of the S&P 500. Eight of the 11 segments stayed in the negative territory. The energy and utility sectors declined the most.
Shares of Tesla, Inc. (TSLA) gained 1.20% after its EV deliveries fell QoQ for the first time in over two years. The company blamed the covid lockdowns in China for the decline. Tesla had to temporarily shut down its largest factory in Shanghai because of health restrictions.
Media and streaming company Warner Bros Discovery Inc (WBD) stock increased 1.09% after reports that its HBO Max unit has stopped production of its original shows in Europe.
Ford Motor Company (F) stock fell 2.12% after it said its sales jumped 31.5% YoY to 152,262 in June. However, on a YTD basis, its vehicle sales dropped 8.1% to 915,820.
In the communication services sector, Alphabet Inc. (GOOGL) increased by 3.82%, Meta Platforms, Inc. (META) soared 4.38%, and Netflix, Inc. (NFLX) rose 2.28%. Baidu, Inc. (BIDU) and Electronic Arts Inc. (EA) advanced 1.27% and 1.61%, respectively.
In consumer discretionary stocks, Amazon.com, Inc. (AMZN) gained 3.73%, Alibaba Group Holding Limited (BABA) jumped 2.10%, and The Home Depot, Inc. (HD) added 1.25%. Nike, Inc. (NKE) and Lowe's Companies, Inc. (LOW) ticked up 1.96% and 1.03%, respectively.
In the energy sector, Exxon Mobil Corporation (XOM) decreased by 4.16%, Chevron Corporation (CVX) fell by 3.46%, and Shell plc (SHEL) declined by 7.02%. TotalEnergies SE (TTE) and ConocoPhillips (COP) 3.60% and 7.81%, respectively.
In the crypto space, Bitcoin (BTC) and Ethereum (ETH) increased by 1.65% and 0.34%, respectively. The global crypto market cap fell 0.06% to US$898.47 billion at 3:14 pm ET on July 5.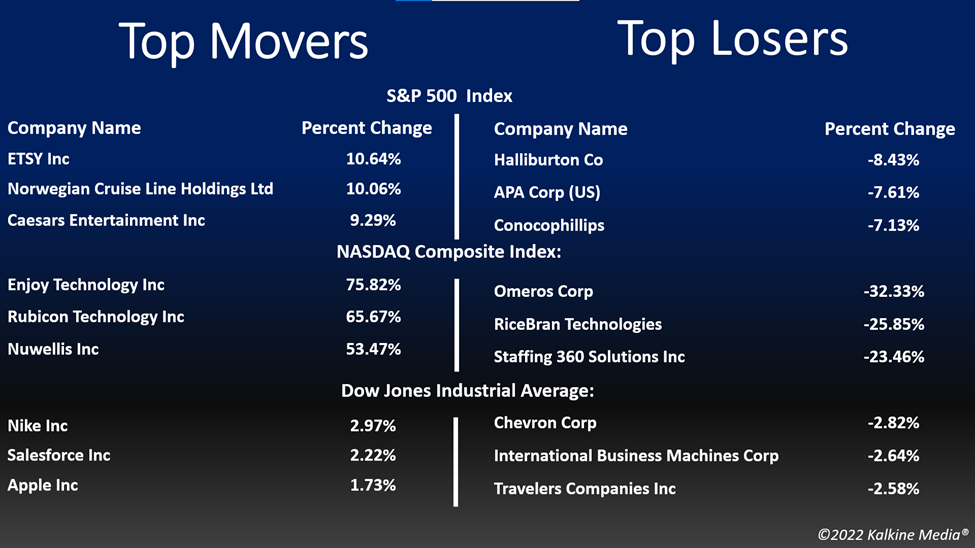 Futures & Commodities
Gold futures were down 1.93% to US$1,766.65 per ounce. Silver decreased by 2.52% to US$19.172 per ounce, while copper fell 3.64% to US$3.4370.
Brent oil futures decreased by 9.33% to US$102.91 per barrel and WTI crude was down 8.16% to US$99.58.
Bond Market
The 30-year Treasury bond yields were down 2.18% to 3.062, while the 10-year bond yields fell 2.52% to 2.831.
US Dollar Futures Index increased by 1.34% to US$106.315.