All the major U.S. stock market benchmark indexes closed higher on April 29 following strong earnings update from corporates including Apple and Facebook, and the data on GDP expansion for the first three months of the year.
The S&P 500 gained 28 points while the Dow Jones Industrial Average and the NASDAQ Composite Index added 240 points and32 points respectively on Thursday.
The S&P 500 declined marginally by 0.68 percent to 4,211.47. The Dow was up 0.71 percent to 34,060.36. The NASDAQ Composite Index rose 0.22 percent to 14082.55 to 14,051.03 while the small-cap Russell 2000 dropped 0.38 percent to 2,295.46.
Technology giant Apple Inc.'s fiscal second quarter net profit soared to US$23.63 billion from US$11.25 billion in the year-ago period. A 66 percent growth in iPhones revenue drove the company's total revenues to US$89.58 billion, up 54 percent year over year.
Facebook Inc. said its revenue during the fiscal third quarter ended March jumped 48 percent year over year to US$26.17 billion. The company's net profit almost doubled to US$9.5 billion from US$4.9 billion.
Mastercard and McDonald's also reported strong growth in their March quarter earnings.
Meanwhile, the U.S. saw its GDP grow at a seasonally adjusted annual rate of 6.4 percent in the first quarter 2021, the government said on Thursday. This strong impetus in the economy reflects the increased consumer spending, a key factor of GDP growth.
Amazon and Twitter are slated to announce their results for their latest quarter today.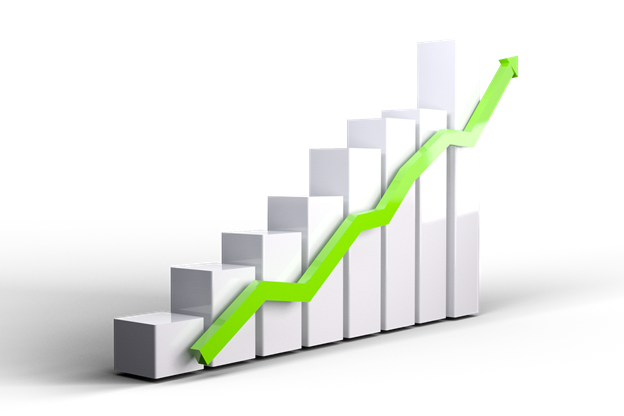 @Kalkine 2021
Top Gainers
Top performers on S&P 500 were DISH Network (8.32%), Facebook Inc (7.30%), Molson Coors Beverage Co (7.00%) and Generac Holdings Inc (6.65%).
ShiftPixy Inc (33.07% ), JAKKS Pacific Inc (23.38%), Galera Therapeutics Inc (22.84%) and Ocular Therapeutix Inc (22.74% were top performers on NASDAQ.
On Dow Jones, Nike Inc (1.95%), JPMorgan Chase & Co (1.94%), UnitedHealth Group Inc (1.76%) and Home Depot Inc (1.76% gained the most.
Top Losers
Top laggards on S&P 500 were eBay Inc (10.03%), PTC Inc (10.03%), Ford Motor Co (9.41%) and ServiceNow Inc (9.37%).
Adverum Biotechnologies Inc (62.30%), Farmmi Inc (54.74%), Cara Therapeutics Inc (45.44%) and Atomera Inc (24.80%) were among the top losers on NASDAQ.
On Dow Jones, Merck & Co Inc (4.42%), Caterpillar Inc (2.08%), Salesforce.Com Inc (1.06%) and Amgen Inc (0.84%) were laggards.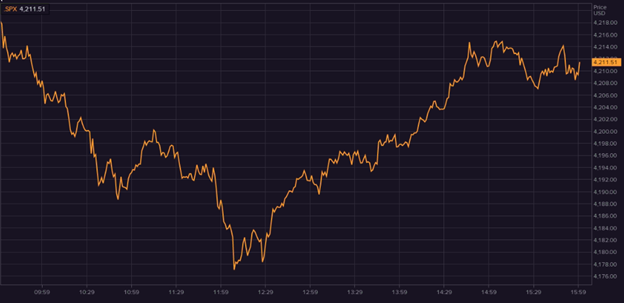 Source: Refinitiv, S&P 500 Index chart on April 29
Volume Movers
Top volume movers were Farmmi Inc (107.02M), Ford Motor Co (37.02M), Apple Inc (27.29M), Sundial Growers Inc (19.24M), Ocugen Inc (17.91M), Vaxart Inc (17.08M), Facebook Inc (12.06M), Microsoft Corp (11.60M), MicroVision Inc (11.42M), Uxin Ltd (11.31M) and Advanced Micro Devices Inc (10.39M).
Futures & Commodities
Gold futures were down 0.11 percent to US$ 1,771.90 per ounce on Thursday. Silver were up 0.18 percent to US$26.133 per ounce, while copper were down 0.34 percent to US$ 4.4820.
Brent oil futures increased 0.09 percent to US$ 68.00 per barrel and WTI crude rose 1.58 percent to US$ 64.87.
Bond Market
The 30-year Treasury bond yields edged up 0.19 percent to 2.304 while the 10-year bond yields were up 1.33 percent to 1.642.
US Dollar Futures Index was up 0.05 percent to US$ 90.635 on April 29.