Benchmark US indices edged lower on Monday, July 19, amid concerns over the Covid-19 cases. Investors sold off airline and cruise stocks fearing that the rebound in new cases could lead to new restrictions and delay the recovery from pandemic.
The S&P 500 was down 1.59% to 4,258.49. The Dow Jones Industrial Average decreased 2.09% to 33,962.04. The NASDAQ Composite Index fell 1.06% to 14,274.98, and the small-cap Russell 2000 was down 1.51% to 2,130.68.
The rebounding COVID cases with the emergence of Delta variant globally have subdued traders' economic growth expectations. All the eleven sectors of the S&P 500 were in the negative territory, with the energy and financial sector among the bottom movers. Meanwhile, Dow Jones decline marked the lowest one-day fall since October 2020.
Global Market Roundup || Why Is The Delta Variant Negatively Impacting Global Share Markets?
However, investors waiting for the second-quarter update from the tech companies, including IBM, Netflix and Intel after the U.S. banks posted strong quarterly results last week. Furthermore, oil prices dip following OPEC+ and its allies' agreement on a surge in production.
In corporate news, Zoom Video Communications agreed to buy cloud-based contact center Five9 Inc. in an all-stock deal valued at US$14.7 billion. Five9, Inc. stock gained 6.30 percent, while Zoom dipped 2.74 percent.
The online brokerage firm Robinhood Markets Inc. announced its terms of its much anticipated IPO on Monday. The company will sell 55 million shares at a price range of US$38 to US$42 and eyes a valuation of around US$35 billion.
Also Read: Robinhood IPO: How to buy HOOD stock?
The significant travel stocks retreated on Monday on the concern of rapid spreading of delta variant. As a result, Royal Caribbean Group (RCL) decreased 4.31%, Carnival Corporation & plc (CCL) dropped 6.06%, Norwegian Cruise Line Holdings Ltd. (NCLH) fell 5.83%, and American Airlines Group Inc. (AAL) tumbled 4.60%.
Also Read: Airline stocks tumble amid concerns over rebounding COVID cases
In the energy sector, shares of Exxon Mobil Corporation (XOM) decreased 3.96%, Chevron Corporation (CVX) fell 3.12%, and PetroChina Company Limited (PTR) dropped 2.22%. BP plc. (BP) and Enbridge Inc. (ENB) ticked down 3.80% and 3.71%, respectively.
In the financial sector, Berkshire Hathaway Inc. (BRK-A) decreased 1.90%, Visa Inc (V) dropped 2.14%, and JPMorgan Chase & Co. (JPM) fell 3.63%. Bank of America Corporation (BAC) and Mastercard Incorporated (MA) ticked down 2.78% and 5.86%, respectively.
In the tech sector, Apple Inc. (AAPL) fell 2.82%, Microsoft Corporation (MSFT) dropped 1.54%, and ASML Holdings N.V. (ASML) lost 1.12%. Intel Corporation (INTC) and Accenture plc (ACN) decreased 1.08% and 1.39%, respectively. On the bright side, NVIDIA Corporation (NVDA) advanced 3.01%.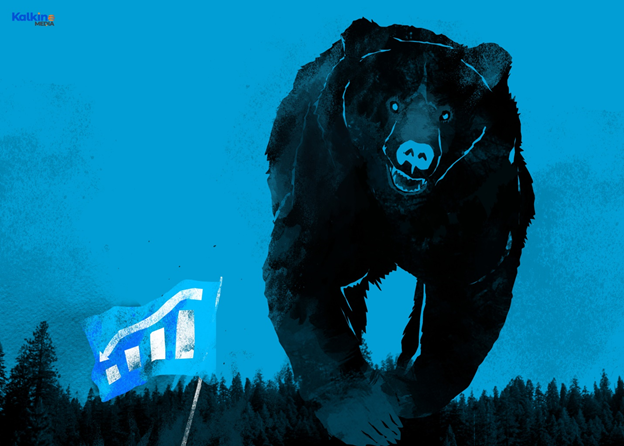 Copyright ©Kalkine Media 2021
Top Gainers
Top performers on S&P 500 included Kroger Co (4.34%), NVIDIA Corp (3.41%), ETSY Inc (3.20%), Tyler Technologies Inc (1.80%). On NASDAQ, top performers were Aehr Test Systems (87.94%), NRX Pharmaceuticals Inc (45.31%), Allied Healthcare Products Inc (43.70%), Cytokinetics Inc (40.41%). On Dow Jones, Procter & Gamble Co (-0.05%), Walmart Inc (-0.23%), Salesforce.Com Inc (-0.37%), Amgen Inc (-0.50%) were the leaders.
Top Losers
Top laggards on S&P 500 included Kimco Realty Corp (-7.34%), Diamondback Energy Inc (-6.60%), Simon Property Group Inc (-5.87%), Welltower Inc (-5.85%). On NASDAQ, Red Cat Holdings Inc (-42.25%), Data Storage Corp (-27.61%), China SXT Pharmaceuticals Inc (-21.70%), Pop Culture Group Co Ltd (-21.26%). On Dow Jones, Boeing Co (-4.94%), American Express Co (-4.24%), Honeywell International Inc (-4.20%), Dow Inc (-3.70%) were the laggards.
Volume Movers
Top volume movers were Apple Inc (24.91M), General Electric Co (17.61M), Bank of America Corp (17.35M), Ford Motor Co (15.95M), AT&T Inc (13.86M), American Airlines Group Inc (12.58M), Wells Fargo & Co (12.25M), Carnival Corp (12.19M), Microsoft Corp (10.79M), Exxon Mobil Corp (8.39M), Aehr Test Systems (14.37M), NRX Pharmaceuticals Inc (8.84M), Sundial Growers Inc (8.52M), Exela Technologies Inc 97.59M), Intel Corp (7.43M), Advanced Micro Devices Inc (7.17M).
Futures & Commodities
Gold futures were down 0.09% to US$1,813.35 per ounce. Silver decreased 2.19% to US$25.230 per ounce, while copper fell 2.78% to US$4.2027.
Brent oil decreased 6.48% to US$68.82 per barrel and WTI crude was down 7.26% to US$66.60.
Bond Market
The 30-year Treasury bond yields was down 5.58% to 1.822, while the 10-year bond yields decreased 8.35% to 1.190.
US Dollar Futures Index increased 0.15% to US$92.830.