Wall Street indices closed mixed on Thursday, July 14, after the quarterly earnings of two major US banks failed to create any excitement among investors in an otherwise dull trading session.
The S&P 500 fell 0.30% to 3,790.38. The Dow Jones was down 0.46% to 30,630.17. The NASDAQ Composite added 0.03% to 11,251.19, and the small-cap Russell 2000 ticked down 1.07% to 1,707.51.
On Thursday, American financial powerhouses JPMorgan Chase & Co. (JPM) and Morgan Stanley (MS) kicked off the second-quarter bank earnings on a sour note after posting lower-than-expected profits.
Several other major retail banks are expected to report earnings on Friday, which could set the pace of the US market in the coming days. Wells Fargo & Company (WFC), US Bancorp (USB), and Citigroup Inc. (C), among others, are due to report on Friday.
On the economic front, the Producer Price Index (PPI), a key gauge for inflation, accelerated at an annual rate of 11.3% in June, suggesting inflation may have peaked in March when it rose to 11.6% YoY.
Data released by the Labor Department on Thursday showed that PPI was up 1.1% in June from 0.9% in the previous month, mainly due to the increasing energy costs.
Last month, US CPI inflation climbed to 9.1%, a new record high since 1981. Wednesday's CPI data dragged the indices down as investors worried the Fed might continue raising the rates to quell inflation, which could tip the economy into a possible recession.
Meanwhile, on Thursday, Fed Governor Christopher Waller said he favored a 75 basis point boost in interest rates in July, stressing the current conditions support such a hike.
In the labor market, new unemployment benefits claims hit an 8-month high at 244,000 in the week ended July 9. According to government data, it was the biggest spike since mid-November 2021.
Technology, consumer staples, and utility segments of the S&P 500 closed in the green on Thursday. Eight of the 11 sectors stayed in the negative territory. The energy, financial, and materials sectors were the bottom movers.
In bank stocks, JPMorgan Chase & Co. (JPM) fell 3.78% after CEO Jamie Dimon said it is suspending its share buyback plan on a weak economic forecast. Its quarterly profits also dropped more than expected.
Morgan Stanley's (MS) Shares declined 0.40% after its quarterly earnings missed Wall Street estimates. The company said its investment banking unit struggled due to a decline in global dealmaking.
Taiwan-based chipmaker TSMC (TSM) stock gained 2.78% after reporting robust quarterly earnings, topping analysts' estimates, amid strong demand. It provided upbeat revenue guidance for fiscal 2022.
In the technology sector, Apple Inc. (AAPL) increased by 2.03%, Microsoft Corporation (MSFT) rose 0.65%, and NVIDIA Corporation (NVDA) soared 1.44%. ASML Holding N.V. (ASML) and QUALCOMM Incorporated (QCOM) advanced 1.79% and 4.36%, respectively.
In energy stocks, Exxon Mobil Corporation (XOM) decreased by 2.07%, Chevron Corporation (CVX) fell 1.48%, and Shell plc (SHEL) plunged 3.57%. TotalEnergies SE (TTE) and ConocoPhillips (COP) plummeted 5.12% and 1.84%, respectively.
In the financial sector, Berkshire Hathaway Inc. (BRK-A) fell 1.27%, Bank of America (BAC) slipped 2.38%, and Wells Fargo & Company (WFC) declined 1.25%. Royal Bank of Canada (RY) and HSBC Holdings plc (HSBC) 6.39% and 3.24%, respectively.
In the crypto space, Bitcoin (BTC) and Ethereum (ETH) gained 4.82% and 10.90% in the last 24 hours, respectively. The global crypto market cap rose 5.18% to US$925.04 billion at 4:10 pm ET on July 14.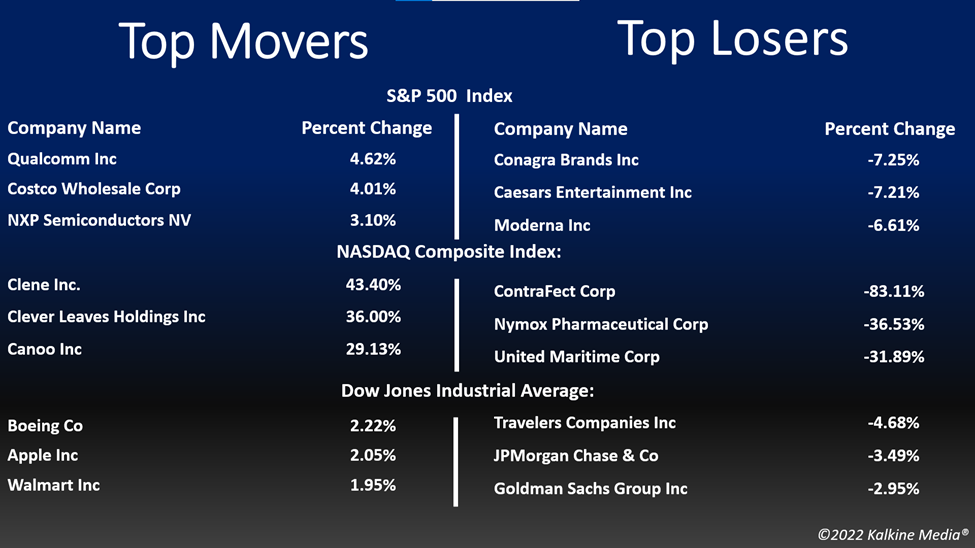 Futures & Commodities
Gold futures were down 1.55% to US$1,708.65 per ounce. Silver decreased by 4.43% to US$18.343 per ounce, while copper fell 2.77% to US$3.2305.
Brent oil futures increased by 0.27% to US$99.84 per barrel and WTI crude was up 0.16% to US$96.45.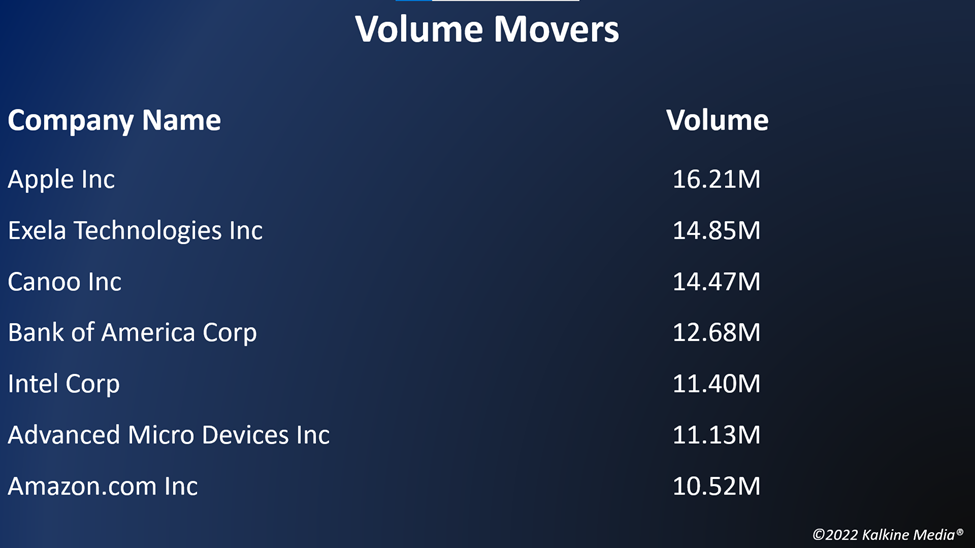 Bond Market
The 30-year Treasury bond yields were up 1.45% to 3.112, while the 10-year bond yields rose 1.84% to 2.959.
US Dollar Futures Index increased by 0.70% to US$108.507.