Benchmark US indices drifted from their recent gains on Tuesday, July 27, dragged down by technology and consumer stocks, even as Q2 earnings reports of big companies trickled in.
The S&P 500 fell 0.47% to 4,401.46. The Dow Jones shed 0.24% to 35,058.52. The NASDAQ Composite declined 1.21% to 14,660.58, and the small-cap Russell 2000 fell 1.13% to 2,291.83.
Companies like General Electric Co, Raytheon Technologies, and United Parcel Service Inc reported their earnings during the market hours, while others like Apple, Microsoft, Alphabet, and 3M were scheduled to report after the market closes. Amazon.com Inc to present the report on July 29.
US stocks have seen an upswing in recent days as positive corporate earnings lifted the traders' confidence. Investors also appeared to have ignored the concerns over the threat of Delta variant, inflation, and supply bottlenecks that could potentially erase the gains.
The markets have been upbeat over the prospects of a faster economic recovery from covid. Orders for vehicles, appliances, and other durable goods rose in June, supporting the recovery.
The utility segment provided the biggest boost to the S&P 500 index on Tuesday, while consumer discretionary and tech stocks withdrew. Five of the 11 key sectors on the index closed in the green.
Global Market Roundup || US Indices Slip, Weighed Down By Technology, Consumer Stocks
United Parcel Service Inc. (UPS) Q2 revenue rose by 14.5% to US$23.42 billion. However, the UPS stock plunged over 7% on concerns that the present e-commerce boom may fade away soon.
Meanwhile, Chinese stocks continue to tumble amid threats from regulators. Baidu Inc. (BIDU) fell 3.56%, and Alibaba (BABA) dropped 4.85%. Jack Ma's Ant Group-backed Hello Inc. dropped plans for a US stock listing on fears of Chinese regulatory crackdown, people on the know said.
Also Read: GE, Raytheon raise 2021 free cash flow, profit target after Q2 results
Intel Corp (INTC) shares declined by 2.86% after it announced to expand its foundry to beef-up chip production. The company hopes to have enough supplies by 2025.
EV carmaker Tesla Inc. (TSLA) stock shed over 2% on global chip supply concerns, a day after it reported a 98% revenue growth to US$11.96 billion in the second quarter.
In utility stocks, NextEra Energy Inc. (NEE) rose 1.06%, Duke Energy Corp (DUK) gained 1.62%, and The Southern Company (SO) rose by 1.33%.
Dominion Energy Inc. (D) and Exelon Corporation (EXC) advanced 2.48% and 1.52%, respectively.
In technology stocks, Apple Inc. (AAPL) fell 1.56%, Microsoft Corp (MSFT) declined 1.20%, and ASML Holdings N.V. (ASML) dropped 1.83%. Alphabet Inc. (GOOG) and Facebook Inc. (FB) ticked down 2.32% and 1.55%.
Stocks of Unilever Plc (UL) and PepsiCo, Inc. (PEP) rose 0.93% and 0.43%, respectively. Target Corporation (TGT) dropped 1.37%, The Estee Lauder Companies Inc. (EL) ticked down 1.29%, and Monster Beverage Corporation (MNST) declined by 1.25%.
Also Read: Amazon, Shopify stocks tumble as focus shifts to upcoming Q2 results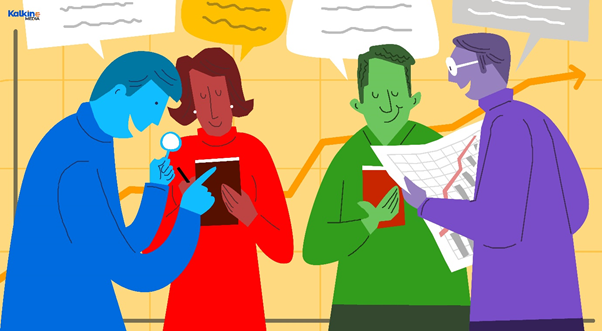 Copyright ©Kalkine Media 2021
Also Read: Are semiconductor stocks in US still talk of the town?

Top Gainers
Top performers on S&P 500 included F5 Networks Inc (6.20%), Pentair PLC (4.64%), Boston Scientific Corp (3.50%), Aon PLC (3.19%). On NASDAQ, top performers were Intrusion Inc (52.07%), SGOCO Group Ltd (29.56%), BiondVax Pharmaceuticals Ltd (26.94%), EyeGate Pharmaceuticals Inc (20.83%). On Dow Jones, Mcdonald's Corp (0.97%), Merck & Co Inc (0.79%), Verizon Communications Inc (0.75%), Honeywell International Inc (0.48%) were the leaders.
Top Losers
Top laggards on S&P 500 included Lamb Weston Holdings Inc (-13.53%), United Parcel Service Inc (-6.99%), Activision Blizzard Inc (-6.76%), IPG Photonics Corp (-5.41%). On NASDAQ, Skywater Technology Inc (-45.43%), Bit Digital Inc (-33.60%), Infinity Pharmaceuticals Inc (-31.53%), Nanovibronix Inc (-22.63%). On Dow Jones, Intel Corp (-2.08%), Salesforce.Com Inc (-1.65%), Boeing Co (-1.59%), Apple Inc (-1.49%) were the laggards.
Volume Movers
Top volume movers were Apple Inc (21.42M), General Electric Co (17.95M), Advanced Micro Devices Inc (12.99M), Bank of America Corp (9.54M), Intel Corp (9.51M), Tesla Inc (8.77M), Microsoft Corp (8.66M), AT&T Inc (8.64M), Ford Motor Co (8.06M), Pfizer Inc (7.24M), Exela Technologies Inc (13.79M), Moxian Inc (12.61M), JD.Com Inc (12.06M), Dyadic International Inc (11.57M), Intrusion Inc (10.30M), Sirius XM Holdings Inc (10.26M), Pinduoduo Inc (9.30M).
Also Read: Seven blue-chip stocks that investors are watching right now
Futures & Commodities
Gold futures were down 0.02% to US$1,798.85 per ounce. Silver decreased 2.36% to US$24.720 per ounce, while copper fell 0.55% to US$4.5598.
Brent oil decreased 0.11% to US$73.63 per barrel and WTI crude trade flat at US$71.91.
Bond Market
The 30-year Treasury bond yields was down 1.66% to 1.893, while the 10-year bond yields decreased 2.87% to 1.239.
US Dollar Futures Index decreased 0.17% to US$92.495.