The S&P 500 and tech-savvy Nasdaq closed higher on Monday, October 18, bolstered by gains in technology stocks and upbeat corporate earnings.
The S&P 500 was up 0.34% to 4,486.46. The Dow Jones fell 0.10% to 35,258.61. The NASDAQ Composite rose 0.84% to 15,021.81, and the small-cap Russell 2000 was up 0.10% to 2,267.84.
Dow Jones retreated on mixed global cues. New data showed that China's economy grew at its slowest pace in a year, rising by 4.9% YoY in the third quarter from a 7.9% jump in the previous quarter year-over-year. Analysts said power shortage, supply concerns, and upheavals in the property market slowed the growth rate.
Market participants would be closely watching the quarterly earnings of big companies due to report this week. Overall, markets were upbeat after the better-than-expected quarterly results of major financial companies in the previous week. Analysts now expect around a 32% jump in earnings of the S&P 500 companies in the latest quarter, Refinitiv data showed.
Global Markets trades flat on Monday
Consumer discretionary and technology stocks led gains in the S&P 500 index on Monday. Utilities and healthcare sectors were the bottom movers. However, only four of the 11 critical stock segments of the index stayed in the positive territory.
Stocks of State Street Corporation (STT) jumped 2.48% after reporting strong quarterly results on Monday before the opening bell. Its total revenue was up 7.4% YoY to US$2.99 billion, while its net income surged 29% YoY to US$714 million in Q3, FY21.
Shares of Albertsons Companies, Inc. (ACI) was up 3.89% in intraday trading after it increased the dividend amount following its quarterly results. Its net sales and other revenue were US$16.50 billion, while the net income was US$295.2 million in Q2, FY21.
The Walt Disney Company (DIS) stock declined 3.34% after analysts downgraded it to "equal weight" from "overweight."
Dynavax Technologies Corporation (DVAX) stock was up 1.53% after Valneva SE reported positive results from its Phase 3 trial for a Covid vaccine candidate using its ingredients.
In the consumer discretionary sector, Home Depot, Inc. (HD) gained 1.31%, Lowe's Companies, Inc. (LOW) rose 1.18%, and Starbucks Corp (SBUX) rose 1.77%. Target Corp (TGT) and Chipotle Mexican Grill, Inc. (CMG) rose 2.76% and 1.58%, respectively.
In technology stocks, Apple Inc. (AAPL) rose 1.21%, NVIDIA Corporation (NVDA) gained 1.83%, and Adobe Inc. (ADBE) rose 1.81%. Oracle Corporation (ORCL) and Advanced Micro Devices Inc. (AMD) rallied 1.14% and 4.03%, respectively.
In the utility sector, The Southern Company (SO) fell 1.07%, Dominion Energy, Inc. (D) declined 1.31%, and XCEL Energy Inc. (XEL) decreased by 1.77%. In addition, WEC Energy Group, Inc. (WEC) and FirstEnergy Corp. (FE) plummeted 1.03% and 1.30%, respectively.
Also Read: From Netflix, Tesla to Intel - top stocks to watch this week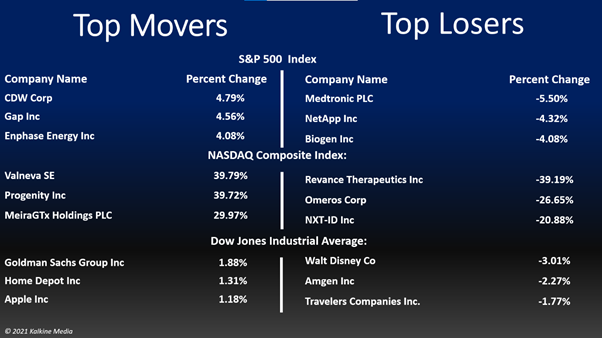 Also Read: Facebook (FB) stock shrugs off recent losses, jumps 3% on Europe job plan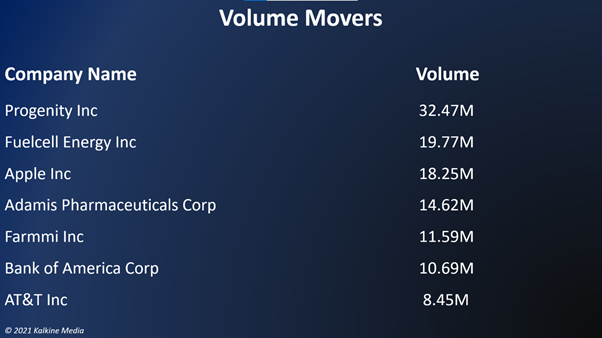 Also Read: Top US retailers get ready to capitalize on holiday sales, boost stocks
Futures & Commodities
Gold futures were down 0.21% to US$1,764.65 per ounce. Silver decreased by 0.48% to US$23.238 per ounce, while copper fell 0.33% to US$4.7138.
Brent oil futures decreased by 0.93% to US$84.07 per barrel and WTI crude was down 0.28% to US$81.50.
Bond Market
The 30-year Treasury bond yields was down 1.04% to 2.029, while the 10-year bond yields rose 1.20% to 1.595.
US Dollar Futures Index increased by 0.02% to US$93.960.