The S&P 500 Index closed at an all-time high on Thursday, October 21, helped by gains in technology stocks, while Nasdaq concluded the session in the green, Dow Jones slipped.
The S&P 500 was up 0.30% to 4,549.78. The Dow Jones fell 0.02% to 35,603.08. The NASDAQ Composite was up 0.62% to 15,215.70, and the small-cap Russell 2000 rose 0.28% to 2,296.18.
The unemployment benefits claims fell to a 19-month low last week, showing progress in the labor market. New claims fell by 6,000 to 290,000 in the week ended October 16, the lowest level since mid-March 2020, the Labor Department said on Thursday.
Economists expect more workers would be open to work in the coming months, with the expiration of government relief cheques on September 6.
Consumer discretionary, technology and real-estate stocks were the top gainers on the S&P 500 index on Thursday. Energy and basic materials stocks were the bottom movers. Six of the 11 stock segments of the index stayed in the positive territory.
Shares of Danaher Corporation (DHR) fell 1.23% in intraday trading after reporting third-quarter earnings results before the opening bell. Its total sales rose to US$7.22 billion in Q3 from US$5.88 billion a year ago. Its net earnings were US$1.15 billion compared to US$883 million in Q3, FY20.
The AT&T stock was down 0.68% despite better-than-expected third-quarter FY21 results. The company's net income was US$6.27 billion on revenue of US$39.92 billion in the quarter. In addition, it added 1.2 million wireless customers, of which 928,000 were new phone subscribers.
Freeport-McMoRan Inc. (FCX) stock tumbled 1.27% after reporting its third-quarter earnings, beating analysts' estimates. Its revenue surged around 57% YoY to US$6.08 billion in Q3, FY21, while its adjusted earnings came in at US$1.32 billion, or US$0.89 per share.
In the consumer discretionary sector, Home Depot, Inc. (HD) gained 1.72%, Nike, Inc. (NKE) rose 2.13%, and Lowe's Companies, Inc. (LOW) rose 1.14%. Booking Holdings Inc. (BKNG) and Chipotle Mexican Grill, Inc. (CMG) ticked up 1.24% and 1.12%, respectively.
In technology stocks, NVIDIA Corporation (NVDA) increased by 2.35%, Intuit Inc. (INTU) gained 1.10%, and Advanced Micro Devices, Inc. (AMD) rose 2.47%. Autodesk, Inc. (ADSK) advanced 2.17%, while International Business Machines Corporation (IBM) fell 8.63%.
In the energy sector, Exxon Mobil Corporation (XOM) declined 1.81%, Chevron Corporation (CVX) fell 1.47%, and ConocoPhillips (COP) declined 1.68%. EOG Resources, Inc. (EOG) and Pioneer Natural Resources Company (PXD) fell 2.32% and 1.82%, respectively.
Also Read: Crocs Inc. (CROX) stock jumps on strong Q3 results, revenue guidance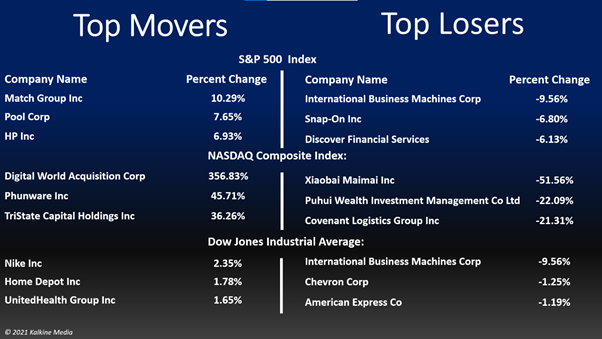 Also Read: SAP SE (SAP) raises guidance, Union Pacific (UNP) posts higher profits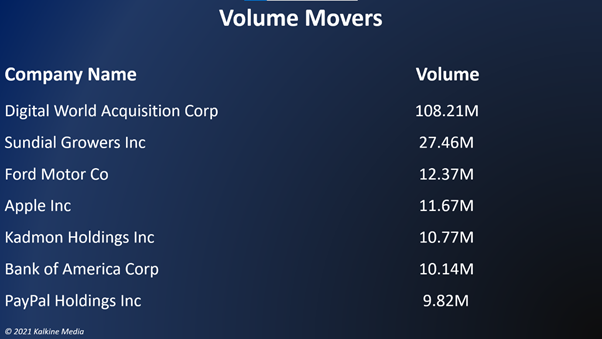 Also Read: Southwest Airlines' (LUV) Q3 revenue up YoY but down from 2019 levels
Futures & Commodities
Gold futures were down 0.07% to US$1,783.60 per ounce. Silver decreased by 0.89% to US$24.227 per ounce, while copper fell 3.73% to US$4.5580.
Brent oil futures decreased by 0.04% to US$84.78 per barrel and WTI crude was down 0.91% to US$82.66.
Bond Market
The 30-year Treasury bond yields was up 1.55% to 2.144, while the 10-year bond yields rose 3.72% to 1.696.
US Dollar Futures Index increased by 0.24% to US$93.755.