Highlights:

Stellar (XLM) is an open network that allows the transfer and storing of money.
Lumen or XLM is the native token of the network that makes trading across borders less expensive.
Stellar Development Foundation is the official sponsor for the SXSW Finance Summit 3.0.
Due to elevated inflation, escalating geopolitical tension and other market uncertainties, market volatility has increased. However, the crypto market seemed to have rebounded from the recent crash, evident by the significant gains in digital currencies.
The global crypto market capitalization rose 5.67% to US$1.84 trillion at the time of drafting, while its one-day volume rose 6.02% to US$93.83 billion, according to data provided by CoinMarketCap.
Today, we explore one such crypto named Stellar (XLM), which is gaining attention from investors.
Also Read: Why is gold-backed stablecoin PAX Gold (PAXG) rising?
What is Stellar (XLM) crypto?
Stellar (XLM), released in 2014, is an open network that allows the transfer and storing of money. The network's focus is to aid financial companies in connecting through blockchain technologies.
Lumen or XLM is the native token of the network that operates as a bridge for making trade across borders less expensive. Through this, it intends to compete with the existing financial service providers who generally charge higher fees for similar services.
Jed McCaleb founded the network with lawyer Joyce Kim. Notably, the Stellar network is based on the Ripple Labs protocol.
Also Read: From VALE to BHP: Top nickel stocks to explore amid supply concerns
Why Is Stellar (XLM) Crypto Rising?
Why is it gaining attention?
The Stellar Development Foundation or SDF is organizing an event on March 15. It intends to bring the company leaders from the previous year's Stellar Blockchain Bootcamp by partnering with DFS Lab.
This event would support financial technology companies across the African continent in blockchain development. In this event, the companies would share their experiences on Stellar's 4-day Bootcamp last fall and highlight how it has helped them grow since then.
In addition to that, it is also setting up shop at SXSW event 2022, which would continue from March 11 to March 13 for the Finance 3.0 summit. This year, stellar Development Foundation is the official sponsor for the SXSW Finance Summit.
Also Read: Black Rifle Coffee Company (BRCC) stock gains attention, what's next?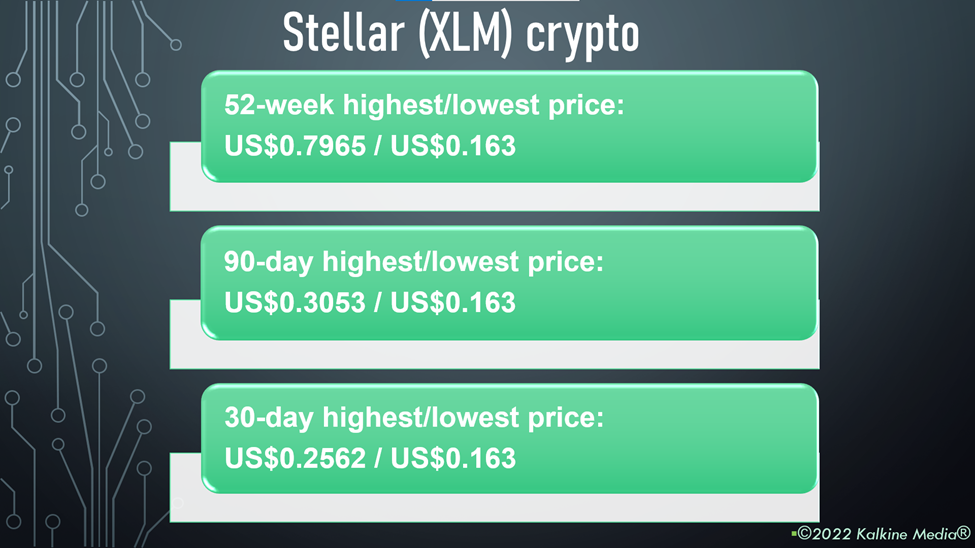 Source: *Data provided by CoinMarketCap.com
Bottom line:
The XLM coin was priced at US$0.1799 at 4:19 am ET on March 9, up 4.15%, while its one-day volume ticked up 1.24% to US$302.22 million. Its market cap is US$4.41 billion, and its fully diluted market capitalization is US$8.99 billion.
The coin's total and max supply are over 50 billion, and its current circulating supply is 24.56 billion.
Various experts have provided a bullish view on the coin, considering its unique operations. It primarily aims to simplify the digital assets' trading process.
Also Read: Why is FTX Token (FTT) rising?
Risk Disclosure: Trading in cryptocurrencies involves high risks including the risk of losing some, or all, of your investment amount, and may not be suitable for all investors. Prices of cryptocurrencies are extremely volatile and may be affected by external factors such as financial, regulatory, or political events. The laws that apply to crypto products (and how a particular crypto product is regulated) may change. Before deciding to trade in financial instruments or cryptocurrencies you should be fully informed of the risks and costs associated with trading in the financial markets, carefully consider your investment objectives, level of experience, and risk appetite, and seek professional advice where needed. Kalkine Media cannot and does not represent or guarantee that any of the information/data available here is accurate, reliable, current, complete, or appropriate for your needs. Kalkine Media will not accept liability for any loss or damage as a result of your trading or your reliance on the information shared on this website.