Highlights

The Oasis Network (ROSE) is a privacy-enabled scalable layer one blockchain network for DeFi.
Oasis network has crossed US$200 million in Total Value Locked (TVL) after launching the Oasis Bloom Hackathon, which will run till May 2, 2022.
Oasis network has many backers, including BMW, Binance, Chainlink, Bankex, Kara etc.
Oasis Network (ROSE) was up six per cent to US$0.2515 per token at 6:21 am ET on March 22. The token appears to gain traction due to its ongoing campaigns like the Oasis Bloom Hackathon and Learn & Earn.
Oasis Bloom Hackathon wants to seek solutions for the challenges of DeFi 1.0 and to propagate higher adoption of the blockchain technology with the DeFi 2.0 applications. The hackathon period is from March 10 to May 2, 2022.
The Bloom Hackathon event is on March 23 at 9:00 pm PST on Zoom.
The Oasis network has crossed US$200 million in Total Value locked (TVL) after launching the hackathon, and it is still growing. The hackathon was announced to bring innovative ideas for Web3 and DeFi sectors which it refers to as DeFi 2.0.
Under the Oasis Learn & Earn campaign, one needs to learn about Oasis and answer the quiz to earn ROSE tokens.
Also Read: Why is HyperVerse (HVT) crypto gaining attention?
What is DeFi 2.0?
DeFi 2.0 is a new iteration of DeFi 1.0. This is aimed to solve the common issues found in DeFi 1.0 and implement improvements in crucial aspects such as scalability, liquidity, mitigating Oracle attacks, security, and capital efficiency.
These improvements would reportedly reduce gas fees and improve liquidity in decentralized finance.
Higher liquidity, reducing impermanent loss using stablecoins or insurance against impermanent loss, self-replaying loans system, and unlocking tokens for higher yields are notable differences in the DeFi 2.0.
Also Read: Why is Fantom (FTM) crypto rising?
What Is Oasis Network (ROSE)?
The Oasis Network is a privacy-enabled scalable layer one blockchain network for DeFi. The network aims to expand DeFi for mass-market adoption.
The network combines high throughput and low gas fees and secure architecture as a foundation for Web3 and power DeFi, GameFi, NFTs, Metaverse, Data tokenization and Data DAOs.
The network has several partnerships in place, including Fortune 500 companies. BMW Group, Binance, Chainlink, Bankex, Kara is a few of the many backers of the Oasis network.
Also Read: Why Audius (AUDIO) crypto gained 50% in last 7 days?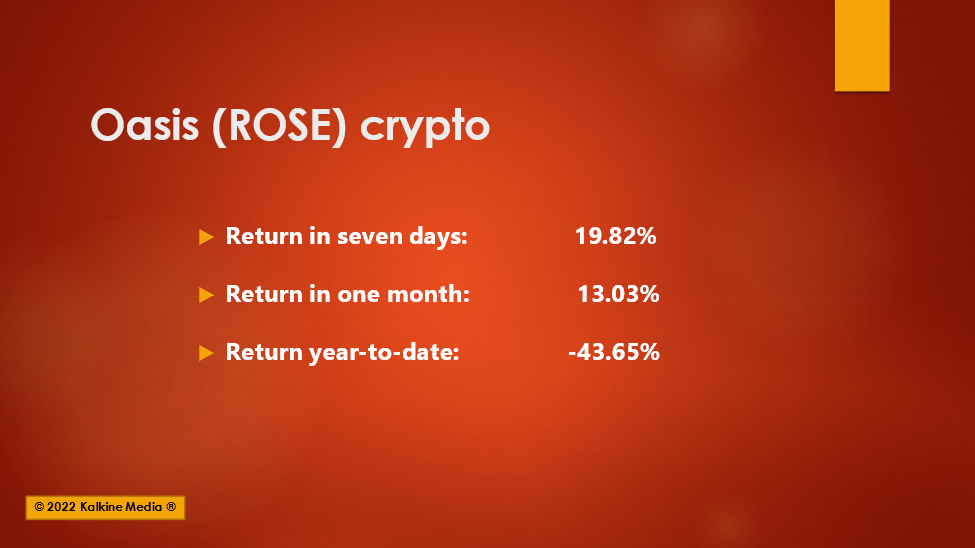 Data Source: coinmarketcap.com
Also Read: What is Helium (HNT) crypto? All you must know
ROSE Token Details:
ROSE is the token used for staking, delegation, and paying transaction fees in the consensus layer of the network.
There are only five holders of the token as per coinmarketcap.com data, and the market capitalization is US$878.5 million.
Also Read: Why is PancakeSwap (CAKE) crypto rising?
Its circulating supply is 3.49 billion ROSE, and the total supply is 10 billion ROSE. ROSE's volume increased 43.45% in the last 24 hours to US$140.97 million.
The token is available on Binance, Mandala Exchange, KuCoin, CoinTiger, and Gate.io crypto exchanges for trading.
Also Read: What is Zebec (ZBC) crypto? All you must know
Bottom line:
DeFi 1.0 came to eliminate TradeFi (Traditional Finance) limitations by creating innovative applications for personal finance and removing the intermediaries from the transaction chain. It made peer to peer lending possible with flexible and minimal restrictions and without the involvement of large institutions.
The DeFi 2.0 has come to improve upon the previous version. In DeFi 1.0, most of the platforms run on Ethereum, which has scalability issues, and in DeFi 2.0, platforms can run on other efficient protocols, including Oasis, says the official blog of Oasis.
The Crypto market is risky, and investors must exercise due diligence and perform analysis before investing in the cryptocurrency market.
Risk Disclosure: Trading in cryptocurrencies involves high risks including the risk of losing some, or all, of your investment amount, and may not be suitable for all investors. Prices of cryptocurrencies are extremely volatile and may be affected by external factors such as financial, regulatory, or political events. The laws that apply to crypto products (and how a particular crypto product is regulated) may change. Before deciding to trade in financial instrument or cryptocurrencies you should be fully informed of the risks and costs associated with trading in the financial markets, carefully consider your investment objectives, level of experience, and risk appetite, and seek professional advice where needed. Kalkine Media cannot and does not represent or guarantee that any of the information/data available here is accurate, reliable, current, complete or appropriate for your needs. Kalkine Media will not accept liability for any loss or damage as a result of your trading or your reliance on the information shared on this website.