Highlights:

The Meta Ruffy project was launched in early 2022.
Meta Ruffy is a crypto firm registered in Dubai as MetaRuffy International FZCO.
MR is a "rug-proof" Binance Smart Chain deflationary BEP20 token.
The Meta Ruffy (MR) token rose more than 26% on Wednesday morning, even as the broader market fell around 4% amid downbeat investor sentiments.
The MR token traded at US$0.0000925 at 4:51 am ET. Though the token was trending on Coinmarketcap, other metaverse tokens declined in line with the glum in the crypto market, which fell to US$892.77 billion in the last 24 hours.
Decentraland (MANA), the largest metaverse project by market cap, was down 6.38% to US$0.8164, while ApeCoin (APE), the second-largest, fell 11.03% to US$4.19 early Wednesday.
The Meta Ruffy (MR) token has been rising since it started its mini-games last week. The Meta Ruffy team has been conducting these games daily since June 13.
These games are played every six hours, four times a day for 30 days, and each gaming session picks three winners for a reward of up to US$50 in USDT.
Also Read: Why is Dogelon Mars (ELON) crypto gaining attention?
Amid the craze for these mini-games and its newly named NFT marketplace, Loobr, the MR token's trading volume surged about 17% to US$8.4 million in the last 24 hours.
Let us have a look at Meta Ruffy and its offerings.
Also Read: What is Luffy (LUFFY) crypto's 'trading competition'?
What is Meta Ruffy?
Meta Ruffy is a Dubai-based company registered as MetaRuffy International FZCO. It began operations in early 2022. Its metaverse, Ruffy World, has various relaxation or entertainment zones such as spas, stadiums, pubs, clubs, gaming, and dating, besides an NFT marketplace.
Its whitepaper also states that it plans to build luxury hotels and resorts in the metaverse with real-world trainers and aims to be a leader in the entertainment industry with its offerings.
Also Read: What is Hedera (HBAR) crypto and is it environment friendly?
Its virtual stadiums will organize theatres, comedy sessions and concerts, and visitors can use NFTs as tickets to these events. Its metaverse will also have a dating island for singles. Meta Ruffy has recently renamed its NFT marketplace Loobr, where users can create and trade digital arts.
Also Read: Why is layer-1 Stacks (STX) crypto grabbing attention?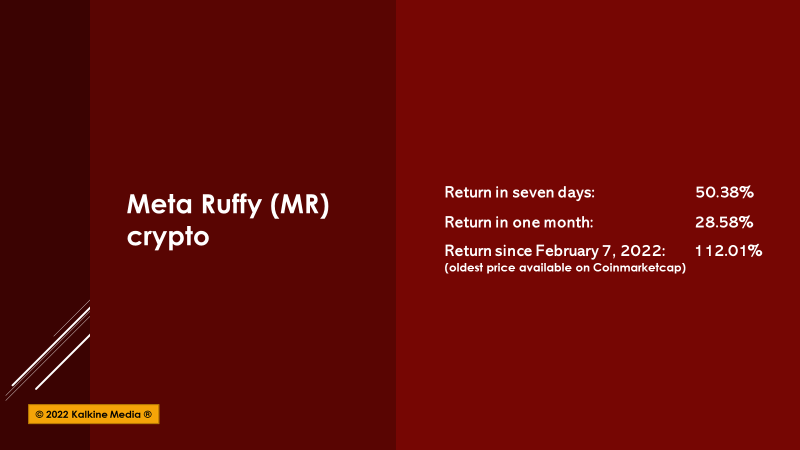 Coinmarketcap.com
Also Read: BORA crypto rises as Mythical Games joins its governance council
MR token:
MR is a rug-proof Binance Smart Chain deflationary BEP20 token. The token recently got listed on the MEXC crypto exchange to expand its presence. The MR token is also available for trading on crypto exchanges like XT.com, LBank, BKEX, and BitMart.
Meta Ruffy's current market capitalization is US$6.9 million, and the self-reported circulating supply is 74.34 billion, while the token's total supply is 100 billion.
Also Read: Babel Finance joins Celsius, Finblox to freeze withdrawals
Bottom line:
Meta Ruffy has grabbed people's attention within a short span of its existence. Its NFT marketplace, Loobr.com, and metaverse Ruffy World have been its prized offerings. However, the crypto market is extremely volatile and risky. Hence, investors should apply due diligence before investing in digital assets.
Risk Disclosure: Trading in cryptocurrencies involves high risks including the risk of losing some, or all, of your investment amount, and may not be suitable for all investors. Prices of cryptocurrencies are extremely volatile and may be affected by external factors such as financial, regulatory, or political events. The laws that apply to crypto products (and how a particular crypto product is regulated) may change. Before deciding to trade in financial instruments or cryptocurrencies you should be fully informed of the risks and costs associated with trading in the financial markets, carefully consider your investment objectives, level of experience, and risk appetite, and seek professional advice where needed. Kalkine Media cannot and does not represent or guarantee that any of the information/data available here is accurate, reliable, current, complete or appropriate for your needs. Kalkine Media will not accept liability for any loss or damage as a result of your trading or your reliance on the information shared on this website.