Highlights

Kava is a layer-1 blockchain that combines Ethereum and Cosmos, the two permissionless ecosystems, into one single and scalable network.
KavaDAO is a fully decentralized autonomous organization (DAO) that governs Kava Network.
The network uses KAVA as its governance and utility token.
The Kava blockchain network will launch the Ethereum Co-Chain BETA on April 5. This public beta launch is an incentivized event to stress test the Ethereum Co-Chain. At the event, the users will get to experience the Kava Network's upcoming protocols and DApps.
Despite the positive news, the KAVA token fell 3.31% to US$4.44 at 12:55 pm ET. The global crypto market was down 3.21% to US$2.09 trillion in the last 24 hours to 1:10 pm ET. However, Kava is on track to launch Ethereum Co-Chain and the ETH Bridge Beta in April 2022.
What Is Kava (KAVA)?
Kava is a layer-1 blockchain that features a developer optimized co-chain architecture combining the two permissionless ecosystems, Ethereum and Cosmos, into one single and scalable network. In simple words, the Kava blockchain combines the speed and interoperability of Cosmos and the developer power of Ethereum.
The Ethereum Co-Chain supports the Ethereum Virtual Machine (EVM) smart contracts, and Cosmos Co-Chain enables the lightning-fast Tendermint consensus engine and the Inter Blockchain Communication Protocol (IBC).
Also Read: What is Saito blockchain & its crypto?
The company aims to establish Kava Network as a top-five L1 blockchain by empowering and incentivizing developers to drive the growth and usage of L1 ecosystems.
Its co-founders are Brian Kerr, Ruaridh O'Donnell, and Scott Stuart. Scott is a former poker player and a serial entrepreneur. He took over as CEO of Kava from Brian Kerr in 2021. Brian previously worked as an advisor with several digital-asset-focused companies, including Snowball and DMarket.
Also Read: Why is SafePal (SFP) crypto gaining attention?
Ruaridh O'Donnell is an engineer and has worked previously as a data analyst with Level Works.
KavaDAO is a fully decentralized autonomous organization (DAO) that governs Kava Network. The governance issues involve smart contract modifications, global debt limit adjustments, collateral assets addition or removal, etc.
Also Read: Why is BitTorrent acquirer TRON (TRX) crypto rising?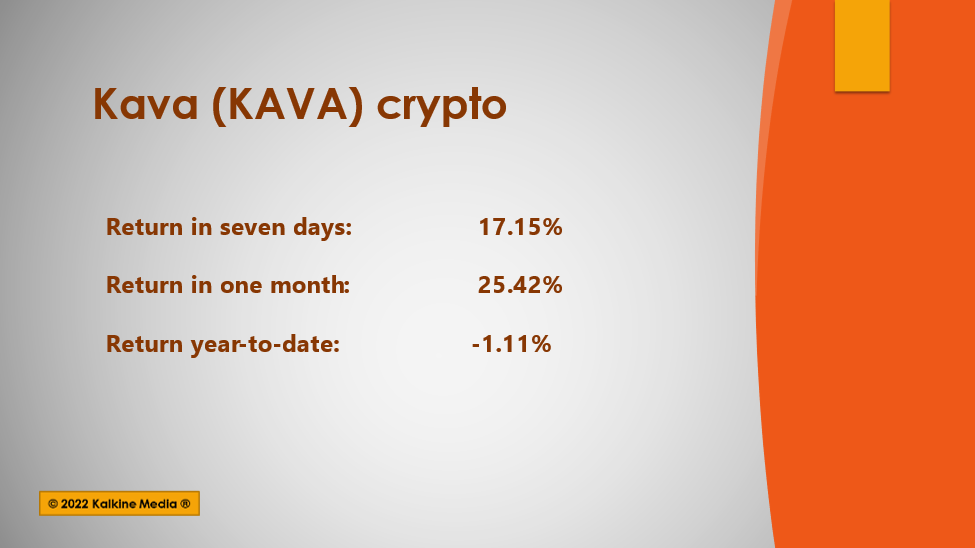 Data Source: coinmarketcap.com
Also Read: Why is Helium (HNT) crypto changing its name?
KAVA token price and performance:
The network uses KAVA as its governance and utility token, used for staking by validators and delegated to the validator nodes.
KAVA has a market capitalization of US$740.59 million. The network has a Total Value Locked (TVL) of US$408.45 million currently.
Its circulating supply is 167.46 million KAVAs, and the total supply is 173.66 million. The token is available for purchase on the Binance, Bybit, CoinTiger, Upbit, and KuCoin crypto exchanges.
Also Read: What is BORA (BORA) crypto and why is it rising?
Bottom line:
Amid the uncertainty and volatility of the crypto market, investors must exercise due diligence while selecting a cryptocurrency project for investments. The digital space is prone to scams and hacks.
Risk Disclosure: Trading in cryptocurrencies involves high risks including the risk of losing some, or all, of your investment amount, and may not be suitable for all investors. Prices of cryptocurrencies are extremely volatile and may be affected by external factors such as financial, regulatory, or political events. The laws that apply to crypto products (and how a particular crypto product is regulated) may change. Before deciding to trade in financial instrument or cryptocurrencies you should be fully informed of the risks and costs associated with trading in the financial markets, carefully consider your investment objectives, level of experience, and risk appetite, and seek professional advice where needed. Kalkine Media cannot and does not represent or guarantee that any of the information/data available here is accurate, reliable, current, complete or appropriate for your needs. Kalkine Media will not accept liability for any loss or damage as a result of your trading or your reliance on the information shared on this website.