Highlights

DexTools is an app that gives information about decentralized markets.
It is focused on providing reliable, real-time quality data to users.
DexTools has a market cap of US$29.4 million and 13,917 token holders.
DexTools (DEXT) crypto rose 11.75% to US$0.2981 at 7:02 am ET on Tuesday, lifted by a broader rally in the cryptocurrency market.
The overall market was up 1.49% to US$2.16 trillion in the last 24 hours. Bitcoin (BTC) rose 1.15% to US$47,702.21, and Ethereum (ETH) grew 2.98% to US$3,441.17 at the same time.
The 24-hour trading volume increased by 704.49% to US$1.05 billion.
Why is DexTools crypto rising?
DexTools launched a contest in collaboration with the KCC Community, KCS Management Foundation and KuCoin (KCS) on Tuesday to celebrate the release of the KCS token. The competition will be held between March 29 and April 3 (10 am UTC).
The contest will select 100 winners, and each winner will get one lottery NFT and 70 DEXT tokens. The lottery NFT will give winners access to the grand prize of 5,000 KCS and a prize pool of 21,000 KCS.
Also Read: Why is GoCryptoMe rising? GCME crypto's trading volume up over 4,000%
What is DexTools (DEXT)?
DexTools is an app as well as an ecosystem to get information on decentralized markets. The platform gathers all blockchain data into one comprehensive UI, providing a clearer picture of investments, trading, and the current state of the crypto market.
Also Read: Can Solana (SOL) rally after tie-up with PUBG maker Krafton?
DEXT features include Pool Explorer, where users can follow the liquidity movements and formation of new pools on decentralized exchanges (DEX).
Pair Explorer checks the token's charts and transactions. In addition, with the help of its Big Swap explorer, one can track whales and big trades.
Its Multiswap feature opens up multiple DEX portals to speed up trading, while its wallet info feature allows users to track and follow their favorite trader's wallets.
Also Read: Why did Thorchain (RUNE) crypto gain 150% in one month?
DexTools co-founders Javier Palomino and Frederic Fernandez started the project with their own funds in 2020. Both are experienced developers and created 200 million tokens.
DexTools provides reliable, real-time quality data to users through its infrastructure. The platform has 11 team members, including the co-founders and four advisors.
DexTools has so far burned 50 million tokens. The team burns 10% of the subscription tokens each month. Currently, the circulating supply is 98.67 million DEXT.
Also Read: What is EOS crypto as its token's trading volume rockets nearly 400%?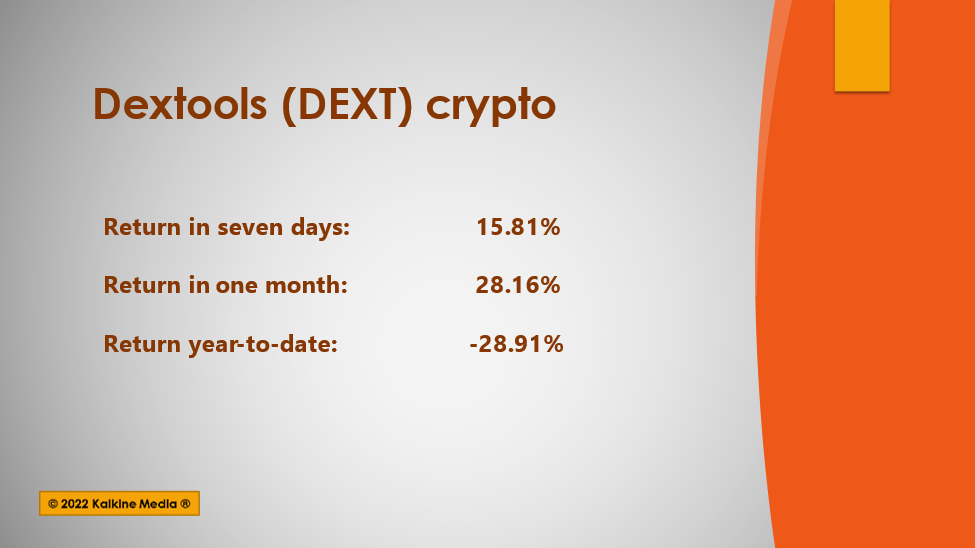 Data Source: coinmarketcap.com
Also Read: What is Metapets (METAPETS) crypto? All you need to know
DEXT Token price and performance:
DEXT is the native utility token of DexTools used to access the app's top tier features and the premium trading group and community initiatives like DEXT Force Ventures.
DEXT can be traded on BKEX, Poloniex, and Uniswap (V2) crypto exchanges.
DEXT has a current market capitalization of US$29.4 million, with 13,917 token holders. DEXT's total supply is 147.78 million, while the maximum supply is 200 DEXTs.
Also Read: What is Zilliqa (ZIL) crypto and why is it rising?
Bottom line:
The crypto market is volatile and prone to scams. Hence, investors must apply caution while investing in digital assets.
Risk Disclosure: Trading in cryptocurrencies involves high risks including the risk of losing some, or all, of your investment amount, and may not be suitable for all investors. Prices of cryptocurrencies are extremely volatile and may be affected by external factors such as financial, regulatory, or political events. The laws that apply to crypto products (and how a particular crypto product is regulated) may change. Before deciding to trade in financial instrument or cryptocurrencies you should be fully informed of the risks and costs associated with trading in the financial markets, carefully consider your investment objectives, level of experience, and risk appetite, and seek professional advice where needed. Kalkine Media cannot and does not represent or guarantee that any of the information/data available here is accurate, reliable, current, complete or appropriate for your needs. Kalkine Media will not accept liability for any loss or damage as a result of your trading or your reliance on the information shared on this website.