Highlights

DeFi Kingdom (JEWEL) is a blockchain game.
JEWEL's market capitalization currently is US$685.88 million.
The token's 24 hours trading volume rose 102.45% to US$116.9 million at 10:27 am ET, Thursday.
The DeFi and play-to-earn gaming with NFTs mechanics are becoming hugely popular with time. In the blockchain-based crypto gaming world, DeFi kingdom caught eyeballs today.
The JEWEL token rallied after launching the long-awaited game 'Crystalvale' on Thursday. Crystalvale runs on the DFK chain and is one of the first games to go cross-chains. JEWEL's 24-hour trading volume rose 102.45% to US$116.9 million shortly after the launch.
DeFi Kingdoms will execute Crystalvale gameplay transactions through its DFK Chain. Crystalvale will also host the Crystalvale DEX.
The DeFi Kingdoms Blockchain, or DFK Chain, is built in partnership with Avalanche, using the latter's subnet technology. In a tweet, DeFi Kingdoms announced a one-week promotional drive in which one could purchase Avalanche (AVAX) for free.
The gaming platform also announced its integration with the Coinbase Wallet on Thursday.
Also Read: Why did Stargate Finance (STG) rose over 98% in a week?
The play-to-earn game is still in the early stage of development, but DeFi has plans to launch player vs player and resource gathering features in future.
The DeFi Kingdom's popularity has grown manifold since its launch. The blockchain game benefited as the gas prices soared and users looked for opportunities to minimize cost.
Also Read: What is Saito blockchain & its crypto?
With the expansion to Avalanche and DFK Chain, DeFi Kingdom expects strong growth.
Users will need to go to in-game Dockmaster Maria to switch to Crystalvale from the old Serendale, whose Serendale Docks will set up an in-game bridge to DFK Chain.
After the users bridge the JEWELs used for gas fees on DFK Chain, a protocol will automatically exchange JEWELs bridged onto the DFK Chain for the native gas token.
Also Read: Why is SafePal (SFP) crypto gaining attention?
New users first need to set up their wallets in either a Coinbase Wallet or Metamask Wallet. After successfully installing the wallet, they can choose to visit Serendale or Crystalvale. They need to buy the related tokens for the game's blockchain, depending on what they choose.
Serendale needs ONE token to be used on the Harmony blockchain, and for Crystalvale, they can buy AVAX on Avalanche to be used in DFK Chain.
The platform has attracted 17,275 new users as per its latest tweet at around 11:10 am ET. According to its tweet, the APY in the JEWEL:xJEWEL Ice Garden pool is currently 4231%.
Also Read: What is BORA (BORA) crypto and why is it rising?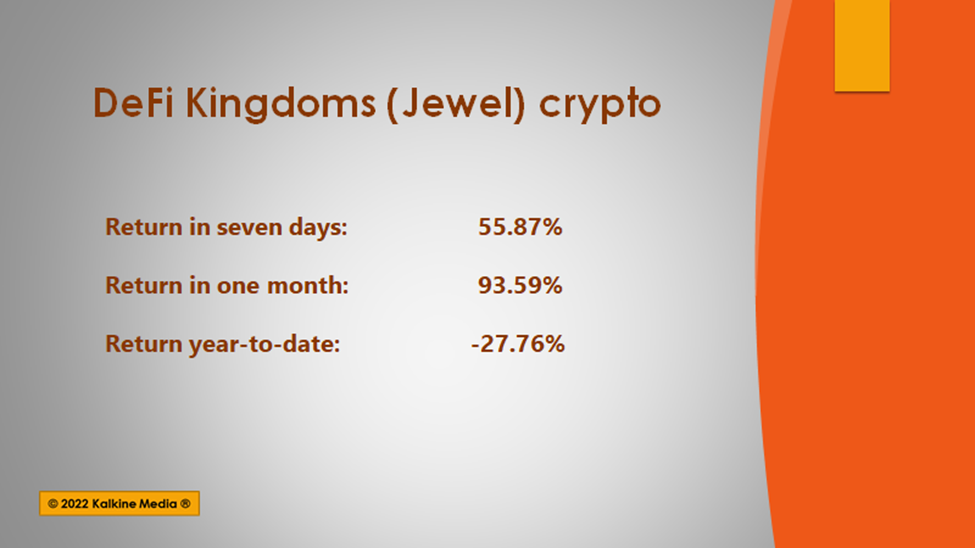 Data Source: coinmarketcap.com
Also Read: Why is BitTorrent acquirer TRON (TRX) crypto rising?
Jewel Token details:
Jewel is the native token of DeFi Kingdoms. It is used to purchase NFTs such as heroes, kingdoms etc. The token can also be staked in a liquidity mining pool to earn yields.
DeFi Kingdoms (JEWEL) token rose 11.91% to US$10.88 at 10:27 am ET, Thursday.
Also Read: What is Secret (SCRT) crypto?
Its market capitalization currently is US$685.88 million. JEWEL's self-reported circulating supply is 62.75 million JEWEL, the total supply is 320.11 million, and the maximum supply is 500 million JEWELs. Hotbot, DeFi Kingdoms, MEXC, AAX, BigONE are the crypto exchanges where one can buy the JEWEL token.
Also Read: Why is Helium (HNT) crypto changing its name?
Bottom line:
Crypto Market is volatile and prone to scams. Thus, investors must be careful while investing in the digital assets space.
Risk Disclosure: Trading in cryptocurrencies involves high risks including the risk of losing some, or all, of your investment amount, and may not be suitable for all investors. Prices of cryptocurrencies are extremely volatile and may be affected by external factors such as financial, regulatory, or political events. The laws that apply to crypto products (and how a particular crypto product is regulated) may change. Before deciding to trade in financial instrument or cryptocurrencies you should be fully informed of the risks and costs associated with trading in the financial markets, carefully consider your investment objectives, level of experience, and risk appetite, and seek professional advice where needed. Kalkine Media cannot and does not represent or guarantee that any of the information/data available here is accurate, reliable, current, complete or appropriate for your needs. Kalkine Media will not accept liability for any loss or damage as a result of your trading or your reliance on the information shared on this website.