Highlights

Bancor (BNT) is a decentralized trading protocol.
BNT token got listed on the Binance US crypto exchange on April 25.
BNT has an elastic supply, and the protocol mints and burns tokens to maintain the liquidity levels in the pool.
The Bancor (BNT) token surged after being listed on the Binance US crypto exchange on April 25. On Tuesday, the BNT token deposits opened at 8:00 am EDT, and the trading began 24 hours later with the "Buy Crypto" functionality.
The Bancor 3 Beta went live on April 19. The company plans a full release in May. On April 23, its total value locked (TVL) reached more than US$1 million across BNT, ETH, DAI, and LINK.
These developments added to the interest in BNT. Bancor 3 introduces a new Omnipool architecture to simplify the protocol's contracts and increase efficiency at every touchpoint with Unlimited Single-Sided Staking, Auto-Compounding Rewards, Instant Impermanent Loss Protection, and more.
On Wednesday, riding high on these updates, Bancor (BNT) traded 1744% up from its all-time low of US$0.120935 in March 2020.


What Is Bancor (BNT)?
Bancor is a decentralized trading protocol that empowers traders, liquidity providers and developers to participate in the open financial marketplace. Also, no permission is required for entry as the protocol is open source. The protocol was launched in 2017. It claims to be the first DeFi protocol.
The protocol is designed to limit the effects of impermanent loss. The impermanent loss occurs when the asset price fluctuates after principal assets are deposited into the liquidity pool.
Also Read: Why is Kyber Network Crystal v2 (KNC) crypto drawing attention?
The protocol generates millions in fees per month for depositors by offering APR up to 60% on ETH, LINK, MATIC, AAVE etc. Its community owns the protocol, a decentralized autonomous organization named Bancor DAO.
Also Read: Is Polygon (MATIC) crypto gaining attention on Stripe news?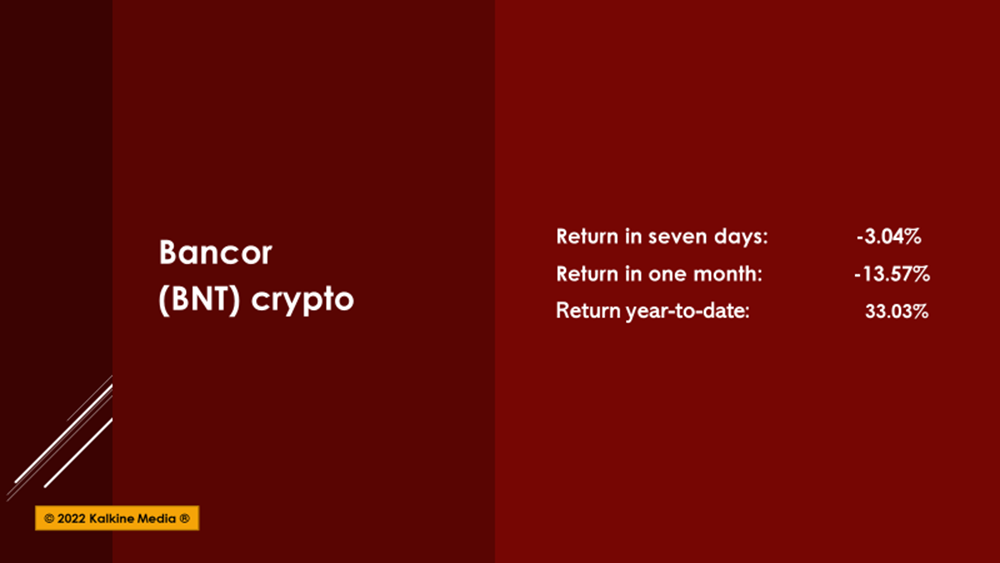 Data Source: coinmarketcap.com
Also Read: Why Hawksight (HAWK) crypto surged 100%?
BNT token:
BNT is an ERC-20 token used to insure against impermanent loss.
The protocol's token enables traders to provide liquidity to the network where anyone can contribute to the pool. The liquidity providers are eligible to receive fees for providing liquidity for trades that pass through the pool. Bancor incentivizes liquidity providers for staking assets on its decentralized exchange.
The Bancor Network Token (BNT) has an elastic supply, and the protocol mints and burns tokens to maintain the liquidity levels in the pool.
Also Read: What is Numeraire (NMR) crypto? All you need to know
This 115th ranked token by market capitalization has 37,828 holders, as per coinmarketcap.com. Its current market capitalization is US$585.23 million.
In the last 24 hours, Bancor (BNT) rose 3.51% to US$2.23 at 8:51 am ET Tuesday, and 24 hours volume rose 31.70% to US$26.75 million. Its circulating supply is 262.26 BNT out of the total supply of 262.26 million.
The token touched the all-time high at US$10.72 in January 2018.
Also Read: What is Dotmoovs (MOOV) crypto that zoomed over 1000% in 30 days?
Bottom line:
The token can be traded in crypto exchange like Binance, Bybit, FTX, Bitget, and OKX.
Risk Disclosure: Trading in cryptocurrencies involves high risks including the risk of losing some, or all, of your investment amount, and may not be suitable for all investors. Prices of cryptocurrencies are extremely volatile and may be affected by external factors such as financial, regulatory, or political events. The laws that apply to crypto products (and how a particular crypto product is regulated) may change. Before deciding to trade in financial instrument or cryptocurrencies you should be fully informed of the risks and costs associated with trading in the financial markets, carefully consider your investment objectives, level of experience, and risk appetite, and seek professional advice where needed. Kalkine Media cannot and does not represent or guarantee that any of the information/data available here is accurate, reliable, current, complete or appropriate for your needs. Kalkine Media will not accept liability for any loss or damage as a result of your trading or your reliance on the information shared on this website.