Highlights:

Aventus describes itself as a layer-2 blockchain protocol that focuses on enhancing scalability and speed while providing lower-cost transactions on the Ethereum network.
The AVT token is listed on various major crypto exchanges like Coinbase Exchange, Bittrex, etc.
It gave a return of over 38% in the last 30 days.
The global crypto market seems to have regained its momentum on early Tuesday as the market cap of the worldwide crypto market rose 0.71% to US$2.16 trillion, while its one-day volume rose 9.83% to US$105.82 billion, according to Coinmarketcap.com.
Meanwhile, Bitcoin (BTC) and Ethereum (ETH) rose 1.38% and 1.17% to US$46,553.61 and US$3,508.92, respectively. Aventus (AVT) also gained considerable traction among the gainers due to its rally on April 5.
Also Read: Hypebeast SPAC deal: When is Naomi Osaka-sponsored firm debuting in US?
What is Aventus (AVT) crypto?
Aventus describes itself as a layer-2 blockchain protocol that focuses on enhancing the scalability and speed of the Ethereum transactions while providing lower costs. It says that scalability is one of the prime issues of Ethereum that affects its success.
As most businesses choose the Ethereum blockchain network, its maximum transaction appears insufficient to meet the overall demands. Due to the higher demand and supply woes, the transaction fees are increasing, making it more expensive for the users.
Aventus intends to provide a solution to the problem by letting businesses build on top of the Ethereum network with its second-layer protocol. It claims that through its network, applications can work seamlessly with any other blockchain technology, cross-chain, through plugging into the Polkadot ecosystem built on Substrate.
Also Read: Why is RAMP (RAMP) crypto grabbing attention?
Why is it rising?
There could be various reasons, including its innovative services, that may have bolstered gains in the AVT token. Meanwhile, its network claims to provide 2,000 transactions per second while offering a much cheaper transaction cost than the Ethereum network's offerings.
The project has gained the investors' attention lately, especially after announcing a partnership with the investment firm Scytale Ventures to boost its Polkadot Parachain plans. In addition, recently, the Gate.io exchange has created a voting poll to list Aventus on its exchange, and Aventus has requested its followers on social media platforms to support them.
Also Read: What is Moonbeam (GLMR) crypto? Everything you need to know
Notably, on March 31, it announced that it had reached a significant milestone that may also have attracted investors. It said that as part of its network's layer 2 upgrade work, its mainnet had been upgraded to V3.
Meanwhile, the AVT token is also listed on various other major crypto exchanges like Coinbase Exchange, Bittrex, Hoo, etc.
Also Read: What is Sologenic (SOLO) crypto? Know price and performance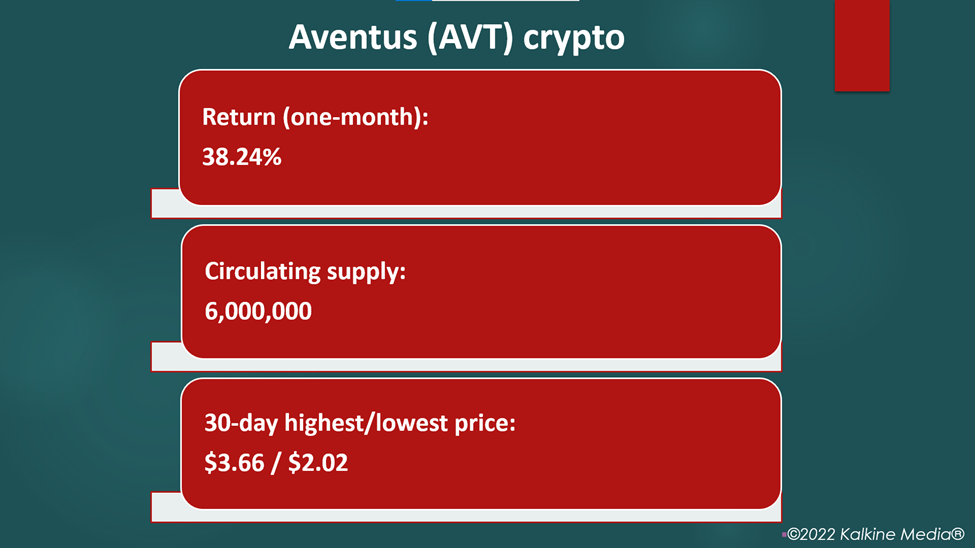 Source: *Data provided by CoinMarketCap.com
Bottom line:
The AVT token was priced at US$3.40 at 6:07 am ET on April 5, up 19.43%, while its one-day volume skyrocketed 1644.09% to US$7.43 million. Having a max and total supply of 10 million, its current circulating supply is 6 million.
It has a market cap of US$20.39 million, while its fully diluted market cap is US$33.99 million. It gave a return of 38.24% over the past 30 days.
Also Read: Why is STEPN (GMT) crypto gaining attention?
Risk Disclosure: Trading in cryptocurrencies involves high risks including the risk of losing some, or all, of your investment amount, and may not be suitable for all investors. Prices of cryptocurrencies are extremely volatile and may be affected by external factors such as financial, regulatory, or political events. The laws that apply to crypto products (and how a particular crypto product is regulated) may change. Before deciding to trade in financial instruments or cryptocurrencies you should be fully informed of the risks and costs associated with trading in the financial markets, carefully consider your investment objectives, level of experience, and risk appetite, and seek professional advice where needed. Kalkine Media cannot and does not represent or guarantee that any of the information/data available here is accurate, reliable, current, complete, or appropriate for your needs. Kalkine Media will not accept liability for any loss or damage as a result of your trading or your reliance on the information shared on this website.