Highlights:

The RSR crypto is the governance token of the Reserve platform, a crypto-powered payment app.
The RSR token is available on exchanges like Binance, Huobi Global, etc.
It returned over 18% gains in the last seven days.
The Reserve Rights (RSR) crypto was up more than 5%, with over 36% upsurge in trading volume in the trailing 24 hours to Friday morning. On the other hand, the crypto market slumped 0.60% to US$1.22 trillion, while its one-day volume fell 25.68% to US$71.37 billion at the same time.
Here we discuss the RSR crypto and its recent price and performance.
Also Read: Why is Nexo (NEXO) crypto drawing attention despite its fall?
What is Reserve Rights (RSR) crypto?
The RSR crypto, an ERC-20 token, is the governance token of the Reserve platform, a crypto-powered payment app. The RSR token was launched in 2019 through an initial exchange offering (IEO), according to CoinMarketCap (CMC).
It secures Reserve stablecoins (RSV) through staking and governing in the Reserve protocol.
Also Read: COP to EOG: Five oil & gas stocks to explore amid Russian import ban
The crypto payment app is reportedly popular among Latin American users. It allows users to convert their local currencies into US dollars. Additionally, the RSR token acts as a backstop in any collateral token default. To obtain such insurance, RSR holders may choose to stake on any RSV token or divide the RSR tokens via staking on different RSVs.
Also Read: Solana (SOL) crypto drops after outage; know more here
According to the Reserve Rights protocol, its stablecoin is supported by a wide portfolio of digital assets via smart contracts. Stablecoins are digital currencies pegged to the US dollar held in reserve. They are controlled by a custodian or an issuer of the coin.
The RSR token has gained traction, especially after May 12, when it said on a social media platform that over 18,000 merchants in Latin America accepted the coin for transactions. It is ranked 275th on CMC, and it can be traded on exchanges like Binance, Huobi Global, and OKEx.
Also Read: Zhong Yang (TOP) stock zoomed 300% on Nasdaq debut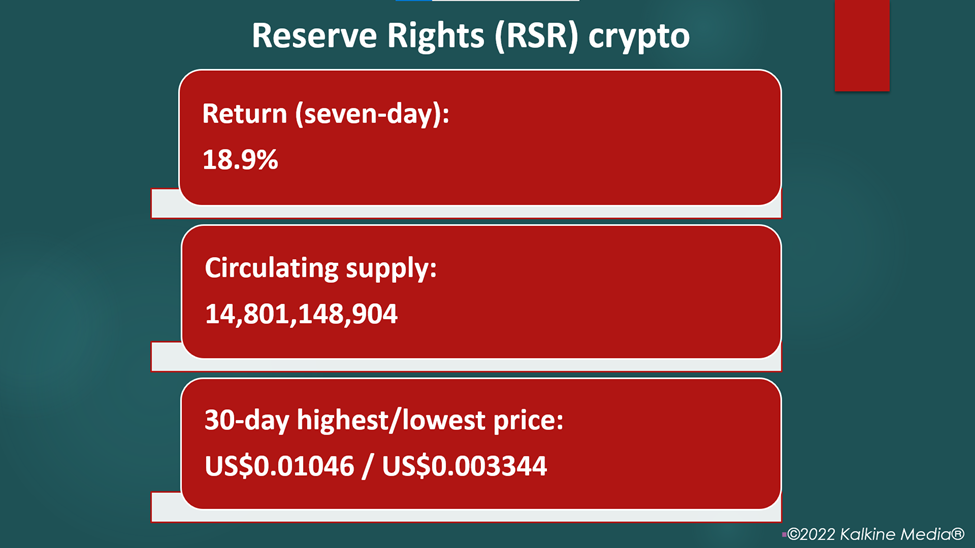 Data Source: CoinMarketCap.com
Bottom line:
The RSR token was priced at US$0.006642 at 10:00 am ET on June 3, up 5.61%, while its volume for the last 24 hours jumped 36.19% to US$44.98 million. It has a market cap of US$98.31 million, and its fully-diluted market cap is over US$664.21 million.
The token has a maximum and total supply of 100 billion, and its current circulating supply is around 14.80 billion. It returned gains of 18.9% in the last seven days.
The RSR token saw the highest price of US$0.01046 and the lowest price of US$0.003344 in the last 30 days.
Also Read: What is RadioShack (RADIO) crypto and why is it rising?
Risk Disclosure: Trading in cryptocurrencies involves high risks including the risk of losing some, or all, of your investment amount, and may not be suitable for all investors. Prices of cryptocurrencies are extremely volatile and may be affected by external factors such as financial, regulatory, or political events. The laws that apply to crypto products (and how a particular crypto product is regulated) may change. Before deciding to trade in financial instruments or cryptocurrencies you should be fully informed of the risks and costs associated with trading in the financial markets, carefully consider your investment objectives, level of experience, and risk appetite, and seek professional advice where needed. Kalkine Media cannot and does not represent or guarantee that any of the information/data available here is accurate, reliable, current, complete, or appropriate for your needs. Kalkine Media will not accept liability for any loss or damage as a result of your trading or your reliance on the information shared on this website.