Highlights

DEXTools is a DeFi app and an ecosystem for decentralized exchange traders.
DEXT is the utility token of DEXTools.
It has a market capitalization of US$17.1 million.
The DEXTools (DEXT) token rose 8.97% to US$0.1751 at 5:13 am ET Monday. DEXTools, a DeFi app for decentralized exchange (DEX) trading, recently announced that KuPay Finance would accept DEXT tokens as payment for its services and plan for more collaborations in future.
In the crypto market on Monday morning, Bitcoin (BTC) surged 2.58% to US$30,309.49, and Ethereum (ETH) rose 3.30% to US$2,052.76.
DEXTools project was started by Javier Palomino (co-founder and CEO) and Frederic Fernandez (Co-founder and CMO), both experienced traders and developers, in 2020. They funded the project on their own. Let us understand more about it.
What Is DEXTools (DEXT)?
DEXTools is a DeFi app providing information about decentralized markets to traders. It uses blockchain data in one user interface (UI). The platform helps users understand the crypto market and analyze their trading and investment strategies.
The platform claims to provide tools to analyze real-time data, create unique strategies, search for big spreads, anticipate market movements, track the most profitable wallets, etc.
Also Read: Global cryptocurrency regulatory body on the anvil, says top official
The platform's features include Pair Explorer, which checks the charts, transactions, and project metrics, and Live New Pair, which helps search for new pools and add or remove liquidity in a pair. With its Big Swap Explorer feature, one can track big transactions like whales. Its Wallet Info feature enables users to follow their favorite traders' wallets. The MultiSwap feature allows viewing and interaction with multiple pairs on a single screen.
Also Read: Why Ampleforth Governance Token's (FORTH) trading volume surged 2000%?
Finally, the aggregator feature allows direct trading on DEXes within the DEXTools App.
Many DeFi traders have adopted DEXTools. DEXTools has partnered with projects like 1inch, Ferrum Network, Elrond, Kyber Network, Outer Ring, etc. In Q2, 2022, DEXTools plans to create an NFT marketing promotion tool, and integrate non-EVM blockchains.
Also Read: Crypto exchange FTX set to launch commission-free stock trading service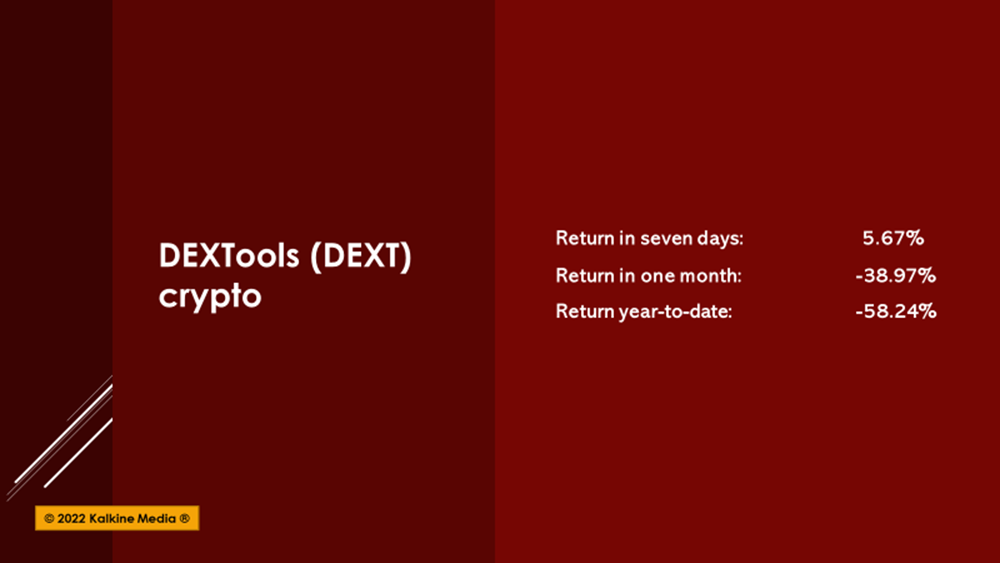 Data Source: coinmarketcap.com
Also Read: Is Flow (FLOW) crypto rising on Coinbase news?
DEXT token:
DEXT is the native utility token of DEXTools. It is used to access the app's unique features, premium trading groups and community initiatives like DEXT Force ventures. Currently, it has a market capitalization of US$17.1 million. Its 24-hour volume rose 5.22% to US$94,336.
Also Read: Why gaming crypto platform MOBOX (MBOX) volume soared 124%?
The token has a circulating supply of 97.67 million and a total supply of 146.73 million. The DEXT token is currently trading 81.4% down from its all-time high of US$0.940315, logged in March 2021.
Also Read: Why Elongate (ELONGATE) crypto volume surged 40,000%?
Bottom line:
DEXTools provides live analysis of crypto assets, which trade on decentralized exchanges like Uniswap and SushiSwap. It works on different devices such as mobile, tablets, and desktops. The token is available for purchase on crypto exchanges like BKEX, PancakeSwap (V2), KyberSwap (BSC), and Poloniex.
Risk Disclosure: Trading in cryptocurrencies involves high risks including the risk of losing some, or all, of your investment amount, and may not be suitable for all investors. Prices of cryptocurrencies are extremely volatile and may be affected by external factors such as financial, regulatory, or political events. The laws that apply to crypto products (and how a particular crypto product is regulated) may change. Before deciding to trade in financial instruments or cryptocurrencies you should be fully informed of the risks and costs associated with trading in the financial markets, carefully consider your investment objectives, level of experience, and risk appetite, and seek professional advice where needed. Kalkine Media cannot and does not represent or guarantee that any of the information/data available here is accurate, reliable, current, complete or appropriate for your needs. Kalkine Media will not accept liability for any loss or damage as a result of your trading or your reliance on the information shared on this website.