Highlights:

Robinhood announced to list the UNI token on its platform.
The UNI token soared more than 31% in the last seven days.
It saw the highest price of US$7.71 in the last 30 days.
The Uniswap (UNI) crypto has recently been on the investors' radar, as evidenced by the significant spike in its price. Even though its price was down nearly 2% on Wednesday morning, its price has increased in recent weeks. The volume for the trailing 24 hours of UNI token was up more than 1% on July 20.
Now, before we discuss the recent developments of the UNI crypto, let's explore what Uniswap (UNI) is.
What is Uniswap (UNI) crypto?
Uniswap is a decentralized trading protocol mainly popular for enabling automated trading of decentralized finance tokens. Uniswap was launched in November 2018 as an automated market maker (AMM) but has gained a lot of traction since 2020 due to the increasing popularity of decentralized finance and crypto trading.
It focuses on keeping token trading automated and completely transparent to any user who holds tokens. In addition, it intends to improve the trading experience compared to other traditional exchanges.
Uniswap aims to provide more efficiency by solving the liquidity problems related to automated solutions and avoiding issues that hampered the decentralized exchanges.
Uniswap took a step forward in September 2020 by creating its governance token, UNI, for the users. This has helped improve profitability and enabled users to decide the future of Uniswap, which is an attractive feature of the decentralized entities.
The UNI token has gained traction in the market since it announced its acquisition of Genie, which claims to be the first non-fungible token (NFT) marketplace aggregator. Uniswap announced the acquisition news on June 20 and said it would expand its products to include ERC-20 tokens and NFTs.
In addition, the listing announcement of the UNI token on the Robinhood Trading app could have also helped in its recent gains. On July 14, Robinhood announced to list the UNI token on its platform.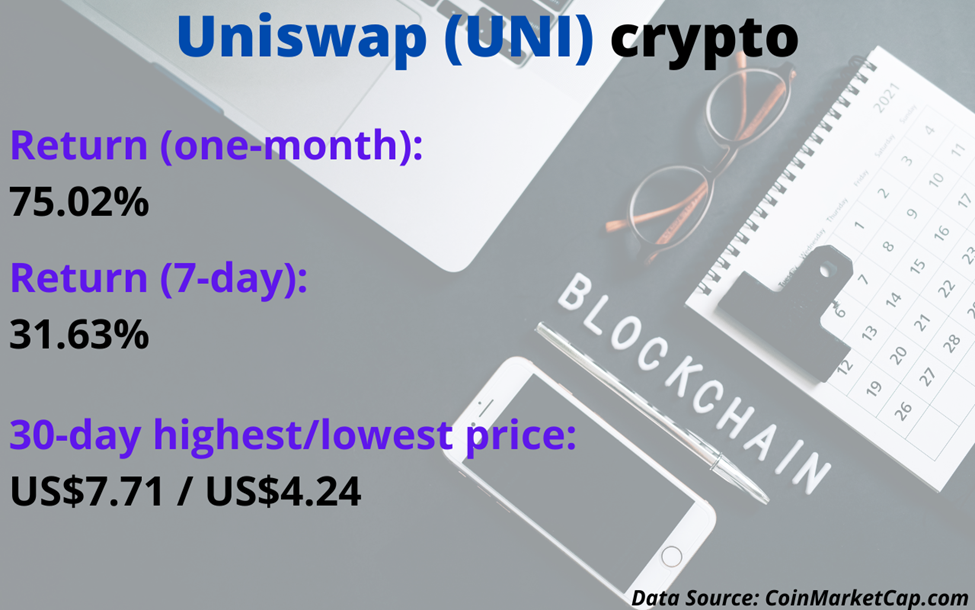 Source: ©Kalkine Media®; © Olya Kobruseva via Canva.com
Bottom line:
The UNI token was priced at US$7.46 at 7:59 am ET on July 20, down by 1.67%, while its volume for the last 24 hours rose 1.39% to US$302.30 million. It has a market cap of US$5.47 billion, and its fully-diluted market cap is over US$7.45 billion.
It has a maximum and total supply of 1 billion, and its current circulating supply is around 734.13 million. It returned gains of 75.02% in the last 30 days while increasing 31.63% over the past seven days.
The UNI crypto saw the highest price of US$7.71 and the lowest price of US$4.24 in the last 30 days.
Risk Disclosure: Trading in cryptocurrencies involves high risks including the risk of losing some, or all, of your investment amount, and may not be suitable for all investors. Prices of cryptocurrencies are extremely volatile and may be affected by external factors such as financial, regulatory, or political events. The laws that apply to crypto products (and how a particular crypto product is regulated) may change. Before deciding to trade in financial instruments or cryptocurrencies you should be fully informed of the risks and costs associated with trading in the financial markets, carefully consider your investment objectives, level of experience, and risk appetite, and seek professional advice where needed. Kalkine Media cannot and does not represent or guarantee that any of the information/data available here is accurate, reliable, current, complete, or appropriate for your needs. Kalkine Media will not accept liability for any loss or damage as a result of your trading or your reliance on the information shared on this website.