Highlights:

The volatility in the market is normal and investors should be prepared for that.
The correction is an important part that is crucial when the market is rising at a fast pace.
Understanding risks and allocating bets accordingly during a volatile market is essential.
The volatility in the market is not a once-in-a-blue-moon occurrence, and investors are well aware of that. Certain risks are always associated with investing in stocks, and its downturn is part and parcel of the stock market.
Several economic or geopolitical events like inflation, war, etc. might control the overall sentiment in a market, which could either trigger a rally or result in a massive sell-off. But investors should be aware of certain things during a highly volatile condition in the market.
Let's discuss some key points for investors who are looking for ways to wade through a volatile market condition:
Do not panic
The key aspect during a volatile market is not to panic. The corrections are nothing new and are essential, especially when the market is rising at a fast pace.
For instance, the market went down significantly with the indices entering into a bear market from 2007 to the first quarter of 2009, but it regained momentum by the end of the same year.
The same thing was witnessed during the Covid-19 pandemic when the market retreated with global supply chain woes and other macroeconomic factors hurting the sentiment but bounced back through 2020-2021.
So, if the prices are going down, do not panic, but create a strategy that may be beneficial in the coming times.
Understanding Risks
Understanding and balancing the risks during a bear market is also important. While some investors might put their money into dividend-paying stocks or safer assets, others find opportunities in the growth stocks whose prices have come down.
It all depends on the investors' risk appetite and on which segments they would focus on during a bear market or highly volatile environment.
Long-term focus
During a bearish sentiment, traders should focus on the long-term goals rather than putting their money on the short-term goals. As mentioned earlier, the prices generally go down during a bear market, creating opportunities for some investors to buy premium stocks at a lower cost.
Historically, the market bounced back from its lows after a bear market. Hence they should focus on long-term goals.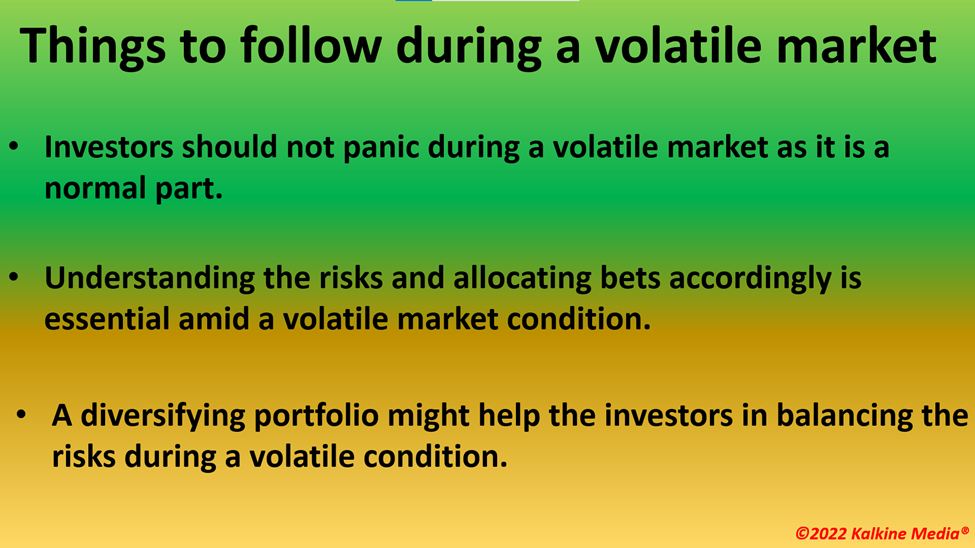 Having an emergency fund
No individual can control the market's momentum, but you can choose how to walk through a volatile market. So, having enough funds to cover your expenses during a volatile market is important.
The emergency funds might help any investor explore opportunities in several market segments while also helping them cover their expenses during the bearish period.
Diversifying portfolio
Investors should focus on creating a diversified portfolio rather than sticking to one sector or class of assets during a volatile market. Allocating the bets in different sectors also helps in trimming the risks.
Investors should put their money on different asset classes, including stocks, bonds, precious metals, etc.
Bottom line
While several investors are likely going for a break during a volatile condition in the market, some might be taking advantage of the lower prices of the assets. However, nothing could be guaranteed while discussing the equity market, as certain risks would always be present.
So, apart from following these points mentioned above, traders should thoroughly do their research before putting their bets on the market.