Only Dow Jones edged higher while Nasdaq and S&P 500 drifted on Monday, August 8, as investors seemed concerned after last week's strong job data by the Labor Department.
The strong job data raised concerns that the Federal Reserve may again raise the interest rate in their upcoming meeting after it suggested that the economy is still in a condition to bear the rate hike.
The S&P 500 fell 0.12 per cent to 4,140.06. The Dow Jones was up 0.09 per cent to 32,832.54. The NASDAQ Composite lost 0.10 per cent to 12,644.46, and the small-cap Russell 2000 rose 1.01 per cent to 1,941.21.
In addition, gloomy earnings guidance from NVIDIA Corporation (NVDA) also indicated the cooling US economy. The Federal Reserve had already raised the interest rate by 2.25 per cent through July, and the market participants now anticipate another 75 basis point hike in September.
However, several other economic data are also due to be released before the Fed's next meeting, which could provide insights into the health of the economy. The investors are now eagerly waiting for consumer price data for July, which is expected to release on Wednesday.
The consumer price data would shed some light on what steps the Federal Reserve would take to fight the red-hot inflation and bring it down to its two per cent target.
On Monday, seven of the 11 segments of the S&P 500 index stayed in the positive territory, with energy and materials as the top movers. The information technology and consumer staples sectors were the laggards.
Shares of the GPU maker, NVIDIA Corporation (NASDAQ: NVDA) plunged 6.85 per cent in the intraday session after the firm said that it expects its revenue for the latest quarter to sequentially decline by about 19 per cent to US$ 6.7 billion. Nvidia cited that the weaker revenue from the gaming segment had affected its overall revenue.
Palantir Technologies Inc. (PLTR) tumbled 14.19 per cent after the big data analytics firm cut its full fiscal revenue guidance for the ongoing year. The company lowered its forecast as some of its major government contracts are uncertain.
The food processing firm, Tyson Foods, Inc. (NYSE: TSN) lost over nine per cent in the intraday session, after the firm reported its quarterly earnings, which may have fallen short of market expectations.
In the energy sector, TotalEnergies SE (TTE) gained 2.07 per cent, ConocoPhillips (COP) increased by 0.84 per cent, and BP PLC (BP) surged 1.69 per cent. Enbridge Inc. (ENB) and China Petroleum & Chemical Corporation (SNP) added 1.50 per cent and 1.84 per cent, respectively.
In materials stocks, The Sherwin-Williams Company (SHW) rose 1.44 per cent, Vale S.A. (VALE) jumped 1.21 per cent, and Nutrien Ltd. (NTR) soared 2.06 per cent. Freeport-McMoRan Inc. (FCX) and Corteva, Inc. (CTVA) advanced 1.16 per cent and 2.06 per cent, respectively.
In the technology sector, Microsoft Corporation (MSFT) decreased by 0.92 per cent, Taiwan Semiconductor Manufacturing Company Limited (TSM) lost 2.04 per cent, and Broadcom Inc. (AVGO) fell 1.07 per cent. Oracle Corporation (ORCL) and Qualcomm Incorporated (QCOM) plunged 1.14 per cent and 1.60 per cent, respectively.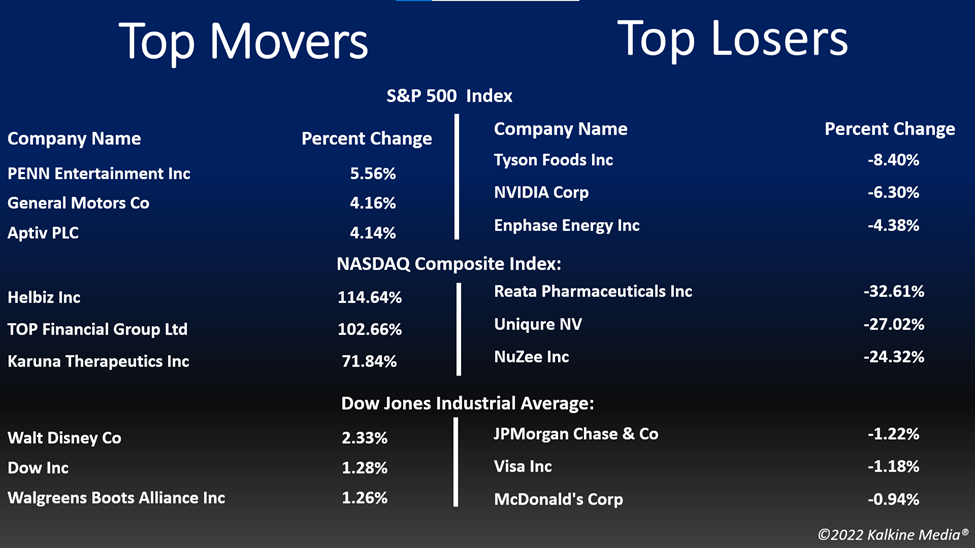 Futures & Commodities
Gold futures were up 0.77 per cent to US$1,805.05 per ounce. Silver increased by 4.08 per cent to US$20.652 per ounce, while copper rose 0.97 per cent to US$3.5863.
Brent oil futures increased by 1.32 per cent to US$96.17 per barrel and WTI crude was up 1.48 per cent to US$90.33.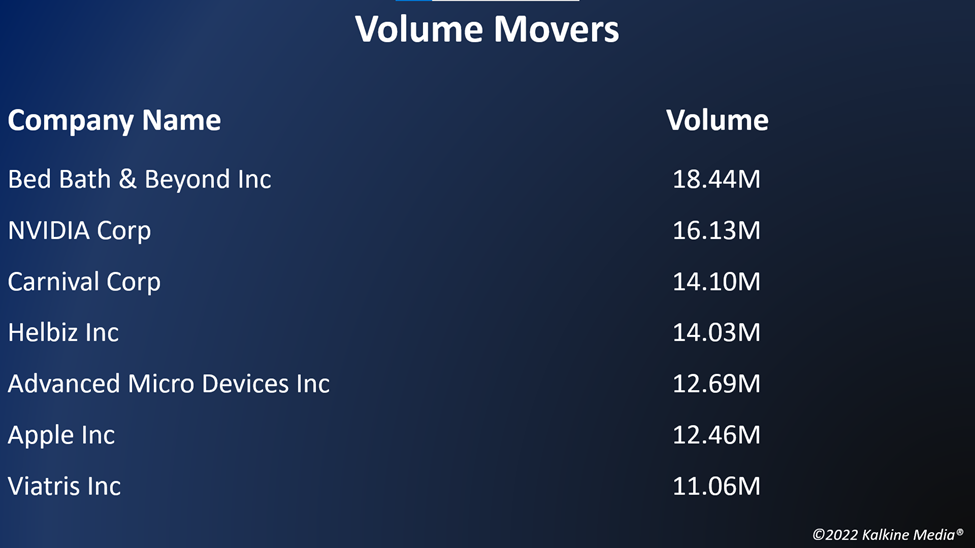 Bond Market
The 30-year Treasury bond yields were down 2.81 per cent to 2.979, while the 10-year bond yields fell 3.11 per cent to 2.752.
US Dollar Futures Index decreased by 0.22% to US$106.257.