Highlights

UK energy bills are estimated to rise by 30 per cent in 2022 due to soaring gas prices
Shell reported that its Q3 revenues is expected to be impacted by Hurricane Ida
UK households' energy bills are expected to rise by 30 per cent in 2022 as gas prices continue to soar, according to research firm Cornwall Insight.
Cornwall expects an average household's energy bills price cap could reach up to £1,660 in the summer season of 2022. The report thus predicts energy bills could see an additional increase of about £400 after the recent price cap got lifted.
The latest price cap was increased by 12 per cent to a record price cap of £1,277, which came into effect on 1 October for the 2021-2022 winter season.
UK based economic research consultancy firm, Pantheon Macroeconomics, has also forecasted a similar energy bill increase of 33 per cent. The energy price cap applies to about 15 million people in the UK, according to industry regulator Ofgem. The regulator reviews energy prices every six months. The next review is slated for February 2022 and will come into effect by April 2022.
Wholesale gas prices for next day delivery had peaked to about 400 pence per therm, before dropping to 256 pence on 6 October. Prices fell after Russian President Vladimir Putin said the country would help in reducing gas price volatility.
Gas prices have been impacted due to low levels of supply from Russia, rising global demand, among other factors. The UK has been especially vulnerable to gas price shocks due to its heavy reliance on gas and due to the country having low levels of storage capacity.
Let us take a look at 2 FTSE listed stocks in the oil and gas sector and how they have reacted to the development:
Royal Dutch Shell PLC (LON: RDSA)
FTSE 100 index listed oil major Royal Dutch Shell reported a Q3 2021 update note on Thursday.
Shell stated that its Q3 2021 revenues would see an impact of about US$ 400 million on its adjusted earnings and cash flow from operations (CFFO), due to Hurricane Ida.
One of Shell's key ports located in the Gulf of Mexico, production was temporarily stopped due to the hurricane.
Also, Shell's CFFO from its integrated gas business is expected to have higher margin inflows than Q2 2021 due to large margin fluctuations amid rising gas and electricity prices.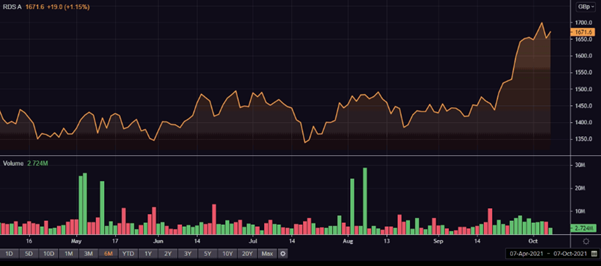 (Image source: Refinitiv)
Shell's share price was at GBX 1,661.60, up by 0.55 per cent on 7 October at 11:00 AM BST. Meanwhile, FTSE 100 index was trading at 7,064.64, up by 0.98 per cent.
The company has a market cap of £67,777.08 million and a one-year return of 69.07 per cent as of 7 October 2021.
Harbour Energy PLC (LON: HBR)
FTSE 250 index listed firm Harbour Energy is an independent oil and gas company based in the UK.
The company launched a US$ 500 million offering of 5-year non-call 2-year senior notes recently. The proceeds from the offering are expected to be used for fully repaying and cancelling its Shell Junior Facility, partly repaying senior secured reserves-based lending facility drawings and more.
The company said its stabilization notice period starts on 7 October and ends on 7 November.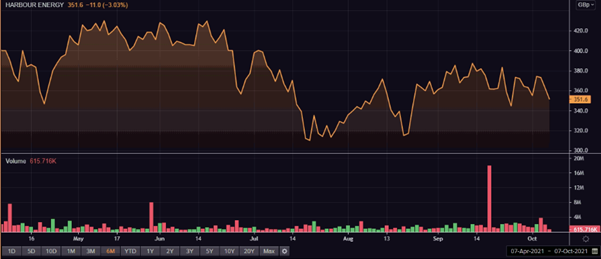 (Image source: Refinitiv)
Harbour's share price was at GBX 351.20, down by 3.14 per cent on 7 October at 11:06 AM BST. Meanwhile, FTSE 250 index was trading 22,416.96, up by 0.14 per cent.
The company has a market cap of £ 3,355.98 million and a one-year return of 13.57 per cent as of 7 October 2021.