Summary

VCT had delivered around 5% growth in sales volume during H1 FY21.
The Company will pay an interim dividend of 13.42 pence per share on 30 June 2021.
The reported profit before tax had declined by 7% during H1 FY21.
Victrex PLC (LON: VCT) is the LSE listed chemicals stock. VCT's shares have generated a return of around 31.07% in the last 12 months. VCT is listed on the FTSE 250 index.
Company Overview
Victrex PLC (LON: VCT) is a Specialty Chemical Company with operation interest lies in the manufacturing and sale of various polymers. Its operating segments are classified into –
Automotive
Electronics
Medical
Energy & Other Industrial
Aerospace
(Source: Company presentation)
H1 FY21 Highlights (for six months ended 31 March 2021 as of 10 May 2021)
Decent growth in volumes - VCT had delivered a sustainable recovery from the Covid-19 pandemic as the Company had achieved 5% growth in sales volume from 1,992 tonnes during H1 FY20 to 2,087 tonnes for H1 FY21 driven by a robust 27% growth in the electronics division. Furthermore, the volumes for the Energy & Other Industrial division also witnessed a substantial increase of around 27% during H1 FY21. However, VCT had shown a slight decline in revenue as it came around £150.9 million for the period, while it was £151.5 million during H1 FY20. The Medical division underperformed as the revenue remained around 16% lower during H1 FY21 as compared to H1 FY20.
Gross Margin Improvement since H2 FY20 – The gross margin grew around 660 basis points from 47.3% during H2 FY20 to 53.9% for H1 FY21. However, it remained 340 basis points lower when compared with H1 FY20 because of the weaker sales mix. Similarly, the profit before tax also went down by 7% to £46.6 million for the period.
Robust financial position – VCT had a strong financial position illustrated by a total cash position of £79.6 million as of 31 March 2021 and undrawn RCF ("Revolving Credit Facilities") of around £20 million. Moreover, the Company had generated £59.2 million of cash from the operations during the period, with an operating cash conversion ratio of around 96%. The net assets stood at £484.2 million as of 31 March 2021. Furthermore, VCT will pay an interim dividend of 13.42 pence per share on 30 June 2021.
Share Price Performance Analysis of Victrex PLC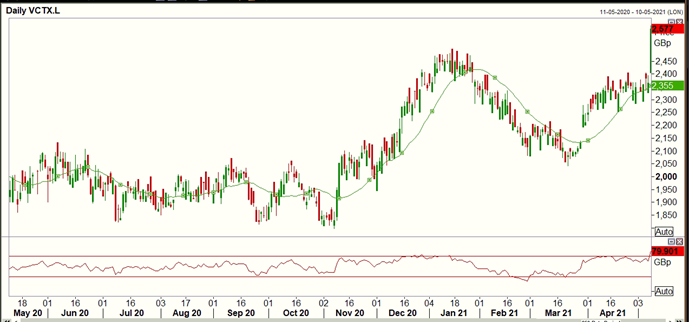 (Source: Refinitiv, Thomson Reuters)
VCT shares were trading at GBX 2,577.00 and were up by close to 7.91% as of 10 May 2021 at 11:08 AM GMT. The 14-day RSI stood at 79.90x, while the 20-day simple moving average was around GBX 2,355.00. VCT's 52-week Low and High were GBX 1,798.00 and GBX 2,618.00, respectively. Victrex PLC had a market capitalization of around £2.05 billion.
Business Outlook
The Company had shown confidence regarding the outlook of the automotive, electronics and Medical division during H2 FY21. However, the medical division would witness gradual improvement until elective procedures return to normalcy. VCT had also highlighted the adverse impact of post-Brexit inventory unwind on fixed cost recovery. Nonetheless, VCT had a diversified portfolio with medium to long term growth opportunities. Overall, the Company has a high cash generative business model ensuring significant returns to shareholders in the long term.