Summary

The UK aerospace and defence sector has faced some serious headwinds due to the covid-19 crisis and Brexit.
The EU and UK signed an agreement recently providing clarity on steps which aerospace manufacturers must comply.
BAE Systems is on track to meet its full year guidance owing to strong operational performance.
The British aerospace & defence sector is the second largest in the world, after the US. However, due to the ongoing public health crisis and the UK's exit from Europe, the sector has been facing a dual challenge.
The European regulatory system EASA and UK's Civil Aviation Authority signed an agreement on 17 May, which covers the steps aerospace manufacturers must comply with for the free movement of goods and services between the UK and the EU. The move aims to provide clarity to aerospace companies to operate efficiently in a post-Brexit world.
In this article, we would take a deeper dive into two FTSE listed aerospace and defence stocks which are trending today:
BAE Systems PLC (LON:BA.)
FTSE 100 listed aerospace major BAE Systems announced that it was on track to meet its full year guidance due to strong performance in the firm's air, maritime, electronic and intelligence and security segments.
BAE forecast sales to grow between 5 to 7 per cent, while its underlying earnings are expected to grow over 10 per cent and its free cash flow for FY 2021 is forecast to be over £1 billion.
BAE Systems' stock price ended modestly down at GBX 519.80 on 19 May. In the last one year, the stock has given a return of around 5 per cent.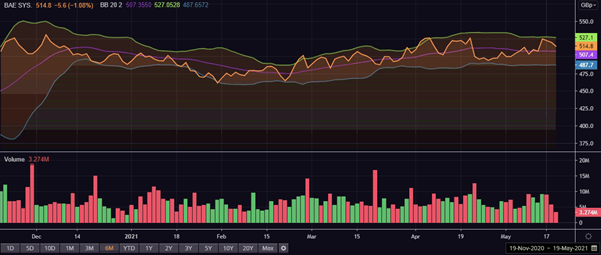 (Source: Refinitv, Thomson Reuters)
The company's market cap stood at £16.795 billion. Its FY 2019 price to earnings ratio stood at 12.17 and its dividend yield at 4.1 per cent.
Also Read: BA to Switch to Sustainable Fuel for its Transatlantic Flights by 2022
Meggitt PLC (LON: MGGT)
FTSE 250 constituent, Meggitt PLC is a UK based company focused on components and sub systems in the aerospace and defence sector. The company was in the news recently after it was reported that the US-based aerospace engineer Woodward was planning to buyout Meggitt.
Woodward's acquisition interest was reportedly sparked due to a fall in Meggitt's share prices since early 2020 due to the covid-19 crisis forcing jet makers to cut production output.
Meggitt reported its Q1 2021 results last month, its revenue fell by 29 per cent, though it met company expectations, and it expects FY 2021 underlying profits to be ahead of 2020, while organic revenues are expected to be largely in line with 2020. The company forecasts the pace of recovery to be softer in H2 2021.
Meggitt's stock price was down by 3.56 per cent GBX 479.80 on 19 May. Its one-year return stood at over 74 per cent.
(Source: Refinitv, Thomson Reuters)
The company's market cap stood at £3.887 billion. It has an FY 2019 price to earnings ratio of 22.81, and its dividend yield stands at 2.6 per cent.
Also Read: Rolls-Royce and Meggitt shares in Focus as Aerospace Sector Record Worst Quarter