Shares of Indivior, the Chesterfield-headquartered pharmaceuticals company, crashed nearly 20 per cent at the close of the trading window on Friday, 28 November after the Slough-based healthcare-to-consumer goods manufacturer Reckitt Benckiser Group Plc (LON: RB) filed a claim against the company. A claim to the tune of more than £1 billion was submitted to the London's Commercial Court against Indivior by Reckitt Benckiser on 13 November, the company informed via an exchange filing on 27 November.
Under the claim filed by Reckitt Benckiser, the claim quantum is equivalent to £1,073,622,580.51. The claim has been filed following an indemnity contained in the demerger agreement between Indivior and Reckitt Benckiser, Indivior said. Reckitt Benckiser and Indivior have agreed to de-merge way back in November 2014. Indivior informed to assess the claim filed by Reckitt Benckiser with the advisors as the claim has not been served on the company.
Indivior is likely to provide an update with regards to the claim along with the merits and background to the case as the pharmaceutical firm doesn't have further details at the moment, the company added.
Earlier in April 2019, Indivior was charged with fraudulently claiming Suboxone Film as a safer alternative in comparison to other similar drugs available in the market by the US justice department. The claim filed by Reckitt Benckiser is in connection with that particular Suboxone Film.
Indivior (LON: INDV) shares plunge 20%
Shares of Indivior fell off the cliff in trading hours between the mid-morning and early-afternoon deals with the share price of the company plunging a little over 46 per cent in the intraday counters. The stock of Indivior nosedived as much as 46.14 per cent to a nearly four-and-half-month low of GBX 67 during the day from the previous closing price of GBX 124.40. However, the stock recovered partly from the day's bottom as the trading progressed.
The stock of Indivior finally settled at GBX 99.75, down 19.82 per cent from the previous day's market price on Friday. About 21 million shares of Indivior changed hands on 27 November translating into a total traded turnover of £7.99 million. Indivior shares failed to sustain the marginally lower opening price after starting the day at GBX 121.60.
In the present calendar year, Indivior shares have registered a remarkable gain as compared to the other industry-specific, as well as the peer shares. Indivior shares are a constituent of the FTSE 250 index. According to the historical data available with the exchange, Indivior shares have returned as much as 152 per cent on a year-to-date (YTD) basis. Barring the Friday's bloodbath on the trading counters, Indivior share price's YTD return stood at 215 per cent to GBX 124.4 on November 26 from a share price level of GBX 39.5 a piece on January 2.
Indivior share price (27 November)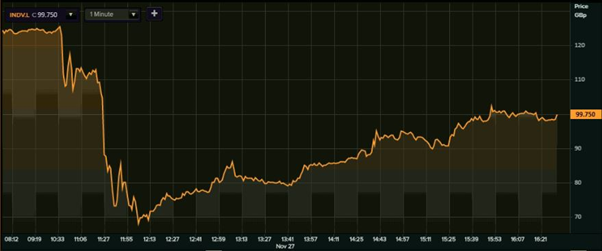 (Source: Refinitiv, Thomson Reuters)