Highlights

GlaxoSmithKline announced plans for setting up two headquarters today, wherein its consumer healthcare business would have a new headquarter, and its existing pharma business will be relocated to another office.
The HQ split is an important step in the company's plans to split its consumer healthcare business and pharma business into two separate listed entities by 2022
Pharma giant, GlaxoSmithKline (LON: GSK), stated its plans to have two new headquarters (HQ), wherein GlaxoSmithKline's consumer healthcare business will have a new headquarter and its existing pharma business will be relocated.
The new headquarter plans are expected to cost around £120 million. The move follows GSK's announcement of a major shift in the company's business strategy, which will split the group into two businesses in mid-2022.
GlaxoSmithKline's (LON: GSK) share price performance
GlaxoSmithKline's shares were trading at GBX 1,395.40, down by 0.26 per cent on 11 October 2021 at 12:46 PM BST. Comparatively, the FTSE 100 index, which it is a part of, was trading at 7,113.75, up by 0.26 per cent.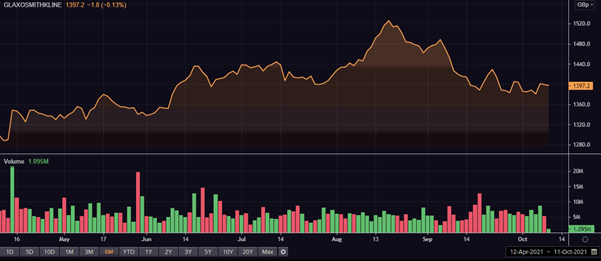 (Image source: Refinitiv)
Image description: GSK share price performance
GlaxoSmithKline's market cap stood at £ 70,394.10 million, and its year-to-date return stands at 3.93 per cent as of 11 October.
GlaxoSmithKline's new HQ details
According to the company's plans, about 800 workers in the consumer healthcare division based in GSK House in Brentford, west London, will be moving to the new headquarters location in Weybridge, London.
The new HQ is expected to accommodate 1,400 staff by 2024. The consumer healthcare business staff will be moved to a temporary facility in Weybridge initially until the new campus is constructed.
Meanwhile, the rest of GSK's 3,500 workers will stay at Brentford at the new headquarter for some time while the company's search for its relocation is underway.
The relocation office of the pharma and vaccine business, which will be termed as New GSK following the breakup, has not been confirmed as yet. The remaining staff are expected to remain at Brentford for around 2 years until GSK finds temporary offices for the workers.
The split of GSK's headquarters marks a significant step towards the split of the company.
The company had announced a break up of its two businesses earlier this year, after being faced with ongoing pressure for its underperforming stock prices and its drugs pipeline. The GSK split is expected to be worth around £70 billion.
GSK is the sixth-largest firm listed on the FTS 100 index and has a staff of over 70,000 people across the world.
GSK plans to list its consumer healthcare business on the FTSE 100, which is expected to raise about £8 billion in capital for the firm. The capital from the listing is expected to help boost its pharma and vaccine development business.