Source: PhotobyTawat, Shutterstock
Summary

The Oxford-AstraZeneca vaccine is 76 per cent effective against the coronavirus infection.
The earlier US clinical trial results had put the value a tad higher at 79 per cent.
Despite the lower rate, the vaccine remains strong enough to meet the FDA effectiveness guidelines.
The AstraZeneca vaccine was 76 per cent effective in preventing symptomatic Covid-19 illness, according to the company's latest US trial results. This was slightly less than the level of 79 per cent that was declared earlier by the company as part of its previous analysis which was criticised for using outdated information. The new results are based on 190 infections in 32,449 participants across Chile, Peru and the US.
The new information from the drug maker's up-to-date results of its major US trials showed only a slightly different picture. But the updated figure was enough to meet the standards of effectiveness set out by the US Food and Drug Administration, the federal agency under the government's department of health.
The latest trial data is yet to be reviewed by the independent regulators.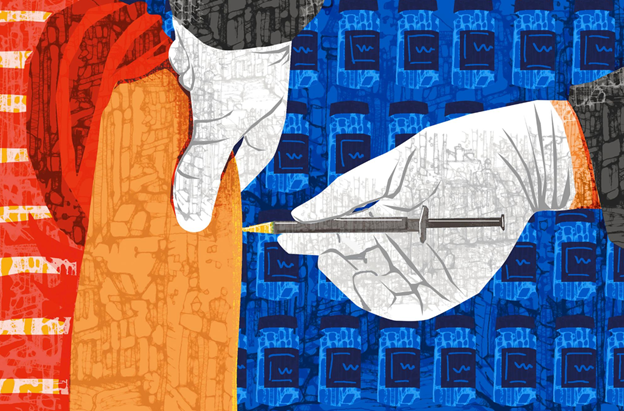 Copyright © 2021 Kalkine Media Pty Ltd.
Trials and outdated data
The pharma company had released interim data on 22 March from a trial conducted during the winter months across Chile, Peru, and the US. The clinical trial results were based on 141 infections in 32,000 participants. The US health officials publicly disapproved the results for using outdated information while calculating the efficacy of Covid-19 shots. This marked a setback for the leading drug firm.
However, responding to the government's concern, AstraZeneca stated that the jabs were 100 per cent effective against critical or severe coronavirus infections, and added that its vaccine displayed 85 per cent efficacy in people aged 65 and above.
Financials
The vaccine developer had released its FY2020 results in February. It reported a rise in its product sales to US$25,890 million, up 10 per cent (AER basis) from the previous year. The firm's revenue for the new-medicine segment jumped by 33 per cent to US$13,950 million for the year. AstraZeneca's (LON: AZN) core earnings per share increased by 15 per cent for FY 2020 to US $4.02.
The pharma major's FY2021 guidance showed continued progress as it planned to concentrate on enhancing the operating leverage with a continued investment in R&D.
Stock performance
The company's shares hovered around GBX 7165.00, up 0.49 per cent during the early trading hours on Thursday, 25 March (8.37 AM). The company's market cap was £93.6 billion with a year-to-date return of -2.32 per cent at the time of reporting.