Highlights

Solana is one of the strongest and the most consistent coins at present with steady gains in the intraday trading session.
On Monday, Solana registered a new all-time high of US $218.73.
At present, Solana is trading at US$207.86 (BST 7:45 am), with a 24-hour volume of US $4,635,671,103.
Solana has been steadily gaining grounds in the crypto market of late. Not only is it one of the strongest crypto markets, but the fifth largest cryptocurrency also witnessed an explosive growth of over 400% in the month leading into early September, reaching its previous high of US$214.96.
On 25 October, it registered yet another high rally, registering an all-time high of US $218.73. Solana was roughly 35% higher in the one-week period and the successful launch of Degenerate Apes NFT, which is a Solana-based NFT continued to reap rich rewards for the token. The Degenerate Apes NFT was launched on 12 September for 5,980 SOL and since then it has been on a bull run. Dubbed as the Ethereum killer it has climbed over the week and slowly is giving good competition to the rivals in the area.
Also read: Nigeria starts its CBDC journey with eNaira's launch
How is it fairing in the market?
According to CoinMarket Cap, Solana was trading at US$207.86, with a 24-hour volume of US $4,635,671,103. It is up by 0. 07%, while the volume has seen an uptick by 16.30%. According to Defi Llama, a decentralised data provider, the total value locked (TVL) in Solana reached an all-time high of approximately US$13.91 billion on October 20.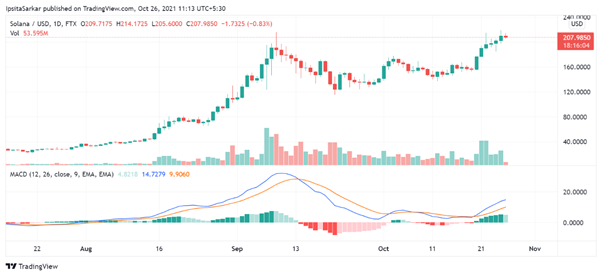 Image source: Trading view
At the moment, the Solana chart represent that the Moving Average Convergence Divergence (MACD) line in the red histogram is well below the signal line, which is indicated in blue. There is enough volume as well as the are creating enough noises in the market that there are volume indicating that there is enough interest in the market. At present, the fifth largest crypto token by market capitalisation, which is somewhere around US$61,978,172,084.
Also read: Can Musk's tweet deter SHIB's meteoric rise?
What does the future hold for Solana?
It's safe to say that Solana has been one of the strongest performers at present. Not only there is enough interest, but it also has a great potential to going forward in near future. Market experts have dubbed it as a 'Solana Summer', and at this momentum is expected to stay strong till the year end. Many predict that Solana is expected to outperform itself even in 2022 and will achieve new highs.
Conclusion
Solana has peaked just at the right time, especially when the crypto market seems to have pulled itself out of the rut that it witnessed in May-July this year. A sedate August, followed by a consolidation period in September, Solana has got wings and is flying high since then. The Degenerate Apes NFT has helped Solana to expand its horizons and since then there is no stopping. If all goes well, we could see Solana entering 2022 with a US $400 price and this would mean it would touch greater heights in 2022.