Summary

Prudential had shown around 14% growth in Asia and Africa APE (Annual Premium Equivalent) sales during Q1 FY21.
The Company will pay a second interim dividend of around 10.73 US cents per share on 14 May 2021.
Pulse downloads have reached 24 million at the start of May 2021.
Prudential PLC (LON: PRU) is the LSE listed financials stock. PRU's shares have generated a return of around 32.81% in the last 12 months. PRU is listed on the FTSE 100 index.
Company Overview
Prudential PLC (LON: PRU) is an Asia-based portfolio of businesses emphasized on structural growth markets. Moreover, PRU has around 20 million customers and is listed on various stock exchanges like London, Hong Kong, Singapore, and New York.
(Source: Company presentation)
Q1 FY21 Business Update (for three months ended 31 March 2021 as of 13 May 2021)
Double-Digit new business profit growth - PRU had delivered a substantial growth of around 14% in Asia and Africa APE sales to USD 1.19 billion during Q1 FY21 as compared to Q1 FY20. Moreover, the new business profit had increased by approximately 21% to USD 624 million during the period. The Company had achieved robust growth despite a disappointing performance in the Hong Kong region because of the ongoing Covid-19 restrictions. The APE sales excluding Hong Kong grew by 35%, and new business profit growth remained 64% during Q1 FY21 as compared to Q1 FY20.
Resilient business performance in China – The China JV remained the best performing business during Q1 FY21 based on the APE sales and new business profit. Furthermore, the Chinese operations had witnessed stellar APE sales growth of around 70% during the period.
Demerger of Jackson – The Company's US business arm, Jackson National Life, remained all set to become independent during 2021. Moreover, PRU had received regulatory approvals from the states of Michigan and New York. In a nutshell, the Company anticipated the demerger to get completed during the second half of 2021.
Capital position – PRU will pay a second interim dividend of around 10.73 US cents per share on 14 May 2021. Furthermore, the Company's LCSM ("Local Capital Summation Method") shareholder coverage ratio excluding Jackson stood at 331% as of 31 March 2021, while it was 323% as of 31 December 2020. It did not consider the second interim dividend payment. Moreover, the surplus remained USD 7.9 billion as of 31 March 2021, increased by USD 0.10 billion from USD 7.8 billion as of 31 December 2020. The increase in surplus was due to operating capital generation during the quarter.
Share Price Performance Analysis of Prudential PLC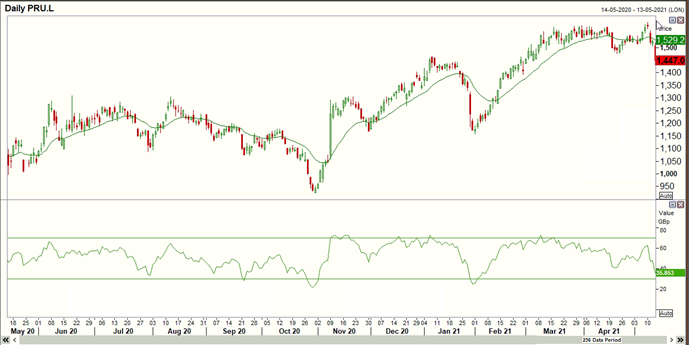 (Source: Refinitiv, Thomson Reuters)
PRU shares were trading at GBX 1,447.00 and were down by close to 5.12% as of 13 May 2021 at 11:29 AM GMT. The 14-day RSI stood at ~35.85, while the 20-day simple moving average was around GBX 1,529.20. PRU's 52-week Low and High were GBX 926.20 and GBX 1,598.50, respectively. Prudential PLC had a market capitalization of around £40.14 billion.
Business Outlook
The Company would continue to enhance the digital capabilities. It had already seen good results for the health and wellness platform, Pulse. Moreover, the Company had generated around USD 70 million of APE sales through Pulse. The Pulse downloads have crossed 24 million at the start of May 2021, a significant increase from 20 million at the end of February 2021. Overall, the Company remained confident in delivering sustained double-digit growth in embedded value per share over the long term.